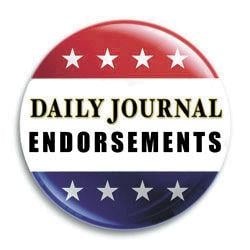 Proposition 14: Authorizes $5.5 billion to fund grants from the California Institute for Regenerative Medicine for stem cell research. In 2004, Californians agreed to allow the state to borrow $3 billion to fund stem cell research and to launch the California Institute for Regenerative Medicine. At the time, the Bush administration had cut funding for such research and there was a promise that the research would yield tremendous medical advances. While advances have been made, it is time for the institute to find its own funding through other means. NO.
Proposition 15: Increases funding for schools and governments through a new tax formula that will base the rate of certain commercial properties on current market value. About $6.5 billion to $11.5 billion would be raised each year. While it is difficult to say no to new funding for local services and schools, this fix is a half measure to solving the state's dysfunctional tax system. Many suggest there should be changes to Proposition 13 but don't have the will to replace the current system with one that works best for all. This measure ostensibly would not raise taxes on small businesses but there would be pass-through taxes and those businesses with triple net leases would be seriously affected. It is better to reform the entire system through the Legislature and have the voters decide on that. NO.
Proposition 16: Allows diversity as a factor in public employment, education and contracting decisions. We can safely remove barriers to inequality and increase diversity and opportunity. YES.
Proposition 17: Amends California's Constitution to allow people on parole to vote. Parole should be considered to be an extension of someone's prison sentence. Only once they have completed their debt to society, should their complete rights be restored. NO. 
Proposition 18: Amends California Constitution to allow 17-year-olds to vote in a state primary election if they turn 18 before the general election. This would allow someone the ability to participate in a complete election cycle. While there are limits to maturity for those of this age, this one exception makes sense. YES. 
Proposition 19: Permits homeowners over 55, or who are disabled or victims of a wildfire, to transfer their property tax value to a replacement residence elsewhere in the state. This would enable people in high cost areas to move more easily, opening up room for new residents to the area. YES. 
Proposition 20: Changes sentencing and parole for certain offenses. In 2016, state voters approved Proposition 57 to change release conditions and, in 2014, California approved Proposition 47, which reduced thefts under $950 from felonies to misdemeanors. This proposition closes unforeseen loopholes that have allowed for serial retail thefts and early release for those who have committed assault and domestic violence. YES. 
Proposition 21: Amends state law to allow local governments to establish rent control on residential properties more than 15 years old. Rent control was defeated at the polls and already established by the state Legislature. Any other changes should be done at the legislative level. NO.
Proposition 22: Exempts app-based transportation and delivery companies from providing employee benefits. This proposition is in reaction to the state Legislature completely flubbing restrictions on such "gig" work in Assembly Bill 5. That bill caught up a large segment of freelance workers while focusing on the large companies. This proposition could have addressed all the legislative shortfalls, but instead focused solely on one segment. While the legislation is flawed, some remedies have been made in the most recent legislative session, and this proposition is too narrowly focused. NO.
Proposition 23: Establishes state requirements for kidney dialysis clinics. This is a labor dispute and should not be on the ballot. NO.
Proposition 24: Permits consumers to prevent information sharing and to correct inaccurate information. Establishes California Privacy Protection Agency. This should be done at the legislative level. NO. 
Proposition 25: Eliminates cash bail. Low-income people are at a disadvantage in the current system. It's time to replace it with something fairer. YES.