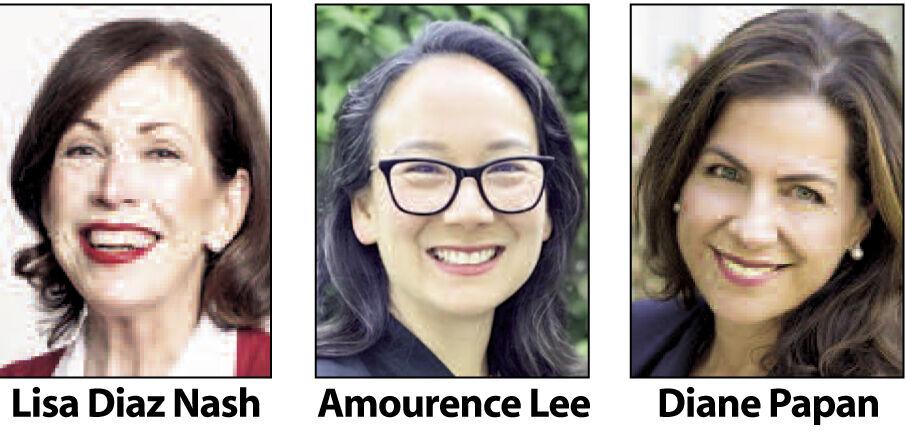 The three candidates competing for two open seats on the San Mateo City Council have taken similar positions on a pair of controversial land use measures on the November ballot.
Measure Y seeks to extend for 10 years the voter approved building height limit of 55 feet and density limit of 50 units per acre in the city. Measure R would extend the same limits for as long throughout most of the city, but would exempt areas around the three train stations from the restrictions.
Challenger Lisa Diaz Nash, appointed incumbent Amourence Lee and incumbent Diane Papan all oppose Measure Y. As for Measure R, Nash opposes it while Lee and Papan have not taken a position on it.
Lee opposes Measure Y because she says it's an obstacle to the development of sorely needed affordable housing.
"[Measure Y] limits our ability to produce affordable housing and it also limits our ability to preserve existing affordable housing with the restriction on in-lieu fees," said Lee.
Measure Y does not permit the payment of in-lieu fees but allows for off-site building or other alternatives. Measure Y also requires residential projects with more than 10 units to reserve at least 10% of the units for affordable housing.
Lee praised that provision, but said the measure's goal of creating affordable housing has not been fully realized.
"I think the intent of it was very genuine and the work it has done to advance inclusionary policy is remarkable," Lee said. "However, I believe that where we are today shows the intent was not in fact achieved. We know 51% of our renters are rent burdened. We're facing a severe increase in housing overcrowdedness. And particularly those things are true in my neighborhood: North Central. I can't support a failed policy I think time has shown isn't working."
Papan opposes Measure Y because she believes planning, including height and density limits, should be done through the general plan update process and not at the ballot box.  
"I'd like to not do any of this at the ballot box let me be clear. … We're going to have a robust, community-based discussion about these things at the general plan process," Papan said. "That's why I made the decision to come out against Measure Y."
Nash opposes both measures Y and R for the same reasons Lee and Papan oppose Measure Y.  
"I look at land use through the lens of expanding our affordable housing options in San Mateo and therefore I cannot support either Measure Y or Measure R," Nash said. "I'm concerned because the limits in both measures, particularly with regards to density, would take options for affordable housing off the table at a time when we need every option we can get.
"I believe strategies to address the big issues driving our city's future, like affordable housing, should be developed listening to the voices of all our residents," Nash continued. "The right place for that to happen is in our general plan and that's where it should stay unencumbered by ballot initiates that could hamper our options to make San Mateo the vibrant diverse community we all want and love."
While Lee and Papan have not officially taken a position on Measure R they both suggested it's preferable to Measure Y.
"[Measure R] provides a little more opportunity," Papan said. "It has a little more possibility to perhaps change some of what we do here in San Mateo because it has carved out those three areas, but it didn't get all the areas we chose to study in the general plan, including Bridgepointe."
Lee made a similar point and said she can't take a position on Measure R because doing so might help Measure Y pass.
"If I have to choose between the two it'd be no on Y and yes on R, but that is not the actual choice here and I worry that my taking a position will create an opportunity for Y to actually pass," Lee said. "We know the one with the most votes will prevail and I can't weigh in in a way that will enable that to happen because I'm strongly opposed to Measure Y passing."
Also top of mind for the candidates is the city's financial outlook as it addresses a $7.8 million structural deficit due to the pandemic. One of the strategies identified by the council is to cancel raises for city employees over the next two years to save roughly $3 million.  
Lee said she hopes employees will ultimately be compensated.  
"The biggest concern I have is really taking care of our 600 employees," she said. "We're only as strong as our people. It's really challenging, especially the folks who've been with us for decades, to ask them to take a freeze for two years. Those are hard conversations we can have and my hope is we can make our people whole."
Nash said "targeted reductions" may soon be necessary to balance the budget, though she would prefer to address the problem via new revenue measures such as billboard advertising. She also wants to leverage new technologies to enhance efficiency at City Hall.
"We may have to, going forward, look at some reductions," she said. "So far the city finance group has been great in identifying ways of freezing positions and not taking any service cuts, but depending on how the economy goes we may be forced to look at targeted reductions.
"I believe we need to grow our way out of this as opposed to cut wherever possible," she continued." Maybe we need to look at how to get new revenues. Billboards may come back into the picture again. … And also how do we use technology to improve our efficiency and do more with less."
Papan feels the private sector should help.
"One of the things I've longed felt very strongly about even with COVID we're sitting in the promised land of a lot of corporations that are sitting on a ton of cash," she said. "I really think it's time for them to step up to the plate and give us cash for certain projects in a tax free way so they help with some of the infrastructure that gets their people to work and that keeps them generating money."
On the subject of police reforms, all three candidates praised the San Mateo Police Department's new approach to mental health crises. Starting sometime around the end of the year, a full-time licensed mental health clinician will be embedded in the department and will respond to mental health calls with police officers.
Nash wants to see further investment in mental health resources and partnerships while Papan wants to see a continued commitment to diversity and de-escalation training at the department.
As for what can be done to support businesses downtown, Lee wants to change the fee structure for the assessment district, which currently "overburdens retail businesses," and establish a property business improvement district in which property owners pay for improvements within the district boundaries.  
Papan also said she'll continue to push for a PBID while Nash wants to see the city branded as "the heart of the Peninsula" to increase visitors.
"There's an untapped opportunity there," Nash said.