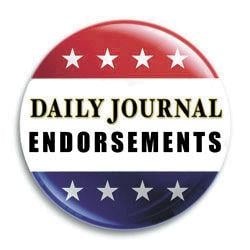 San Mateo voters have a tough choice, but should be heartened to know they will be represented well whoever wins the San Mateo Council race. This is not a statement made lightly.
Lisa Diaz Nash is a highly capable candidate ready to jump into the job and be a responsive and responsible leader with a firm grasp on the city and its issues. It is very difficult not to endorse her in this race.
However, incumbent Councilwoman Diane Papan is a sure shot for high-quality city leadership. She too understands the city and "gets" its people. She is willing to put in the work and find solutions that make sense for everyone involved. If there is common ground, she will find it.
Papan sometimes says she was meant for a position like this and she's right. She does her homework and gets wonky when needed but can also read a room and make a judgment call based on the information before her. It was in that spirit that she was the deciding vote to appoint Amourence Lee to the vacant position last year when Maureen Freschet decided to leave the council.
Lee has done a fairly remarkable job in her short time on the council. She too does her homework and has been nimble when needed. One example is her work in bringing police and activists together for a shared statement of values in the aftermath of the George Floyd murder and subsequent rallies. This took smarts, flexibility and diplomacy — all attributes of a successful elected official.
These are not the only attributes she brings to the table. She is active in her neighborhood, North Central, which too often doesn't have its important and diverse voice heard. Having representation from this neighborhood on the council is incredibly important as the other councilmembers live in more affluent areas and may not have the boots-on-the-ground knowledge of some very real challenges a segment of our city's population face. Lee knows the issues and is willing to put in the work. She is progressive yet practical and has done a good job in the time she was appointed to serve. Let's give her a chance to serve in a full term and see what she can do.
The city of San Mateo is blessed to have three strong and intelligent women seeking a seat of service on the City Council. Choosing two out of these three is a tough call, but this is the choice before us. Lee and Papan deserve your vote.