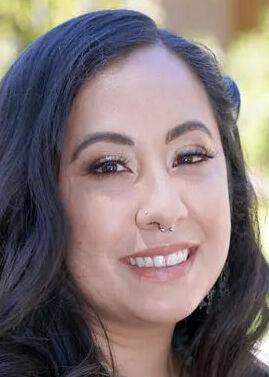 After years of helping to lead the largest school district in San Mateo County, Noelia Corzo is looking to expand her influence to the county, vying to represent the interests of District 2 on the Board of Supervisors including COVID-19 recovery, housing and environmental justice and developing more equitable systems.
"I've shown that I can tackle the problem and bring people together in a united way. That's really important for our county as well," said Corzo, a lifelong San Mateo County resident and twice-elected San Mateo-Foster City School District trustee. "This community knows me and elected me twice to serve some of our most vulnerable residents which are our children. The Board of Supervisors is an expansion of that work."
Corzo is running against Belmont Councilmember Charles Stone to replace outgoing Supervisor Carole Groom in representing District 2, a dense part of the county straddled by the Bay and hilly wooded areas containing the cities of San Mateo, Foster City and parts of Belmont. Each candidate for a local election will have or have had a profile of their own published in the Daily Journal with additional issue-specific stories still to come.
Groom's departure was a motivating factor in Corzo's decision to run, given that she's the only woman on the board. Corzo said she also wanted to ensure the public had a choice in who would elect them after learning Stone had no stated opponents.
"It's really important that we have elections and races on every board, on every city council, on every supervisor race and every race, period, where people have the option of a variety of candidates who have different perspectives," Corzo said.
If elected, Corzo said she would bring a unique perspective to the board influenced by childhood trauma, her Latino heritage, receiving her education from local institutions and being a young working mother who's had to grapple with the county's child care system.
Corzo, the daughter of Guatemalan immigrants who worked service jobs like nannying and waiting tables, grew up in San Mateo and was largely raised by a single mother after her father left her family around the age of 10. She proved to be a good student from an early age, she said, and once in high school, Corzo was enrolled in honors classes and began working as soon as she could.
But Corzo's life trajectory was altered when she was 16, after her brother died by suicide. Because the adults in her life did not have strong English skills at the time, Corzo took on the responsibility of planning her brother's funeral, from getting quotes from funeral homes and calling the florist to deciding what he would wear when buried.
"It was really traumatic for my entire family," Corzo said, noting she doesn't talk about the experience often. "That's not really a typical experience for a person so I really had to grow up faster."
School became difficult, Corzo said, and she began to work multiple jobs to keep herself busy. Eventually, though, Corzo would find her path. After earning an associates degree in sociology at Cañada College, she went on to earn her bachelor's degree in the subject at San Francisco State University.
While attending San Francisco State, Corzo became pregnant and gave birth to her son at the age of 20. Had it not been for the university's day care program, Corzo said she would likely not have finished.
From then on, Corzo turned her attention toward community work, serving foster youth as a caseworker before joining the team at Golden Gate Regional Center, an agency focused on bolstering services for those with intellectual and developmental disabilities.
Corzo has spent years in the community organizing space, helping to establish the San Mateo County Latina/o Democratic Club and the San Mateo County Latinx Democratic Club after the first dissolved and volunteering with the housing advocacy group Faith in Action Bay Area and lobbying her city council for better renter protections.
But while she recognized that representation matters on elected boards, she said she never considered running for public office herself. That changed after Corzo met San Mateo Councilmember Amourence Lee during a vigil Corzo organized in response to the 2016 election of former President Donald Trump.
Lee's persistent nudges for Corzo to run for San Mateo-Foster City School District's Board of Trustees, a campaign Lee would manage before winning her own spot on the council, paid off when Corzo was elected to the board in 2017. Corzo was then reelected.
While on the board, Corzo said she's used her training in social systems as a guide for adding issues like labor negotiations and district and staff relationships, equity in district policies and education, boosting parent engagement and governing transparently.
"I got into public office and did a lot of good work and brought an important perspective," Corzo said, whose son attends school in the district. "That type of work is never complete 100%. It's continuing work, but I'm really proud of the progress and the shift that was made on equity."
At the county level, Corzo said she'd like to use her analytical skills to improve the county's public health response, inspired by the COVID-19 health crisis. Part of that requires improving the systems the public — especially minorities, low-income earners and the elderly — are required to navigate to get those supports by expanding language assistance and public outreach.
Housing and tenant protections are another key issue for Corzo who called for the county to conduct an analysis of its land, work with private and nonprofit partners to grow its affordable housing stock and to establish a rental registry.
And her stances on environmental justice, including support for proper land management and fire fuel reduction and reducing greenhouse gas emissions, have earned her the support of the Sierra Club Loma Prieta Chapter.
"Our county has a very clear commitment to equity and I think it's really important that that commitment translates to aligning our budget to investments to addressing [our priorities]," Corzo said.
Her campaign has been backed by a number of local elected officials, residents and organizations including Lee and San Mateo Mayor Rick Bonilla; Victoria Sanchez De Alba, a notable farmworker advocate; Corzo's colleagues on the school board and others across the county; the REACH Coalition, a health equity advocacy group; the National Union of Health Care Workers; the San Mateo County Latinx Democratic Club and others.
Despite not winning the endorsement of the San Mateo County Democratic Party, Corzo said she was honored to come close, falling short by one vote after being endorsed by the party's Endorsement Committee and resulting in neither candidate being endorsed. Groom has also not endorsed a candidate in the District 2 race.
Still, Corzo said she hopes to continue the legacy Groom will leave behind. And she argues she's the best candidate to do so because she'd bring the perspective of the working class, working mothers and minorities to a board largely made up of white men, however, she said she thinks about the best interest of everyone across the socioeconomic spectrum.
"My campaign and hope for being a supervisor relies on bringing more folks into the public policy process who are part of our community," Corzo said. "I am in this for every person in this community and I recognize that everyone is impacted in different ways."