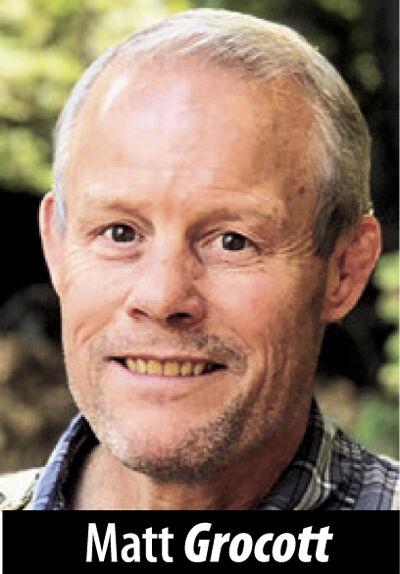 "To be or not to be, that is the question." Or so it was for William Shakespeare in his play, "Hamlet." But Shakespeare lived in a different world, in a different time. Had he lived today, his question more likely would have been, "To vax or not to vax?"
If he were to fall under the mandate of my fellow column writer, Sue Lempert, the question wouldn't even have been allowed. One would be vaccinated and like it. Without it, participation in society would be severely limited. As she wrote in her column: "If people refuse to get vaccinated unless there is a valid medical reason, or to wear a mask if required, they need to pay a price."
I find it an interesting position for Sue to take for several reasons. The first is because Sue is obviously a woman and there are plenty of women out there who would defend abortion by repeating the oft-stated phrase, "my body, my choice." Why does that not apply in the case of the COVID-19 vaccine?
Yes, I can hear the argument now: "Getting vaccinated could save the lives of others, whereas abortion ..." Ugh, Houston, we have a problem.
Saying everyone should get vaccinated unless they have some valid medical reason not to, or else "pay a price," is also an interesting position to take because the vaccines, as we all know, are experimental. All three — Pfizer, Moderna, Johnson & Johnson — were issued under an "Emergency Use Authorization" by the federal government. As such, none went through the normal, rigorous testing, typically required by the Food and Drug Administration. In addition, they were given immunity from liability in case their vaccine caused a patient to die or suffer adverse complications.
Why is that important? Well, you may want your lawyer to weigh in but I'd say "good luck" with a wrongful death suit or compensation for having to live with a long-term side effect.
Speaking of weighing in, San Mateo County leaders have weighed in on the vaccines. Dr. Anand Chabra, medical director of Family Health Services and the county's section chief of COVID-19 mass vaccination, downplayed nearly all concerns people may have. I find that not surprising given his title and charge. When you are crowned with, "section chief of COVID-19 mass vaccination," what else would one expect? Certainly not coming down on the side of caution.
I do have to offer Dr. Chabra some credit for giving credence to the concerns of couples who are pregnant or are planning to be pregnant in the near future. Complications that could result are unknown since the speed at which the vaccines were brought to market did not allow for complete testing.
However, these are not the only concerns one may have. In fact, the FDA issued a long list of possible adverse reactions, aka "side effects," from taking any one of the vaccines. A partial list includes: Gillian-Barr syndrome, encephalomyelitis, myelitis, meningitis, acute myocardial infarction, myocarditis, encephalopathy, stroke, convulsions or seizures.
The FDA gave warnings but have these concerns been borne out? Yes. If you look for them, you can find stories about people who have died or suffered severe reactions from taking the vaccine, such as the Placer County man who died hours after receiving a shot; (https://youtu.be/D1YbH2lCRwY). You also can visit the government's Vaccine Adverse Event Reporting System, (VAERS), and download the data on thousands of reports.
Certainly, no vaccine is 100% foolproof or safe and one has to weigh the upsides against the down. One figure that ought to play into the calculation is the risk of death from catching COVID-19 in the first place. Personally, in my age group, the chances are extremely low. The survival rate for individuals between the ages 45 to 64 is 99.9294%. The younger you are, survival rates are even higher. The older you are, obviously, the risk of death rises. However, even for individuals 85 and over, survivability is 98.2499%. Seems you'd have a better chance of getting hit by lightning.
When I had cancer in 2015-16, one part of my treatment was blood and marrow transplantation, or BMT. As such, Stanford Medical contacted me recently to find out if and when I was getting the vaccine. Their interest was in having my results. They wanted to know whether, as a BMT patient, I had any adverse reactions. I wrote them back and informed them I had no intention of being a guinea pig with an experimental injection that, by the normal definition of a vaccine, is not a vaccine. They wrote back with a reply that showed respect and understanding for my decision. I appreciated that. I wish everyone could be that way.
A former member of the San Carlos City Council and mayor, Matt Grocott has been involved in political policy on the Peninsula for 17 years. He can be reached by email at mattgrocott@comcast.net.