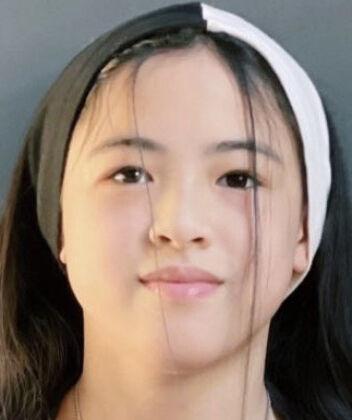 A Stand for Asians Rally to help drive change and raise awareness about the recent attacks against elders in the Asian community is being held Saturday at San Mateo Central Park.
The Feb. 27 rally is being organized by 13-year-old Ashlyn So from Burlingame, who wants to bring people together to raise awareness and speak out against anti-Asian hate crimes, particularly against elders.
"I started this because I am passionate about this kind of issue, and I want to stop it," So said.
The rally seeks to bring together people of all races to help support the Asian community through compassion, education and unity. So decided to start organizing Feb. 19 after speaking with her mother and seeing videos of elders pushed to the ground. With help from local organizers like the Millbrae Anti-Racist Coalition, she has put together a rally in a week that has been stressful but exciting. They have gotten support from San Mateo city officials and the Police and Parks and Recreation departments.
So has had racist experiences of her own. While attending a summer camp a couple of years ago, a young boy in the first or second grade grabbed a basketball she was playing with and told her Asians and girls don't play sports. She started to tell him how that was racist and sexist, but he laughed and ran away, angering her further. The incident shocked and angered her because the boy was younger than her but already knew how to say racist things.
"I wasn't mad at him; I was mad that he has the ability to do such a thing at such a young age. I really wanted to lecture his dad or his mom," So said.
So hopes the rally will help raise awareness and improve education to help stop racist incidents like hers. She believes the rally will have the opportunity to give a voice to the voiceless that will help lead to change and education.
So's mother, Angela Wu, said racist incidents against Asian Americans aren't really told in the press and are often ignored. She has had conversations with her parents about being safe when going out, and she believes recent social issues have brought more racism to the surface. She knew of a family friend who had also recently been attacked.
"This pandemic has definitely exacerbated issues that have always been there," Wu said.
Wu said understanding and celebrating different cultures, backgrounds and history are important, including a historical understanding and awareness of why racism and discrimination occurs and the systems that cause it to happen. Wu hopes the rally will also give students the chance to have respectful conversations, education and teachable moments about social injustice.
San Mateo Councilwoman Amourence Lee, who will be speaking and emceeing the event, knows Wu and has helped her connect with city officials. Her message will be that raising visibility about the issue will not eliminate racism and bias if not coupled with action and systematic lasting change. Her other message will be about building solidarity and alliances with other communities that face violence in the United States, as their fights are all part of the same fight her community faces.
"My invitation to everyone who comes to this event is to really pause and ask themselves, why am I here, who is with me, and what comes after this rally," Lee said.
Lee said the City Council has a strong consensus to apply an anti-racist lens to its work to bring tangible change, like expanding opportunities in appointed leadership positions at the city level for underrepresented people.
The California Legislature this week recently approved $1.4 million in state funding from Assemblyman Phil Ting, D-San Francisco, to help bolster the research and reporting work underway, including data collection and research, to address a surge of hate incidents against Asian Americans. From March to the end of 2020, Stop AAPI Hate, a reporting center that tracks COVID-19 related incidents of hate against Asian Americans and Pacific Islanders, has received more than 2,800 reports of hate.
Speakers at the event include Millbrae Councilman Anders Fung, Belmont Mayor Charles Stone, Dawn Lee from the @FromHerePodcast on social justice and Steve Hom and Katie Nolan-Stevaux, founding members of the Millbrae Anti-Racist Coalition.
The event will be from 1-3 p.m., and the meeting spot is underneath the bleachers at San Mateo Central Park on Fifth Avenue. The organizers ask that people bring a sign and wear masks for COVID-19 safety.
(650) 344-5200 ext. 102