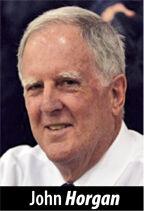 A happy dose of fantasy can sometimes provide a pleasant buffer to the realities of life. Walt Disney made a career out of it. So did H.G. Wells, Ray Bradbury and other creative minds.
But fantasy in the hands of social engineers and wannabe visionaries can become worrisome, if not downright perplexing. We have the latest proof staring at us today.
It has come in the pie-in-the-sky form of something called Plan Bay Area, a document years in the making by relatively anonymous bureaucrats and policymakers who are seeking to remake a region of nearly 8 million souls.
Last week's announcement of their collection of ambitious, not to say grossly optimistic, goals to be met by 2050 had an outrageous price tag of $1.4 trillion. We have not made up this figure. That's a lot of cheddar in any man's (or woman's) vivid and overheated imagination.
On a per capita basis, that numbing number works out to $175,000 per person (man, woman and child) in the nine counties of the Bay Area. So a family of four, in theory, would represent the staggering total of $700,000 worth of spending, at least on paper.
Here's another way to look at this: $1.4 trillion of spending would get you 1.4 million homes valued at $1 million each.
As you might expect when it comes to such matters, how to pay for this overwhelming wish list has yet to be broached in any serious way. No surprise there.
The proposed lineup of societal improvements is long. It includes all manner of transportation fixes (including completion of the state's high-speed rail boondoggle), housing projects, environmental solutions (including some targeting anticipated sea level rise) and, out of the blue, income inequality and a form of quasi-rent control. 
Income inequality, which is far afield from any concept of actual infrastructure, would be addressed by a planned guaranteed income package. 
Again, who would pay for that radical notion has been left unsaid, although the authors have mused about raising taxes and fees on an already heavily-burdened citizenry which would bear the cost of all of this, one way or another via local, state and federal sources of revenue.
Bernie Sanders and his eager acolytes must be positively thrilled.
A DELIGHTFUL DOUBLE-DIP: If you are a fan of high school football or simply looking for a dose of youthful excitement, this coming Saturday should provide a satisfying competitive buffet for you within the tidy confines of the city of San Mateo.
A terrific trio of unbeaten prep teams will be on display for observers to check out on that day. It's a dandy, delightful double-dip.
First, at 11 a.m. on the storied San Mateo High campus on North Delaware Street, the Bearcats, 8-0, will host archrival Burlingame, 7-2, in the 94th Little Big Game, a traditional contest that was first played in 1927.
Both schools are members of the Peninsula Athletic League, although they play in different equity-based divisions of that circuit. San Mateo will be seeking to end a depressing 11-game losing streak vs. the Panthers. The Bearcats have not won this encounter since 2009, Barack Obama's first year as president of the United States.
Later — at 2:30 p.m. 4 miles to the south on West 20th Avenue just off Alameda de las Pulgas — Serra, 8-0, will welcome St. Francis of Mountain View, 8-0, in a heavyweight confrontation that will decide the West Catholic Athletic League championship.
Both schools are ranked among the top 10 in the state by several rating outfits. 
It is anticipated that, weather permitting, crowds in excess of 3,000 will attend both of these events. Tickets for the Serra-St. Francis game are available online-only at gofan.co (not com). Tickets for the morning public school affair can be purchased at the entrance gates at San Mateo's facility.
Beverages and food options will be available at both attractions. Bring a seat cushion.  
John Horgan, who has been attending the Little Big Game since he was a callow teen growing up in San Mateo, can be reached via the miracle of email at johnhorganmedia@gmail.com.