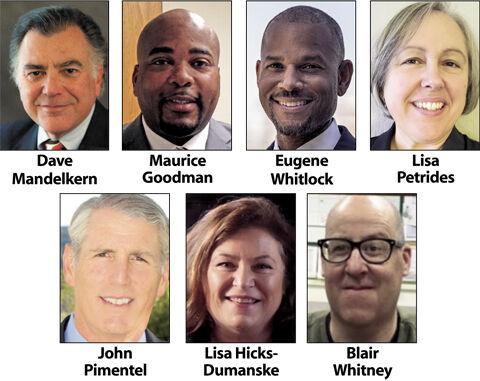 A swell of attention and focus is forming around the historically placid community college district this election season, as three contested races are underway for the Board of Trustees.
Incumbents Dave Mandelkern and Maurice Goodman are going head to head for re-election to represent trustee Area 3 while newcomers John Pimentel, Lisa Hicks-Dumanske and Blair Whitney are racing to represent Area 5. In Area 1, former district administrator Eugene Whitlock is running against educator and nonprofit CEO Lisa Petrides.
This election brings the most candidates to the district comprised of the College of San Mateo, Cañada College and Skyline College since officials adopted the by-district format in 2017.
The races also arrive in the wake of a series of controversies and missteps inviting unfamiliar scrutiny to the district which has typically enjoyed an undisturbed standing as the county's only public higher education option.
Recognizing the rising concern around perceived errors and indiscretions, Goodman said he was compelled to run again out of an obligation to get the district back on the right track.
"I do believe we have an obligation to do better," said Goodman, who is running for a second term representing the trustee area comprised partially of South San Francisco, San Bruno, Millbrae and Burlingame.
Meanwhile Mandelkern said he is focused on assuring the district fulfills its fiduciary duty in managing public funds in the most appropriate and efficient fashion, while keeping its focus on education rather than entrepreneurialism.
"My first concern is that we do the right thing for the citizens and taxpayers of San Mateo County," said Mandelkern, who is seeking his fifth term to the board after first being elected in 2003.
The comments acknowledge that the district was excluded from an estimated $114 million auction sale in 2017 for KCSM-TV, leading to competing lawsuits from the school system and a contractor hired to facilitate the process. The district eventually sold the station to another broadcaster for $12 million.
Eyebrows raised further in 2019, when the county District Attorney's Office launched an investigation into former chancellor Ron Galatolo, who had unceremoniously resigned from his post atop the district months earlier. The investigation is still underway, but prosecutors confirmed search warrants were issued examining management of school district finances.
Word of the investigation spread shortly after district officials announced Galatolo's transition from the school system's top post to chancellor emeritus, in a new position from which he would examine establishment of a local CSU branch.
Reflecting on the maneuvers making way for Galatolo's soft landing, Goodman said he believed saving face was the primary interest of his colleagues on the board — to the detriment of an honest approach with constituents.
"We have chosen to attempt to do things in the best interest of our public interest, but that has created a situation of lack of transparency and accountability," said Goodman, who claimed he was often the lone dissenting voice when determining the board's response to critical issues.
Meanwhile, Mandelkern touted his ability as a consensus builder on the board who can help establish a rallying point for officials on sticky issues.
"I can actually get more done," said Mandelkern, who said his many years of experience on the board will serve the district well, especially as the community colleges help the area economy bounce back from the pandemic.
Nodding to the way the colleges retrained unemployed airport workers following the terrorist attacks in 2001, Mandelkern suggested similar pivots may be necessary to help those whose careers were interrupted by COVID-19.
Goodman agreed, claiming the district should also focus on the needs of vulnerable students who may be experiencing food or housing instability while simultaneously trying to advance their education.
"We need to make sure we are listening to our students of need and providing a solution that is conducive to ensuring they have ample support," he said.
Mandelkern shared a similar perspective, ultimately suggesting the district should establish as many programs as needed to assure its population is sufficiently stable in an uncertain time.
"We should do what we can to help those students have a better life," he said.
In the race for the district spanning much of the coast and into San Carlos, Petrides too acknowledged the challenges that have faced the district in building her case as the most qualified candidate.
"Fresh eyes are needed," said Petrides, claiming her position is preferable to those who have been a part of the district through a dysfunctional stretch.
Whitlock has extensive experience with the district, having served as a vice chancellor in Galatolo's cabinet for five years prior to his departure in 2019. Following his exit, Whitlock signed an agreement with the district paying him $2.2 million, preceding his subsequent hiring as vice chancellor at the University of California, Berkeley.
Noting his deep knowledge of the district's operations, Whitlock claimed his familiarity would be an asset if elected.
"It is important for this voice to be on the board," said Whitlock, who positioned himself as an advocate for clear communication and transparency from the district to its school community.
Rather than focus on terms associated with his departure, Whitlock claimed his priorities would be making sure students and teachers have the adequate resources to respond to the pandemic.
COVID-19 has amplified many of the district's shortcomings, said Whitlock, who said issues such as student technology access and social support services should be addressed along with guaranteeing teachers are granted equitable access to professional development and child care resources while being asked to manage a fair workload.
"These are programs that exist and can be copied when people are focused on the right priorities," said Whitlock.
Petrides, meanwhile, wished articulate pathways for student advancement were more clear, and favored simplifying the process for students seeking certification or transfer to larger school systems. She also agreed support programs are essential, especially those meeting the needs of students who are grappling with housing insecurity.
To that end, she favored meeting the needs of students who would be interested in lodging at district campuses and nearby residents who oppose the idea.
"I can't believe as a community we can't really put our head together and find some compromises," said Petrides, referencing the differences of opinion that rose around a legislation proposal allowing students to sleep in cars overnight on campuses.
In the race for the seat currently occupied by board President Karen Schwarz, three newcomers claimed they would be the best fit in the district representing Redwood City, Menlo Park and East Palo Alto.
Whitney, who sits on the North Fair Oaks Community Council, said he believes the district could offer invaluable retraining to those in the service sector displaced by the pandemic.
"It is a real time for innovation after a disaster," said Whitney.
Hicks-Dumanske, the Redwood City Library Foundation's executive director, agreed the district could be an essential resource for the region's rebound from a bruised economy. To that end, she suggested career technical education and certification programs will be critical for many looking to join an evolving job market.
"I think community colleges will be more important than ever," she said.
Pimentel, a clean energy entrepreneur, said he believes the district should spend a significant portion of its hearty reserve fund to expand free enrollment programs for students needing financial assistance.
Noting the district has been storing funds in case of an emergency, Pimentel said the time has come to begin spending on support services.
"If this isn't a rainy day, then what is?" asked Pimentel, who also favored ramping up the district's student support programs and job training courses.
Regarding job training, candidates agreed a closer focus should be on the police academy housed at the College of San Mateo. Though the district has no influence on the curriculum taught, consensus was the increased public interest in social justice and police reform mandated officials to have a clearer understanding on what is taught locally.
As for the controversies facing the district recently, Hicks-Dumanske deferred to the wisdom of the officials with more information about the incidents.
"I don't think it is my role to comment," she said.
Other candidates took a more critical position though, claiming officials should have been more transparent and forthcoming.
To that end, Whitney said he was "shocked and appalled" by reports of the botched broadcasting auction and said officials should have sought out more professional assistance before attempting a sale they didn't understand.
Pimentel largely agreed, claiming he would also advocate for more clear communication if elected.
"There is a lot of concern about how our tax dollars are being spent and a culture of secrecy that has existed," said Pimentel.