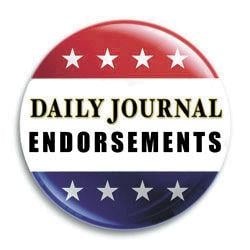 The San Mateo County Community College District fills an important role in our area in that it provides job training, a path to a four-year university and community enrichment. Its role is often amplified in recessions as those newly without jobs look to brush up on skills for a new career path.
There has been some controversy in recent years about a botched sale of the KCSM-TV spectrum and allegations of wrongdoing in the former chancellor's office under investigation by the District Attorney's Office.
Anyone stepping into an oversight role that the Board of Trustees provides will have a full plate of substantial issues with which to contend. This particular race is the second to have district elections and, again, pits two incumbents against each other. For Area 3, Dave Mandelkern and Maurice Goodman are vying for one available seat. District elections aimed to increase participation, which is happening according to the number of overall candidates for all the open seats, but it also sets up situations in which good incumbents must run against each other. Such is the situation in this area.
Mandelkern has served since 2003 and has always been a straight shooter who is thoughtful and smart with his eye on bettering the district. In an ideal world, he would continue serving. However, Goodman deserves to have a tenure as long as Mandelkern's too. Goodman is also poised to responsibly shepherd the district into a new conversation on equity as this has been his focus for 20 years since he fought for it as the Skyline College student body president. Goodman is also a trustee focused on accountability and transparency and will serve the district well as it begins its transition into new leadership in the chancellor's office.
In Area 1, former district administrator Eugene Whitlock is running against educator and nonprofit CEO Lisa Petrides. In a unique twist, Whitlock received around $2.3 million as part of a settlement agreement reached to terminate his position that essentially requires him to have no contact with the district and prohibits him from its three campuses. Whitlock maintains the settlement agreement cannot legally limit his ability to run, but it might lead to court action. Without this, Whitlock is a strong candidate with a good knowledge of the district's inner workings and ideas on how to change it positively. However, by choosing to sign the settlement, he chose to agree to the terms. Whether he must adhere to them would likely be decided in court, which would both be costly and distracting. While it might be appealing to support him, the practical reality suggests otherwise.
Petrides has no such entanglements and is a good candidate in her own right. Her big ideas include emphasis on teacher retention and supporting students in a variety of ways. She is a solid choice and will hit the ground running.
In Area 5, there are three quality candidates for one open seat vacated by departing Trustee Karen Schwarz. Blair Whitney has a no-nonsense style and makes keen observations. Lisa Hicks-Dumanske is incredibly knowledgeable of the district's goals and has a strong focus on keeping students first. However, John Pimentel has the strongest grasp on the district's issues with the emphasis on transparency, equity and connectivity with the community overall. His main goal is to eliminate barriers both traditional and nontraditional to ensure this area's youth have access to the academic setting that both suits them but also poises them for future success. He is a deep thinker who will collaborate without backing down when the situation calls for it.
These races brought out bright candidates with great ideas but the district board will be best served with Maurice Goodman continuing his service and Lisa Petrides and John Pimentel joining him.