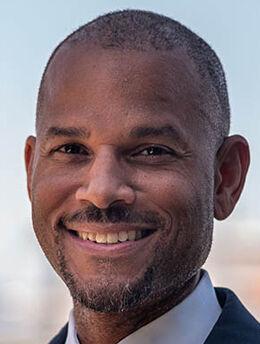 Despite signing a sizable settlement agreement seemingly severing his relationship with the San Mateo County Community College District, a former district employee claimed the deal does not jeopardize his candidacy in the Board of Trustees race.
Eugene Whitlock signed a $2.2 million payout settlement in 2019 when he departed as vice chancellor from the San Mateo County Community College District. After promptly landing a similar position at the University of California, Berkeley, Whitlock is back and running against fellow challenger Lisa Petrides to represent Area 1 on the school board.
While the signed agreement expressly states that he agrees to "have no further contact of any kind, whether direct or indirect, with the [San Mateo County Community College District] or its colleges, including taking any measures that would create any type of relationship with [the district], Whitlock contends those terms are unenforceable.
"There is nothing that can stop me from running for office," said Whitlock, nodding to case law which he said further shields his campaign because voters cannot be denied the right to support their preferred candidate.
A 1991 decision in a lawsuit involving the Grossmont Union High School District and former employee Thomas Davies who signed a similar severance agreement and was later allowed by the court to run for the school board is precedent for his position, said Whitlock.
Whitlock declined to speak about the agreement with the district. But he did acknowledge that he cooperated with the investigation of the county District Attorney's Office into former district chancellor Ron Galatolo.
Meanwhile, district spokesman Richard Rojo said community college district officials hold a different position on Whitlock's candidacy.
"The board of trustees for the college district unanimously decided to terminate Mr. Whitlock's employment in April of 2019. Months before he announced his candidacy, we entered into a settlement agreement with Mr. Whitlock in May of 2020 to avoid the distractions and considerable expense of protracted litigation," he said in an email. "The college district expects all contracting parties, including Mr. Whitlock, to honor their agreements with the district."
Mark Church, assessor-county clerk-recorder and chief elections officer, said Whitlock is a qualified candidate according to the narrow set of standards considered by his office.
"Mr. Whitlock signed the declaration of candidacy stating that he has met the necessary statutory qualifications for this office. Upon review, we have determined that he has indeed satisfied the statutory qualifications for this office and is eligible to run," he said in an email, which notes the office has neither seen the settlement nor would it have affected the filing judgment.
Furthermore, Church deferred to whether the settlement would affect Whitlock's ability to serve the board.
For her part, Petrides wondered whether terms of the agreement would impair Whitlock's service to the district, if elected.
"It does appear not being able to participate in any campus activity would be an impediment to him serving as part of the governing board," she said.
Note to readers: this article has been amended to note that Whitlock did not comment about the agreement signed with the district.