When Tom Sorenson, head coach of the Menlo-Atherton girls' tennis team, was asked before the start of the Peninsula Athletic League season which were some teams to watch out for, he rattled off the usual suspects: Aragon, Burlingame and Carlmont.
But he then added: keep an eye on Woodside.
In addition to coaching the best public school program in San Mateo County, Sorenson is proving prophetic as well. Tuesday, the Woodside girls' tennis team traveled to San Mateo to take on the Bearcats, beating them 5-2 to improve to 4-0 in PAL Bay Division play.
"Right now, our season has been awesome. Everyone on the team is really solid," said senior Daisy Koch, Woodside's No. 1 singles player and team captain. "When I started (as a freshman) we were barely winning any games."
Woodside's rise coincides with the arrival of head coach Lauren Denenberg, who has instilled a sense of camaraderie and respect for the game that has seen the Wildcats already eclipse the win total of the 2019 and 2020 season, combined.
"We're just a positive and happy team," Koch said. "We don't pressure anyone to win or lose. It's all about playing and loving tennis."
Winning certainly helps in the happiness department and the Wildcats, along with M-A, are the lone remaining undefeated teams in the Bay Division.
And unlike 4-3 wins over Aragon, Hillsdale and Half Moon Bay, Woodside beat San Mateo with relative ease, during a match in which the Wildcats proved they can win in different ways.
In their three previous victories, Woodside won one singles match and swept the three doubles matches. The Wildcats' doubles winning streak was ended, however, when the San Mateo No. 2 doubles team of Lucy Ko and Zoe Louie-Der beat Woodside's Madeline Lee and Kailyn Holty in three sets, 5-7, 6-0, (10-5).
But Woodside made up for that loss by winning three of the four singles matches.
"Our doubles is what's been carrying us (so far this season)," Denenberg said. "Today, it was the singles."
The Wildcats set the tone early by taking first-set leads in six of the seven matches and earned the day's first win at No. 2 singles where Arantika Pai won 6-1, 6-0. But the team scored was tied minutes later when San Mateo's Katie Hong beat Koch at No. 1 singles.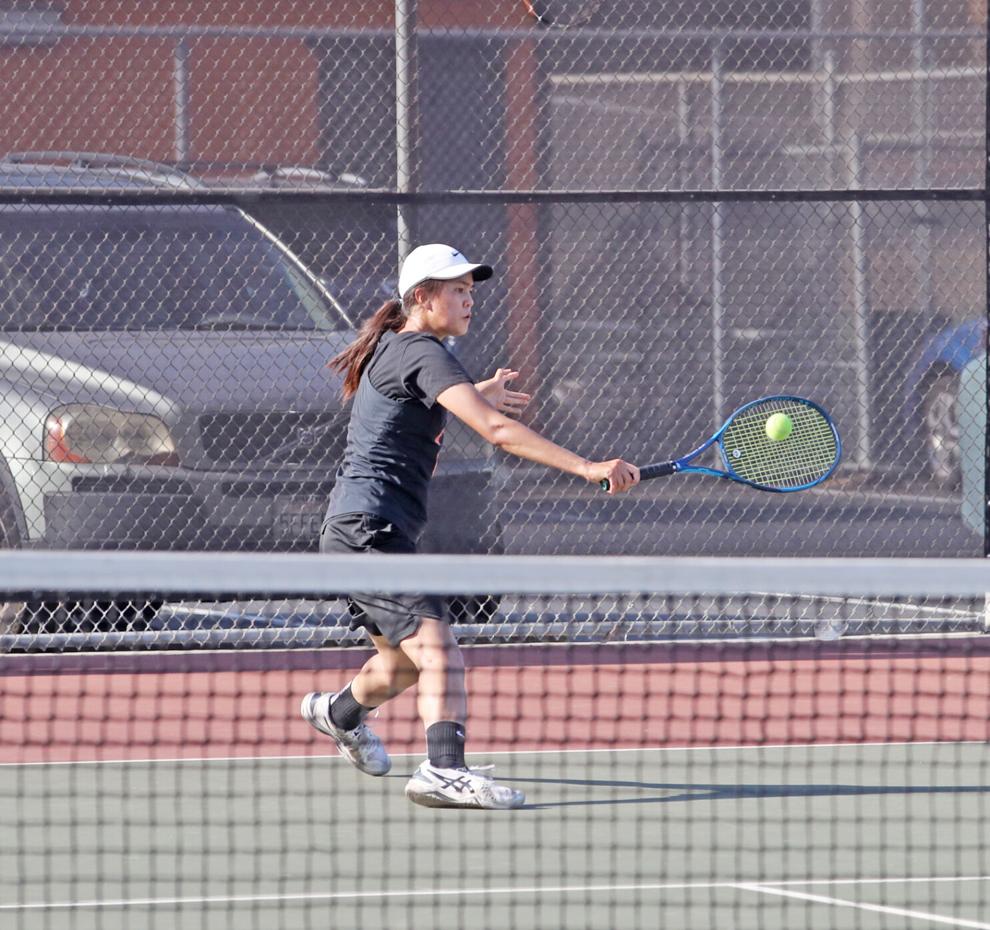 Hong raced to a 6-1 win in the first set and opened up a 5-2 lead in the second before Koch had one last gasp. She won two straight games to close to 5-4, but Hong served out to win the match.
From there it was all Woodside.
"It's a rebuilding year this year," said San Mateo head coach Bryan Jeong. "We have a lot of talent, but need a little bit of work with discipline."
The Bearcats were stunned at the start of the season when a pair of seniors, who were expected to be key pieces for the Bearcats, quit just as league play was beginning.
Jeong said his team has the right attitude, he just wants his players to show a little bit more fire.
"I wish they would care more. Have a little more emotion," Jeong said.
Claire Cook and Adin Helfand, a pair of seniors who have been with the team for four years and didn't play a single varsity match as freshmen, earned Woodside's second point of the day with a 7-5, 6-0 win at No. 3 doubles. The Woodside pair were up 4-3 in the first set before San Mateo's Tatum Fritts and Annika Gurnami rallied to win the next two games to take a 5-4 lead and a chance to win the set on serve.
But Cook and Helfand broke the San Mateo serve to tie the set at 5-all and then won the next two games to win the set.
They then blitzed the San Mateo tandem in the second set.
Woodside freshman Camilla Jeung remained undefeated at No. 4 singles, posting a 6-1, 6-0 victory for the Wildcats' third point and Eva Urbanek clinched the victory for Woodside with her 6-0, 6-3 win at No. 3 singles.
The Wildcats' No. 1 doubles team of senior Carmen Bechtel and her sister, sophomore Annabelle Bechtel, wrapped up Woodside's final win on the day, 6-2, 6-4.
Woodside has methodically grown over the last four seasons, which has contributed to this season's success. Three years ago, 24 players showed up for tennis. Last season, Denenberg had 34 turn out for tryouts. This season, 44 girls came out to play.
"Tennis went from one of the least popular sports (at Woodside) to one of the most popular," Koch said. "[Denenberg] has been an amazing coach. Without her, we would not be where we are."
While the Wildcats may be the feel-good story of the tennis season, they're about to get a severe test as they'll face three of the most established tennis programs in the PAL over the next week. Carlmont will be at Woodside Thursday, next Tuesday M-A will travel to Woodside and next Thursday Burlingame is on the schedule.
"Are we going to beat them?" Denenberg asked. "Maybe not, but we can make them work for every point."