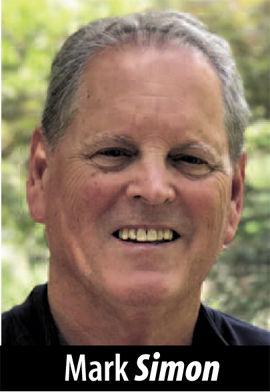 Buckle up. Tie your shoes on tight. Eat a big breakfast. The fall 2020 election is going to be unlike any other — a season of unprecedented activity.
With the passage of last Friday's filing deadline — a frenzied day — it appears a record number of candidates will be on the Nov. 3 ballot throughout San Mateo County with contested races from Colma to Atherton and Menlo Park.
By my count, there are 87 local races on the November ballot. Out of 30 city council races, 22 are being contested; out of 37 school board races, 24 are being contested. Add in 20 special districts, eight city ballot measures, two school ballot measures and it's a packed ballot.
Some of that is due to the increased presence of district elections for city council and school board seats. Quite simply, there are more chances to run for office.
But district elections also lower the threshold facing would-be candidates. Scan the county elections office roster of candidates and you'll see more women running than ever, and more people of color.
These opportunities arise amid an atmosphere of social unrest around race, police and society that we haven't seen in two generations, and an all-consuming restless dissatisfaction and impatience spawned by the COVID-19 pandemic.
GETTING SCHOOLED: The pandemic's impact on schools is coming to a head, which may be why there are so many candidates for school seats, often challenging incumbents. Rod Hsiao, who has been on the San Mateo County Board of Education for 16 years, is being challenged by Chelsea Bonini, who served one term on the San Mateo-Foster City Elementary School District board. … The Ravenswood City School District in East Palo Alto has seven candidates running for two seats, only one held by an incumbent, Mariaelena Gaona-Mendoza. … And the San Mateo County Community College District, where incumbents often have run unopposed and in virtual anonymity, has three contested races: Eugene Whitlock, former district vice chancellor, who holds the same post at the University of California, Berkeley, versus Lisa Petrides, founder and CEO of nonprofit Institute for the Study of Knowledge Management in Education; incumbents Dave Mandelkern and Maurice Goodman facing off in their district; and Lisa Hicks-Dumanske, director of the Redwood City Library Foundation, against John Pimentel, an executive in the clean energy industry.
OH, REDWOOD CITY: There may be no better example of the impact of district elections than Redwood City, which is plunging into the new system for the first time this year. There are four seats up and three of the districts promise hotly contested races. Former councilman Jeff Gee has decided to run again, having passed on re-election in 2018. His opponent is the formidable Nancy Radcliffe, a 19-year veteran of the Planning Commission. They are running in the district that includes all of Redwood Shores and is 39% Asian, although voter turnout by whites is 61%. … Incumbent Janet Borgens, representing a district that is majority Hispanic, has drawn two opponents, long-standing smart growth advocate Isabella Chu and newcomer Lissette Espinoza-Garnica. … Incumbent Alicia Aguirre, the lone Latina on the council, is being challenged by recently retired police officer Chris Rasmussen and newcomer Mark Wolosin. This district is 70% white and has the highest household income and the largest number of homeowners (79%) and the lowest number of renters (21%). 
RACES TO WATCH: Something's going on in East Palo Alto. In addition to the crowded school district race, three city council incumbents are facing four challengers. … In San Bruno, Councilwoman Linda Mason, in office about a year, is challenging Mayor Rico Medina, seeking his second term as the county's only directly elected mayor. … And, of all things, the San Mateo County Harbor Commission has contested races. Sabrina Brennan is out office due to new districts, but we can detect her subtle hand: Lemoine Fernandez, Brennan's mother — yes, her mother — has filed to run against incumbent Tom Mattusch. Kirsten Keith, bounced from the Menlo Park City Council two years ago, is running for the Harbor District against incumbent Virginia Chang Kiraly.
CLEANUP ON AISLE THURSDAY: Some fixes from last week: Max Fennell is running in Menlo Park for a vacant council seat against Jen Wolosin and Chelsea Nguyen. Catherine Carlton, in the same district as colleague Ray Mueller, opted not to run and endorsed Mueller, who is unopposed. … Mark Olbert, who bowed out of re-election to the San Carlos Council served two terms, not one. … Millbrae Council candidate You You Xue objected to my labeling him a "perennial" candidate, and he's right. It was gratuitous and inaccurate.
Mark Simon is a veteran journalist, whose career included 15 years as an executive at SamTrans and Caltrain. He can be reached at marksimon@smdailyjournal.com.
Editor's note: One section of this column, referring to Kirsten Keith as being recruited, was changed because of an inaccuracy.