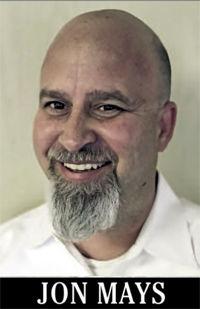 I have a slight obsession that may or may not serve me well in the future. I'm leaning toward the latter because it's largely rooted in the past.
It involves remembering the locations of former businesses in downtown San Mateo. My memory may not stretch as long as most folks. But there has been ample enough change in the last 20 years to make some sort of catalogue.
And this can be interactive. If I'm wrong about something or you remember something prior, let me know!
In referencing the closure of Trag's in a prior column, I mentioned that the building had been there since the early 1970s. Someone was quick to point out that another grocer "Rakestraw's" was there prior. It made me think of all the other former businesses and what is there now.
I'll start with the big one. The Draeger's at Fourth Avenue and B Street was once the old Levy Bros. department store (the vacant building I do remember from my youth).
Across the street at 225 E. Fourth Ave. and B Street is a T-Mobile that used to be Wollmer's Music.
The Liuyishou Hotpot on Third Avenue and San Mateo Drive was most recently Zabu Zabu, and before that an Ichiban Kan, a Japanese value store. But it is most known as the former location of Collins Pharmacy. Way before that it was Noah's Cafeteria.
The CorePower yoga location on B Street which just had its facade redone and upper levels reconfigured for offices was once a Thrifty's, then a Rite Aid, then vacant for years. I think it was originally a movie theater. It looks pretty spiffy these days, with its living wall.
The Curry Up Now location on B Street next to Philz Coffee is my favorite spot. Before it was Curry Up Now, it was home to Gator's, a Southern restaurant, which also occupied the next door location that is now Dashing Diva Nails. Gator's was amazing, with quite possibly the best cornbread and honey butter in the world. But it didn't last. Before that, it was a Quizno's. And before that, it was The Full Moon Saloon, which I heard once tried to have mud, or maybe it was oil, wrestling. Or maybe that was Club Anté, where B Street Boxing is now. Next door to Dashing Diva's, where Inchin's Bamboo Garden is located, was Osteria Coppa, which closed though extremely popular, and before that, was a Pasta Pomodoro which put in the red awnings and the back patio. Before that, it was a vacuum repair shop that I'm pretty sure moved to Fifth Avenue and B Street, next to the Ravioli House, which I'm fairly certain has always been the Ravioli House, though it is now far different now than when it offered "Chicken Slender."
Over at the corner of B Street and Third Avenue, the Peet's was once home to the Great River Company, a fly fishing shop, and before that long vacant and once considered as a spot for a downtown teen center, when such things were considered, called "The Fish Bowl" since it had open windows to the street.
On the northeast corner of Second Avenue and B Street, at Morse's Corner, the Verizon store was once home to Environment Skate Shop, which was sort of a de facto teen center. Across the street is the House of Merkel, which has its own long history as a cigar store, a tailor shop, antique store and a gathering place for games of chance before it was Redbird Brewery, Barley and Hopps and finally Kingfish, which shut down last year. It's currently being renovated with offices on the upper levels and a restaurant on the street level. What type of restaurant, we shall see.
There were also several downtown movie theaters. The current movie theater? Used to be a garage. The Pasta Pasta shop on Fourth Avenue? Used to be a skate shop. And the following were before my time: The 24-Hour Fitness? Used to be I. Magnin. The ABC Champagne Lounge on Ellsworth and Fourth avenues? Used to J. Magnin, and later, Judd Green. The Jos. A Banks on Third Avenue? Used to be local apparel store Schneider's, and long before that, J.C. Penney. Hero City of Third Avenue? Antique store and before that, Levy Bros. San Mateo Liquor on B Street? Used to be a Piggly Wiggly, then a Safeway. Next door? Used to be Woolworths. The Walgreens? Used to be St. Matthew Catholic Church and Rectory.
I could go on and on. It's amazing how the old buildings adapt to new uses and how what was once so popular fades over time with just a few reminders of the past. What's your former favorite?
Jon Mays is the editor in chief of the Daily Journal. He can be reached at jon@smdailyjournal.com. Follow Jon on Twitter @jonmays.