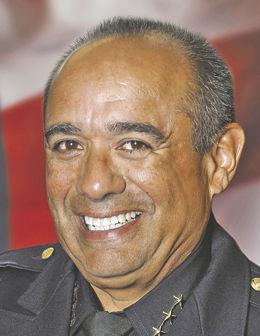 Heeding calls from immigrant residents, activists and other community members, San Mateo County Sheriff Carlos Bolanos announced his department will no longer comply with requests to transfer undocumented inmates to federal immigration custody without a judicial warrant.
"It has become apparent to me that complying with those requests regarding the pending release of undocumented individuals who have committed serious crimes is undermining the trust we need to protect the community. It simply is not worth losing the trust of many members of the public by continuing to process these requests from ICE," Bolanos said in a press release.
San Mateo County is one of the last Bay Area jurisdictions to voluntarily comply with the Immigration and Customs Enforcement agency requests, transferring 15 inmates to ICE custody in 2021 and 21 inmates in 2020.
For comparison, Alameda County transferred eight inmates to ICE custody and Solano County transferred one while no transfers were conducted by Marin, San Francisco, Contra Costa, Santa Clara, Sonoma and Napa counties, that same year, Melanie Kim, an attorney with the Asian Law Caucus said during a Truth Act Forum held last week by the Board of Supervisors.
Under Senate Bill 54, approved in 2017, state and local agencies are prohibited from using resources to comply with ICE requests but some exceptions can be made for individuals who have committed serious and violent crimes.
Agencies that do cooperate with inmate transfers to ICE are mandated by the state to hold a forum at least once a year as conditioned under the state's Truth Act, which was approved in 2016.
The decision to align the department's policy with other Bay Area counties comes after more than 100 participants joined the forum demanding the practice end, arguing that it inflicted additional punishment on undocumented immigrants.
Unlike citizens who complete their sentences, undocumented immigrants have been at risk of further separation from their families depending on the severity of their crime and whether ICE determines them to be a serious risk.
Though Bolanos argued during the forum that the policy has provided comfort to some crime victims who can rest assured their abuser will no longer have access to them, community members countered that the policy actually discouraged people from reporting crimes out of fear of destabilizing their homes.
In an interview Tuesday, Bolanos said that argument resonated most with him, driving him to ultimately end ICE transfers. He said he hopes the policy change will drive trust between the agency and community, encouraging the public to feel safe reporting crimes.
"At the end of the day my primary focus and priority is the safety of the public," Bolanos said. "I think our community becomes unsafe when people are unwilling to report crimes, whether they be victims or witnesses, due to the mistrust of law enforcement."
Also contributing to the policy change is the recognition of how much staff time has been spent on processing the requests, another point raised by the public. Bolanos said the office receives a high quantity of requests but only complies with a few, ultimately failing to justify the number of hours spent on ensuring the requests are correct and fulfilled.
The comments also persuaded supervisors who either joined the calls to end the practice or shared support for reforms during the forum.
David Canepa, president of the board, was one of three supervisors who wanted the transfers to end. After previously sharing confidence in the sheriff's willingness to rethink the policy, Canepa doubled down on his support for Bolanos in the press release.
"This is a momentous and compassionate decision by our sheriff to end cooperation with ICE. He listened to the community and values all our residents regardless of immigration status. This is a policy change that will keep families whole and I applaud Sheriff Bolanos for taking this action," Canepa said in the press release.
Despite still having reservations on the policy change and the potential for released individuals to reoffend, Bolanos said he had to weigh those concerns against the overwhelming input from the public.
As an elected official, Bolanos noted his job is to listen to his constituents. Bolanos is currently running for reelection but said the race was not considered when making his decision, noting he openly supported ICE transfers when elected in 2018. Instead, he said his decision was "based on what I think is right and public safety."
Bolanos will continue to monitor the effects of the policy change in partnership with supervisors Don Horsley and Carole Groom who were appointed to a subcommittee on the issue last week by Canepa.
Groom thanked the sheriff in the press release for his swift action on the policy change, calling it the right step for the county, while Horsley, who served as sheriff before becoming a supervisor, said the decision reflected Bolanos' values.
"This decision is consistent with the sheriff's personal values and deep-rooted commitment to serve and protect all San Mateo County residents, regardless of immigration status. These values are reflected in his office's long-standing history of support and engagement with immigrant communities," Horsley, who represented a large Latino population along the coast, said in the release.
While it can be difficult to decipher the influence of the new policy on the community, Bolanos said he hopes to see more crimes reported by those who may have previously felt afraid to cooperate with law enforcement.
"It's a very complex issue and there are no easy decisions," Bolanos said. "I feel like it's the right thing to do at this time. I think I did what I should do."