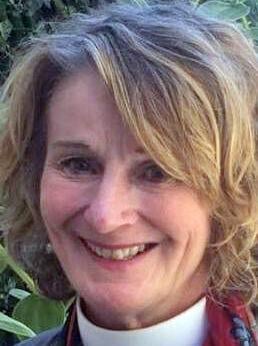 I am a deacon in the Episcopal Church and a member of the Peninsula Solidarity Network, which is a group of interfaith leaders in San Mateo County, who gather to learn, discuss and speak on issues of concern in our county. I am also a member of Faith in Action Bay Area, a community organizing group that brings the most pressing social issues facing the underserved in our county to the forefront. 
In my work, I have heard countless stories over the years from many of our neighbors, who have had to experience the heartache firsthand of not knowing where their loved one is due to the transfer of inmates within the San Mateo County jails to ICE. I have heard stories from mothers whose children ask with tears in their eyes, "Where is Daddy?" and "When is he coming home?" Their mothers don't even know how to answer their children's unsettling questions because oftentimes they don't know the answer themselves. 
For that reason, it was encouraging to hear Sheriff Carlos Bolanos make the following statement on Nov. 9 in a press release regarding the transfer of inmates within the San Mateo County jails to ICE: "It has become apparent to me that complying with those requests regarding the pending release of undocumented individuals who have committed serious crimes is undermining the trust we need to protect the community. It simply is not worth losing the trust of many members of the public by continuing to process these requests from ICE."
We now encourage the sheriff to develop a written San Mateo County police policy that puts this change of position into action.
I commend the sheriff's new compassionate position, because now many of our county families will not face the turmoil of the 100 families whose loved ones were transferred to ICE since the California Department of Justice began publishing these statistics four years ago. Many of the inmates transferred to ICE left behind spouses, children, parents and others who relied on them for emotional and financial support. ICE transfers created a lot of heartache and trauma for those family members that were left behind not knowing where there loved one was or how to contact them.
As a community, we are now hopeful that mothers will no longer be asked the difficult questions by their children and we appreciate Sheriff Bolanos' compassionate decision to stop the transfer of inmates to ICE.
In addition, it should be noted that Sheriff Bolanos' decision will also have a positive financial impact on our community.  Many of the family members left behind became significant consumers of our county's public benefits. This will no longer be the case for these families, as they once again become financial contributors to our community through their hard work. As it says in Psalm 107: "But God raises up the needy out of distress and makes their families like flocks."
Today, I am asking our elected Board of Supervisors to adopt a policy resolution that prohibits ICE notifications and transfers, and prohibits the use of county funds being used in cooperation with ICE, as our neighboring county Board of Supervisors have done. It is imperative that our elected Board of Supervisors act now, unified in protecting the rights of all of our citizens, not just the wealthy and powerful. The time is now to act as a compassionate community that also protects the vulnerable underserved that are living and working in San Mateo County. 
I hope and pray that we can count our Board of Supervisors: President Canepa, Supervisor Pine, Supervisor Groom, Supervisor Horsley and Supervisor Slocum to protect the rights of the immigrants detained in San Mateo County jails. As it says in Chapter 3 of The Letter of Paul to the Colossians: "Clothe yourselves with compassion" but "above all, clothe yourselves with love, which binds everything together in perfect harmony." (If you would like to contact the Board of Supervisors, go to https://bos.smcgov.org).
The Rev. Deacon Lauren P. McCombs is from the Episcopal Diocese of California; a member of Peninsula Solidarity Network and a community leader for Faith in Action Bay Area and has lived in San Mateo County for 37 years.