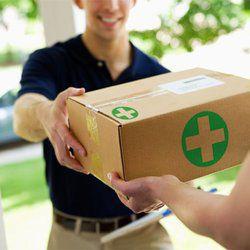 Officials gave the green light to South San Francisco's first commercial cannabis company by allowing The Loaded Bowl to begin marijuana delivery services to the community.
The South San Francisco Planning Commission approved during a meeting Thursday, Nov. 15, the small, family business' application to begin serving city residents.
Dalvin Martin, 23, who will run the delivery company with his grandmother, expressed his appreciation for the opportunity to be a pioneer in the legal cannabis industry.
"I just want to help out South City," said Martin, who was raised in South San Francisco. "These are the people I've seen all my life and I just want to make sure I'm spreading happiness and raising the quality of life."
Under the commission's approval, Martin said he needs to obtain a business license, after which point he expects to open up shop as soon as possible. The company will initially only serve South San Francisco, but Martin hopes to eventually grow the operation.
The decision comes in the wake of city officials laying the groundwork for allowing select companies in the cannabis industry to open in certain parts of the city as well as voters approving a new tax on such businesses.
For his part, city Planning Manager Sailesh Mehra expressed his optimism for the company's forthcoming start.
"We're excited and we think the business will work out fine," he said. "We are just going to put a lot of onus on them to self regulate and manage their own business."
To that end, Martin in his application laid out a detailed plan designed to assure his company adheres to a comprehensive list of safety regulations.
Two employees and a team of drivers will eventually operate from the space which will offer no storefront access for retail customers and only accept online or phone orders for deliveries of pre-packaged products. There will be no signs on the business either.
The stringent guidelines are laid out in a detailed use agreement crafted by officials, in alignment with a decision by the South San Francisco City Council to allow cannabis companies in the east side of Highway 101, a fair distance from neighborhoods, schools, children's centers or other potentially sensitive uses.
Beyond compliance with local safeguards, the company will also be subject to the new commercial cannabis tax approved by voters on the fall ballot. According to Measure LL, The Loaded Bowl will be mandated to pay the new tax rate of between 1 percent and 5 percent of gross tax receipts. The tax is slated to go into effect by the turn of the new year, or 10 days after the South San Francisco City Council certifies election results.
The company also agreed to contribute $5,000 annually for the city to finance a drug awareness campaign at local high schools, focusing on the dangers of substance abuse. Mehra said the money will go into a fund which helps sponsor a performance of Every 15 Minutes at local schools, detailing the threat of impaired driving.
Mehra said similar contributions would be expected from most other companies in the cannabis industry, but acknowledged the amount paid will scale to the size of the business.
"This is a grandmom and grandson owned business," said Mehra. "So we put the onus on them for what they were willing to contribute."
For Martin, after previously working for a cannabis cooperative in Redwood City, he said his family is excited to start serving their local community.
"Doing it in South City is kind of ideal because that's where I've been born and raised," he said.
He also shared a sense of pride in becoming the first legal cannabis merchant in South San Francisco.
"We are just trying to be the first one through the door and take advantage of the opportunity and change the negative stigma on cannabis in general," he said.