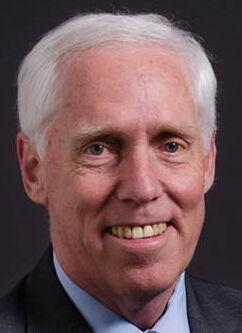 In an effort to ensure the investigation into the death of a 36-year-old man hit with a Taser by sheriff's deputies in October is fair, District Attorney Steve Wagstaffe said he is hiring an independent expert specializing in "use of force" incidents to weigh in on what will become a monthslong investigation.
By asking an expert in the field who is not connected to San Mateo County law enforcement to contribute to his office's investigation of the Oct. 3 Millbrae incident that led to the death of Chinedu Okobi, Wagstaffe is hoping those who voiced concerns about potential misconduct on the part of the five deputies will receive assurance regarding the fairness of the effort to determine whether excessive use of force was used.
"This one has received far greater attention than any other case we've had over the years," he said. "For my constituents, I'm concerned that they feel that it is a fair investigation."
But inviting an expert from outside the county to review video footage, police and coroner's reports and other information relevant to the case will extend the date by which Wagstaffe estimated his office's report, along with the information reviewed as part of the investigation, will be released to the public. Though he previously said the investigation could be complete by mid-December, he is now estimating a report will be available between mid-January and mid-February.
Wagstaffe has been fielding calls from dozens of concerned individuals in recent weeks after Okobi's sister Ebele Okobi wrote in a Nov. 18 Facebook post that video footage of the incident is at odds with police accounts of what happened that day and urged readers to ask Wagstaffe to release of the footage and recordings of any calls made to 911 prior to five deputies' contact with Okobi.
Though video footage of the incident has not yet been released to the public, the Okobi family viewed about 25 to 30 minutes of the hours of video recorded that day, Wagstaffe said previously. Though the San Mateo County Sheriff's Office released a statement Oct. 3 claiming Okobi was "running in and out of traffic" on the 1300 block of El Camino Real in Millbrae at 1 p.m. and assaulted a deputy, Ebele Okobi said the videos contradict the Sheriff's Office's statement, which she noted Wagstaffe has referred to in reports from multiple news outlets.
Ebele Okobi said video shows her brother walking calmly down the sidewalk and not in the street and he "doesn't look disheveled or as if he's in crisis" when a deputy approached him. She wrote her brother never assaulted anyone and actually died on the scene after deputies hit him with a Taser multiple times, struck him with a baton and deployed pepper spray. At one point, she wrote, Okobi tried to run away when deputies chased him, hit him with a Taser again and did not attempt to revive him.
Holding "Justice for Chinedu" signs and urging county officials to take action following Okobi's death, dozens of residents filled the San Mateo County Board of Supervisors' meeting chambers Tuesday.
By joining Okobi's family in asking for the release of video footage related to the incident and imploring officials to take the five sheriff's deputies involved in the incident off their patrols, many of those gathered at the county supervisors' meeting Tuesday expressed varying levels of disappointment in officials' response to Okobi's death.
Millbrae resident and civil rights attorney Saira Hussain said she drives past the scene where the incident took place and it appears things have largely gone back to business as usual. Hussain urged officials to release the video footage of the Oct. 3 incident and place a moratorium on Tasers, which she said have proven to be dangerous and played a role in multiple deaths across the country.
"You as the Board of Supervisors cannot go back to business as usual," she said, according to a live video of the meeting. "I ask that you recognize that Chinedu's life mattered and that black lives mattered in our community."
Because no related item was on the board's Tuesday agenda, board President Dave Pine said supervisors could not conduct a discussion but thanked all who voiced concerns at the meeting. Having had the opportunity to meet with Ebele Okobi along with Supervisor Warren Slocum, Pine said their hearts go out to Okobi's family and noted the incident also weighs very heavily on the minds of those working in the Sheriff's Office.
"Everyone on this dais like everyone else in the room recognizes this is a terrible, terrible tragedy," he said. "It's a really sad time for the county and we feel that every bit as much as you do."
Pine looked to the completion of the district attorney's report and the release of all the evidence considered in drafting it as the opportunity for officials and the public to understand what happened that day. He added the deputies involved in the incident are not currently on patrol and are instead assisting with the transport of inmates between jail and the courts.
Though he acknowledged Tasers are not intended to be lethal weapons, Pine noted there have been three deaths related to law enforcement's use of Tasers in the county this year, warranting a public discussion about the role of Tasers in local law enforcement. In November, Wagstaffe determined the filing of criminal charges was not warranted against four Redwood City police officers involved in a struggle with a 55-year-old Redwood City man with history of mental illness.
By employing procedures learned through Crisis Intervention Training and in an Aug. 13 attempt to subdue Ramzi Saad — a 6-foot-1-inch man weighing 273 pounds who earlier in the evening forcibly pushed his 83-year-old mother to the ground — the four officers acted in accordance with the law, explained Wagstaffe in November.
Three Daly City police officers involved in a struggle with 34-year-old Warren Ragudo Jan. 16 — during which a Taser was deployed — were also found by the District Attorney's Office to have acted in accordance with the law in April.
Though he noted how and whether sheriff's deputies should use Tasers is up to the Sheriff's Office, Pine said emphasized the importance of having a discussion with the public on their use in the county.
"I would like to see this board have a discussion about the role of Tasers in law enforcement," he said. "I think a public discussion on this is important."
In other business, supervisors unanimously approved a Sheriff's Office proposal to deploy 537 body-worn cameras and 80 in-car cameras among the department's correctional officers and sheriff's deputies. The five-year contract with Axon Enterprise, Inc. to provide the two types of cameras and a digital evidence management system is expected to cost some $3.9 million and require at least four new staff members, increasing salary and benefits costs in the Sheriff's Office by some $525,000 annually.
The board also unanimously accepted $7.5 million in donations from the Thomas and Stacey Siebel Foundation and John Arrillaga toward improvements to the outdoor rifle range at the Coyote Point Recreational Facility. In 2016, the Thomas and Stacey Siebel Foundation and John Arrillaga funded a plan to build a new indoor shooting range used by law enforcement for handgun training adjacent to the outdoor range, which opened in 1962. Funds for the outdoor facility, which is open to the public three nights a week, will support noise and safety improvements as well as a simulation-based tactical training unit.
Supervisors also discussed changes in state laws guiding local law enforcement's interactions with Immigration and Customs Enforcement, or ICE. Following the passage of Senate Bill 54, otherwise known as the California Values Act, the Sheriff's Office is allowed to notify ICE when an individual who has been convicted of a serious or violent crime is released from county jail facilities, but the Sheriff's Office does not proactively reach out to ICE and only responds to the agency's requests for notifications of release dates, explained Undersheriff Mark Robbins.