How Taser training for law enforcement officers in San Mateo County can be improved and whether officers equipped with the electroshock weapons should carry medical equipment were among the items county officials pegged for further study following a wide-ranging discussion of Tasers Monday evening. 
Dozens of residents gathered at San Mateo County Center in Redwood City for a study session called by officials after three men died in incidents involving use of Tasers by law enforcement officers in 2018, with many calling for justice for Chinedu Okobi, a 36-year-old man who died after being hit with a Taser by San Mateo County sheriff's deputies in Millbrae Oct. 3. 
The Rev. Amie Giordano of the Congregational Church of San Mateo was among several others who urged officials to carefully consider how the three deaths could have been prevented, noting the three men were members of the community and the loss of their lives has been grieved by the community. 
"Their lives are just as precious and irreplaceable as the lives of all of our loved ones," she said. "We have a responsibility to make sure no other lives are lost." 
In acknowledging sheriff's deputies deployed Tasers five times between October of 2017 and September of 2018, Supervisor Dave Pine said he felt they should be used rarely and that they had been used rarely by sheriff's deputies. But in describing Tasers as semi-lethal, Pine suggested officials take another look at the training officers receive before being equipped with them and the medical protocol officers follow after a Taser has been deployed, noting the county's policy could serve as a model for the other 16 law enforcement agencies in the county. 
"There's absolutely no question these weapons are incredibly powerful and they're really painful," he said. "My hope would be that if we see a pathway to improve our policy, that that would provide leadership for those other 16 [agencies]."
Aimed at providing residents and officials with more information on the circumstances under which sheriff's deputies might use Tasers, how they are meant to subdue individuals and the risks of using them, Monday's forum was not designed to address the specifics of any of the three incidents — which also include an incident Jan. 16, 2018, in which 34-year-old Warren Ragudo died after a struggle with three police officers in Daly City as well as an attempt Aug. 13, 2018, by four Redwood City police officers to subdue 55-year-old Ramzi Saad. 
Sheriff Carlos Bolanos said deputies have been equipped with Tasers as an alternative to using physical force, which he said can include use of a baton, a chokehold or a firearm to subdue a suspect. He said the Sheriff's Office's policies are largely derived from the penal code giving a peace officer the authority to use reasonable force to make an arrest when deputies determine a lower level of force would not be adequate. He added the policy currently lists several factors deputies should consider when using force, such as the immediacy of a suspect's perceived threat to deputies or others, the degree to which someone is restrained, an individual's mental state or capacity and the effects of drugs and alcohol.
Sheriff's Detective Michael Tabak explained in-service law enforcement officers are required to go through crisis intervention training, which he said aims to educate officers on how to recognize signs of mental conditions or emotional stress and identify implicit bias. He added that since 2015, the Sheriff's Office and the San Mateo County Health's Behavioral Health and Recovery Services Division have developed the county's Psychiatric Emergency Response Team, which pairs a sheriff's detective and a county mental health clinician to respond to Sheriff's Office cases involving individuals with known or suspected mental health conditions and connect them with resources that can keep them out of jail or emergency rooms. 
Amy Nguyen, litigation counsel and conducted energy weapon legal advisor for Axon, said several studies have shown Tasers are one of the most studied and effective intermediate force options available to law enforcement officers, noting they allow officers to deploy the weapons from a safe distance and have in several instances given officers a chance to subdue an individual by displaying them only. 
Representing the Bar Association of San Francisco, Julie Traun said she was among a team of researchers reviewing use of Tasers in San Francisco, where police officers don't currently use them. Traun said researchers found the weapons have been associated with an increase in officer-involved shootings after the weapons were introduced into a department and has also increased the risk of injury and death for people of color. Noting Tasers have logged efficacy rates as low as 53 percent to 50 percent, respectively, in Los Angeles and Oakland, Traun noted studies suggesting officers may resort to lethal force or repeated use of a Taser if the weapon fails the first time officers attempt to deploy it.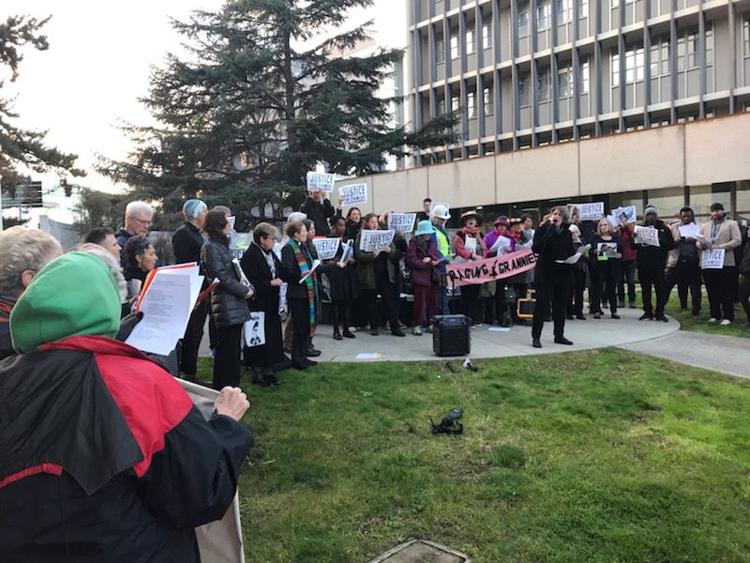 Several residents stepped forward advocating for the Sheriff's Office to revise its policies and others urged supervisors to place a moratorium on Tasers. Though County Counsel John Beiers noted the Board of Supervisors retains power over a county's budget, he said a section of the government code asserts the Board of Supervisors has no control over a sheriff's law enforcement actions and therefore supervisors could not dictate the county's Taser policy. 
Supervisor Warren Slocum wondered whether Pine and board President Carole Groom, who together served on an ad hoc committee convening the Monday forum, could meet with Bolanos and his staff to scope what possible changes to the county's Taser policy could be considered. Slocum advocated for including community members among the committee scoping these recommendations, and also suggested they consider reviewing the experience of East Palo Alto, the only city in the county where Tasers aren't used. 
In agreeing the county's Taser policy and training could be improved, Supervisor Don Horsley noted law enforcement officers often find themselves helping others with mental health conditions and wondered what more can be done to equip them with the tools to avert these crises in the future. With 35 years of law enforcement experience and as the former sheriff, Horsley offered his experience as a resource to Bolanos as officials review the policies. 
Okobi's sister Ebele Okobi acknowledged supervisors have a distinct role from the Bolanos and District Attorney Steve Wagstaffe, who is currently investigating her brother's death and is expected to release a report detailing whether the five deputies involved in the incident will face charges. She thanked supervisors for playing a role in the discussion, and said she looked to the forum to help scope what kind of community the county wants to be and whether it is a place where county officials are held accountable for their actions. 
She said she also felt it was her role to remind officials of the people and families behind all of the statistics about Tasers, urging them to consider the community impact of the policies they adopt. 
"In my view … it's that first step in bringing accountability, it's a first step in understanding whether or not the policies that there are in San Mateo County are truly to protect and serve," she said, of Monday's forum. "And then, even having those policies, I think it's the first step in figuring out what happens when those policies aren't followed." 
(650) 344-5200 ext. 106