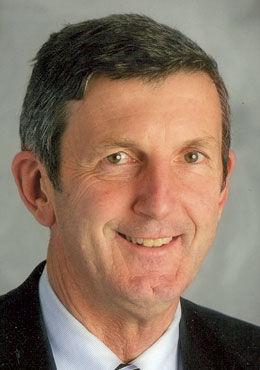 Kevin Skelly, superintendent of San Mateo Union High School District, announced his retirement effective at the end of the school year in a letter to faculty, students and district families on Wednesday after nearly seven years serving as the top administrator in the district. 
"I have so loved working in the district and will miss so many aspects of our work. That said, it's time to be more present with my family and others whom I love. This was not an easy decision. Even though it's hard to leave, I look forward to this new phase in my life," the letter reads. 
Skelly is a 40-year veteran educator who was appointed as SMUHSD's superintendent in 2015 after serving as superintendent of Palo Alto Unified School District for seven years. The Harvard University and University of California, Berkeley, grad began his career in education as a high school math and Spanish teacher before entering administrative work in 1993 when he became the principal at Saratoga High School and later associate superintendent at the Poway Unified School District. 
Peter Hanley, president of the district's Board of Trustees, has worked with Skelly since his hiring and lauded the administrator as a valuable leader who has successfully navigated the school community through the pandemic, initially bridging technological gaps during remote learning and ensuring a return to campus would be safe for all.  
Before the health crisis, Hanley said Skelly has worked with the board on advancing a number of priorities including equity initiatives that will diversify staffing to better reflect student populations, growing student access to entry level college courses through its middle college program and creating greater use of technology in and out of the classroom. 
"He's been a very compassionate, sensitive leader in the district and I think he's well respected," Hanley said. "I think he's done a very good job for the district and I think we wish him the best whatever he decides to do in the next part of his life." 
In recent years, Skelly has been among a handful of administrators facing criticisms for alleged mismanagement after a Mills High School teacher accused them of negligently disregarding her attempt to blow the whistle on abusive students, urging her to inflate grades and retaliating against her.
Investigations into the claims by the Committee on Credentials, the investigative arm of the state's Commission on Teacher Credentialing, are ongoing and the administrators face suspensions ranging from 14 days to 120. 
But the district's Board of Trustees have stood behind Skelly through the controversy and recently voted unanimously to approve a pay hike that raised his annual salary to nearly $329,000. 
Skelly leaves "big shoes to fill," Hanley said. Discussion around what the board will be looking for in a new superintendent will begin soon and a hiring search firm will likely be tapped to assist in the process, he added. 
In his letter, Skelly said he decided to announce his retirement now to give the board adequate time to "find a new superintendent worthy of the promise of our students and the culture of professionalism in our district staff." His term will end at the end of the school year in May.
"There's a special culture here centered on providing a leavening experience for students in order to create a more just and equitable world. Immersing myself in our collective work has given my life a sense of deep purpose and professional satisfaction," Skelly said. "I look forward to being part of our collective efforts to do right by our students and their families this semester."