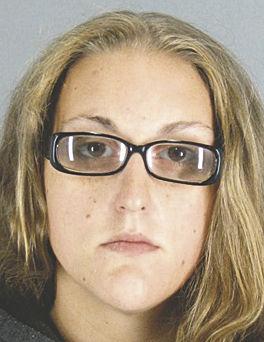 More than a year and a half after a woman attempted to drown the baby boy she just gave birth to in the restroom of a Redwood City McDonald's restaurant, the 27-year-old facing a four-year prison term for the Sept. 4, 2017, incident received five years probation Friday, according to the San Mateo County District Attorney's Office.
Sarah Lockner was also sentenced to one year of county jail and received 694 days credit for time served. Judge Stephanie Garratt allegedly said that though she believes Lockner's actions are worthy of prison, she would give her a chance at probation, adding that with any violation of her probation Garratt would send Lockner to state prison for four years, according to prosecutors.
Lockner is said to have been working an evening shift at the fast-food restaurant when she made repeated trips to the restroom that evening, citing stomach pain. At around 10 p.m., her manager suggested she go home but, even after clocking out of her shift, Lockner stayed at the restaurant in the restroom, according to prosecutors.
One employee who checked on Lockner saw blood surrounding the stall. When a second employee checked on her, she looked over Lockner's stall and saw her holding the baby facedown in the toilet bowl. The employee said she heard the toilet flush when she stepped down and alerted police, despite Lockner's request that she not alert authorities, according to prosecutors.
Though the child was without a pulse and not breathing when police arrived, he responded to emergency care at the hospital. Lockner is believed to have told police at the scene she didn't know she was pregnant and was surprised the baby was born, according to prosecutors.
Defense attorney Jonathan McDougall has previously tried to have Lockner's charges thrown out, even bringing to the stand a witness who could attest to a prior incident in which she was allegedly unaware she was pregnant and gave birth to her now 4-year-old child. In that situation, Lockner reportedly walked into the bathroom of her apartment while her boyfriend and aunt were there and came out with a newborn baby. None of the parties, including Lockner, were aware she was pregnant at the time, according to prosecutors.
McDougall also brought to the stand Dr. Cara Angelotta, a forensic psychiatrist at Northwestern University's Feinberg School of Medicine, who found Lockner's behavior — including her lack of attention to her son's medical needs following his birth — was a direct result of her severe and acute symptoms of pregnancy denial, according to a sentencing memo he filed May 3.
Angelotta also diagnosed Lockner with post-traumatic stress disorder as a result of repeated acts of rape in her past, according to the memo.
Though McDougall acknowledged Lockner's actions nearly cost the life of her infant son and negatively affected her older son — who has not had his mother with him for the past two years — he looked to her dedication to becoming a better mother and a probation officer's observation of Lockner's remorse for her actions as evidence probation is the appropriate punishment for his client.
"As seen by those closest to her, Ms. Lockner's actions are not the true person they know and love," he wrote in the memo. "She has accepted responsibility and devoted herself to becoming a better mother, and preventing any similar acts from ever occurring again."
District Attorney Steve Wagstaffe said Lockner would also be required to complete counseling, take all the medication prescribed to her and abstain from drugs and alcohol. He said custody of the child will be determined at a later date in family court. The baby was reported to be healthy and living with his father's aunt when Lockner took the plea deal in January.
Wagstaffe said prosecutors continue to believe that prison is appropriate for someone who harmed a helpless newborn, but acknowledged Garratt's decision to give Lockner another chance was reasonable.
"The leniency Judge Garratt exercises here is fair and we're going to find out what happens now," he said.