A year after the Belmont Planning Commission gave Notre Dame de Namur University the green light to restore and update its historic Ralston Hall, plans to renovate the building are coming back to the commission with modifications Tuesday.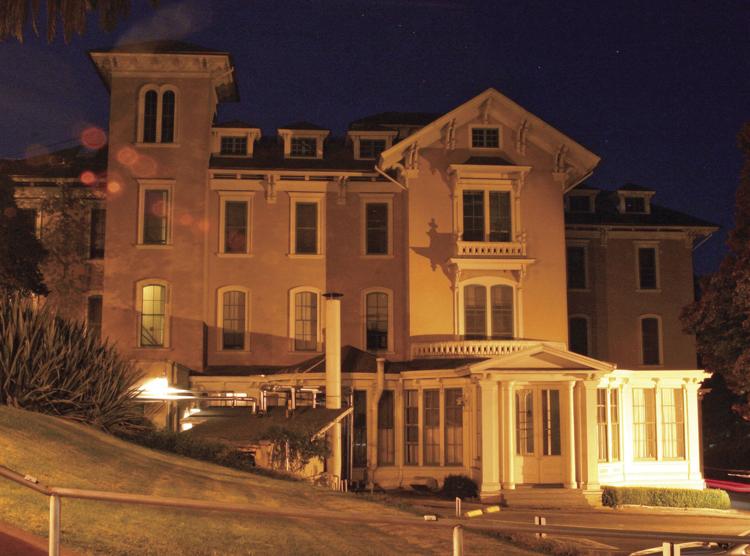 Though the changes to the university's plan to conduct a full seismic upgrade while preserving and restoring the historic building's elements are minor, Community Development Director Carlos de Melo said the city has worked with a historic resource consultant to confirm the modifications still retain the original exterior appearance of the building and its surroundings.
De Melo said it's not unusual for previously-approved projects to come back to officials for review once plans are refined within a specific budget. Estimated to cost at least $20 million, renovations to the building, portions of which were built in 1853, have been in the works for years since the structure closed in 2012 out of seismic safety concerns.
A new elevator reaching all four levels, removal of a boiler room and new stairs, ramps and paving designed to provide ADA access are among the improvements included in the plan for the building, which is expected to hold events. Administrative offices, conference space and classrooms are slated to be added once the renovations are complete, according to a staff report prepared for the commission's meeting Dec. 6, 2016.
Featuring a ballroom, parlor and dining room, the first floor will be used for events such as weddings, concerts and receptions. While the second floor will continue to serve as administrative offices and provide conference space, the third floor is slated for mixed uses such as class and seminar rooms and small group meeting spaces, according to the same report.
In 1923, the Ralston Hall mansion became the home of the College of Notre Dame, and eventually housed administrative offices for the since renamed university. The building has sat vacant since a building inspection revealed the historical landmark needed major repairs in 2011.
The building was previously slated for completion in late 2018. University spokeswoman Karen Schornstein said in an email a more accurate update on the project timeline will be available after the Planning Commission meeting and the board meetings scheduled this week.
Should the commission approve the project's certificate of appropriateness up for review Tuesday, De Melo said the university would still need to obtain building permits, which require approval by city staff.
The commission meets 7 p.m. Dec. 5 at City Hall, 1 Twin Pines Lane.