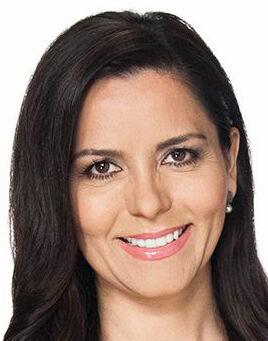 Reflecting on the effect of COVID-19 on San Mateo County's Latino and immigrant populations, local nonprofit and education leaders discussed the struggles some of the county's most underserved residents experienced, how they managed to push through and what work still lies ahead.
"It has been a very difficult year and I feel we are slowly seeing the light at the end of the tunnel," Lorena Dominguez, an anchor with the Bay Area's Telemundo 48 and moderator of a remote panel discussion May 5, said.
Rita Mancera, executive director of the nonprofit Puente de la Costa Sur; Dr. Manuel Alejandro Perez, vice president of student services at Cañada College; and Dr. Linda Prieto, executive director of the education nonprofit Upward Scholars; gathered to discuss the various effects the pandemic has had on the Latino community, immigrants in particular.
San Mateo County's Latino population has been one of the hardest hit by COVID-19, accounting for roughly 50% of all infections since the start of the pandemic often due to performing essential work and living in crowded spaces, according to health officials.
Underserved communities where large concentrations of Latinos reside have also trailed the county's overall vaccine rate by at least 10%, a gap the county has worked to close in partnership with community-based organizations.
At Upward Scholars, more than 80% of students and immigrant adults ranging from ages 18 to 70 living at or below the poverty line have reported losing a job, facing food and housing insecurity, intimate partner violence, mental health challenges and escalated discrimination. About 28 students or 10% of program participants have also tested positive for the virus.
Fewer than 50% of those struggling have recovered and many have been completely pushed out of San Mateo County, Prieto said.
"Our students faced and continue to face also many challenges not only as a result of the ongoing global pandemic … but due to systemic injustices, discrimination and the local fires that we also experienced in the last year," Prieto said.
Marta Dugarte, a Venezualen immigrant and program assistant with Upward Scholars, has been with the program since 2018 while studying English at College of San Mateo and planning to transfer to a four-year university.
Since the start of the pandemic, Dugarte has lost three loved ones including her best friend who died two weeks ago. Like many, her pandemic-induced stress has been compounded by remote school work and the fear of unemployment once the company she works for moves out of state in July.
"This pandemic, it was so difficult for me," Dugarte said. "It's so difficult and sad to face the deaths without having the opportunity to feel or give comfort and hugs."
Through Upward Scholars, Dugarte has found support from peers like her, attending a monthly conversation group where she can speak in Spanish about her troubles and wins. She has also received assistance paying for rent, groceries and her car insurance.
Prieto said about 76% of students were retained in the program through various measures including expanding access to the necessary technology for remote learning like Wi-Fi hot spot devices and laptops.
Enrollment at Cañada College overall has remained steady, Perez said, but students are taking fewer units a semester than prepandemic averages. Enrollment in English as a second language classes dropped substantially from roughly 750 students during the 2019-20 school year to about 500 currently, Perez said.
Like Upward Scholars, the college used some of the $44.5 million in funding received from various institutions to invest in the electronic equipment needed for remote learning. An additional roughly $12.6 million has gone to direct grants for some of the hardest hit students, Perez said.
"We also know that the pandemic has greatly deepened those divides within our region and, because of this, our district and our college has really gone to great lengths to meet the basic needs of our familias," Perez said.
Similarly, Puente de la Costa Sur has also tried to provide various forms of technical assistance in an area where finding Wi-Fi access can be difficult and cellphone service can be spotty, Mancera said.
Early on, the organization helped bring COVID-19 testing closer to hard-to-reach communities and focused on ensuring those who did contract the virus had food and shelter support, making self-quarantining possible for those living in crowded homes.
The organization also played a key role in getting nearly 100% of coastal farm workers vaccinated, a huge win for a population often left waiting for or completely out of assistance, Mancera said. Despite the hardships faced by Latinos during the pandemic, many were not granted federal financial aid due to their immigration status, motivating Puente to step in with a program of their own that used all the same criteria except for legal status.
"For people [who] in other times feel like they've never been the first one at getting a green card, a work permit, an immigration law that benefits them, at least this time they were one of the first in line getting their vaccine," Mancera said.
Recognizing the long road ahead for an equitable recovery for all county residents, the panelists encouraged those interested in giving back to consider contributing financial donations to the nonprofits or volunteering their time.
In-person volunteer opportunities with Puente de la Costa Sur are limited but may increase later in the year. Upward Scholars is accepting remote volunteers for its English conversation groups and partners program and tutoring program.
"Hopefully these victories overcome more of the battles," Mancera said. "Still there's a lot of work to do but it is good to know that we have worked together to get here."