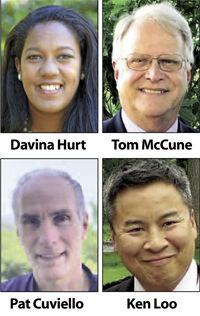 Wildfire preparedness is increasingly top of mind for Belmont residents and the candidates running for City Council in November.
The candidates include incumbents Davina Hurt and Tom McCune as well as challengers Pat Cuviello, an activist, and firefighter Ken Loo. There are two open seats on the council.
The election will come a little more than a month after a four-alarm vegetation fire broke out in the Belmont hills, prompting evacuations of roughly 40 households and a massive emergency response. The fire was fortunately extinguished within hours — there were no injuries and minimal property damage — but it served as a sobering wake-up call for many in the city home to more than 300 acres of open space.
Hurt described the current council's efforts on fire preparedness as "unprecedented."
"This council has been focused on fire prevention in an unprecedented way," she said. "Plans are at play and we're seeing them through in a very unprecedented way. We can do more and be better and that's exactly what we're doing."
Hurt applauded the council for consolidating fire services with San Mateo and Foster City, which she said improved efficiency and provided additional resources to the city; launching an abatement program about a year ago to assess hazards and open space; and purchasing a computer program called Zonehaven that predicts the movement of a fire and helps streamline large-scale evacuations.
McCune said, "we're pretty well prepared but there are a number of things we can do better."
He noted Zonehaven has not yet been fully rolled out and feels that should've happened already. He also said the evacuation prompted by the recent fire was "pretty good but there are some minor things that could be better."
In terms of preparedness, McCune wants to have Parks and Recreation staff regularly clear brush throughout the city "in a more strategic way" than has been done previously.
Loo said the city is moving in the right direction on fire prevention, but "we're not prepared the way we should be." That's in part because the city's defensible space efforts and firefighting resources are insufficient, he said.
"We need to have a defensible space program that isn't like OK we'll do it next year because we had a big fire this year. It needs to be an ongoing program that we need to prioritize," he said. "I know we're working towards it now, but the city of Belmont has some open space and lands we need to work on."
Loo also noted the city lacks off-road fire engines. With those vehicles and associated training, he said "we'll be better prepared for the large-scale wildland urban interface fires we're not predicting will get bigger and bigger every year."
Cuviello wants to require all new buildings constructed in the city to be fire resistant.
"Whenever we have new homes built in Belmont they need to be fire resistant, built with fire resistant materials and we need to educate people on hardening their homes now that aren't fire resistant," he said. "These houses with wood siding — that's just a matchstick waiting to go up. No one should have wood siding in Belmont or anywhere in a fire area."
Cuviello also wants the city to do more to address climate change locally.
"We need to address things locally by decreasing our methane contribution by doing things like getting rid of gas-powered lawn and garden equipment and not allowing wood burning — simple things like that," he said.
Beyond wildfire preparedness, Cuviello wants to change the way public comment is received by the council. He feels anyone speaking up at council meetings or sending letters or emails to councilmembers should state whether they're a Belmont resident.
"Knowing who your residents are is a foundation of our representative democracy and these foundations of our democracy need to be protected," he said. "Even though it sounds like a simple thing — representative democracy and knowing who your residents are so you know what their feelings are on the city issues — it's not a small thing. It's a very big thing because these are the people who elect you and who spend their money in the city and pay their taxes to have the city decide issues for them."
McCune argued the proposal would violate the Brown Act.
"In principal I think that's a great idea. That has been the rule in other places where I've lived," he said. "The reason we don't do that now is it would be a violation of the Brown Act. … But we do give more weight to Belmont people."
Loo criticized the council for being slow to act at times, including issuing permits for outdoor dining, which he said is crucial to ensuring local businesses survive the pandemic.  
"The incumbents are doing a good job, but they could do better. A lot of it has to do with speed and efficiencies," he said. "I'd like to see things streamlined, a lot more effective and efficient in terms of implementing new policies. Now is not the time to follow the letter of the law and policies. Now is the time to allow flexibility with a lot of this stuff.
"I want us to be able to expedite permits for outdoor dining," he continued. "I want us to look at how we can implement something in a safe and socially responsible manner where we can open up businesses and keep them afloat so they can survive this. Right now it's not about what's right or wrong, it's basically about simple survival of the families and businesses of Belmont."
Loo and Cuviello also described sitting councilmembers as being in lockstep with one another and said new perspectives are needed.
"We do have a great council, but they all do think the same and are on the same page," Loo said. "I think we need a different perspective here on a lot of things."
On the topic of financial challenges brought on by the pandemic, Hurt said the council "tightened the budget and streamlined what we pay up front." Moving forward, she wants to diversify the city's revenue streams.
"[We're'] looking to the east of 101 for economic development opportunities, looking to create that town center we've talked about so much and finding businesses looking for new and different places," she said.
On the subject of policing in the city, Hurt noted a subcommittee has been formed to rethink best practices and said new policies will soon be proposed.
"We're talking about reimagining policing with going through our use of force, our biased policing — we already went through those together with the police and made some amazing changes and I look forward to bringing them before the community," she said. "We're also talking about creating a citizens academy to learn more about what's happening with police and what they're doing."
Loo distinguished himself from the others on the subject and said he wants to see increased spending on police in part to enhance their response to mental health incidents. He also proposed a policy of releasing body-camera footage within 24 hours after an officer-involved incident.
"A lot of times that actually helps police officers ward off people making accusations without knowing and a video can speak a thousand words," he said.
On the subject of land use, the candidates largely agreed future development should be concentrated around transit and expressed a desire to mitigate impacts to existing neighborhoods.