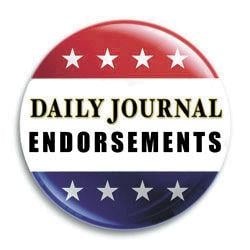 When it comes to difficult times, experience counts. And so does understanding the community one serves. On both accounts, Belmont has two excellent leaders in Councilwoman Davina Hurt and Councilman Tom McCune.
It's hard to believe that Hurt has only been on the council since 2015. She has taken a key position as a regional leader on various boards while also keeping a strong focus on ensuring Belmont progresses in the right way. Her firm grasp on potential development and focus on the long term goal of creating a pedestrian-friendly downtown are key to ensuring that the city retain its small-town village feel while also meeting the needs of the future. Her recent work on a policing subcommittee with Councilwoman Julia Mates shows a dedication toward positive change and a practical sense of reality. She is smart, dedicated and willing to look at issues from every angle. Belmont is lucky to have her in a leadership position.
McCune began serving in October 2019 to fill the final year of Doug Kim's term after the councilman resigned early. His business and professional experience, including working for the Tennessee Valley Authority, has proven to be a benefit already. As the city begins looking at new financial scenarios caused by the pandemic, McCune's financial experience will only serve to help the city navigate what could be rough waters.
The challengers in this race, Pat Cuviello and Ken Loo, also bring good perspectives. We were impressed with Loo's perspective on firefighting challenges. As a fire captain, he provides a good point of view on what is becoming an emerging issue. As a relatively new resident, Loo would be a good addition to a board or committee — particularly for his expertise on fire safety. Cuviello also has some good ideas on fire safety and climate change.
However, Belmont voters shouldn't let a good thing go to waste. They currently have two premier councilmembers serving in the position, they would be smart to keep them. Hurt and McCune deserve your vote.