Some people heard the gunshots. Many did not. But everyone was soon prone to the chaos as it began to reign among the crowd at Westmont High School during last Friday's Central Coast Section championship football game between Serra and St. Francis.
The two quick series of gunshots came from outside the stadium, in the parking lot. Two people were wounded with non-life-threatening injuries. No arrests have been made.
No one in the stadium was hurt. As it was transpiring, however, neither the jam-packed crowd nor the football personnel knew that, prompting several minutes of panic.
"I've never been through this before, but my human instinct was to try to minimize chaos," Serra head coach Patrick Walsh said. "That's what I was saying, was: 'Try to minimize chaos. Because chaos can also cause problems.'"
On the visiting sideline — the opposite side of the stadium from where the gunfire was heard behind the home-side stadium seating — Walsh first noticed the commotion when St. Francis players started ducking for cover by dropping to the turf.
Serra's players weren't on the playing field at the time. The Padres had just scored a go-ahead touchdown with 2:18 to play in the game. The gunfire was heard during the ensuing 2-point conversion attempt, and just after Serra's offense ran off the field, the St. Francis players, in unison, hit the deck.
"When I saw St. Francis laying on the ground and, you're in such football mode at that moment … and then you kind of hear the panic from the stands," Walsh said. "And then I kind of immediately put it together and was just like: 'Hide!'"
This is an emergency scenario faculty and students drill for. Once a month, Serra runs immediate action emergency response drills, pertaining to a range of emergencies like fires or earthquakes, to the more pressing issue in modern times — active shooter scenarios.
Walsh quickly took the lead with the same alacrity he demonstrates as the most accomplished head coach in Serra football history. Many on the Serra staff followed suit. And, quite frankly, in that moment of crisis, Walsh and several others were grace under fire.
"In the eye of the storm, you need to remain calm because these kids are looking to us for guidance," said Ray Baldonado, Serra's dean of students, who was working security in the visiting-side Serra stands.
The reaction was essential as a cluster of spectators on St. Francis' homefield side of the stadium began scurrying toward the exit. With this in clear view of the Serra contingent, a panic erupted on the visiting side of the stadium as well. Some Serra fans ducked for cover, nestling in the bleacher seating, while other fans and many players ran toward the hill adjacent to the initial disturbance, their only option then being to climb the chain-link fence surrounding that portion of the complex.
"Very panicked," Baldonado said. "You could see it in their faces."
Walsh was one of several Serra faculty members who had their own children on site. Serra athletic director Justin Ferdinand's wife and daughter were on the visiting sidelines, as was Walsh's son Charlie.
"He was getting out of there too," Walsh said. "Anyone I was responsible for on the sideline, my initial thought was: 'Get them out of here … and get them off the field.' If there was an active shooter running through there, which we didn't know, basically 'get out' was my initial thought."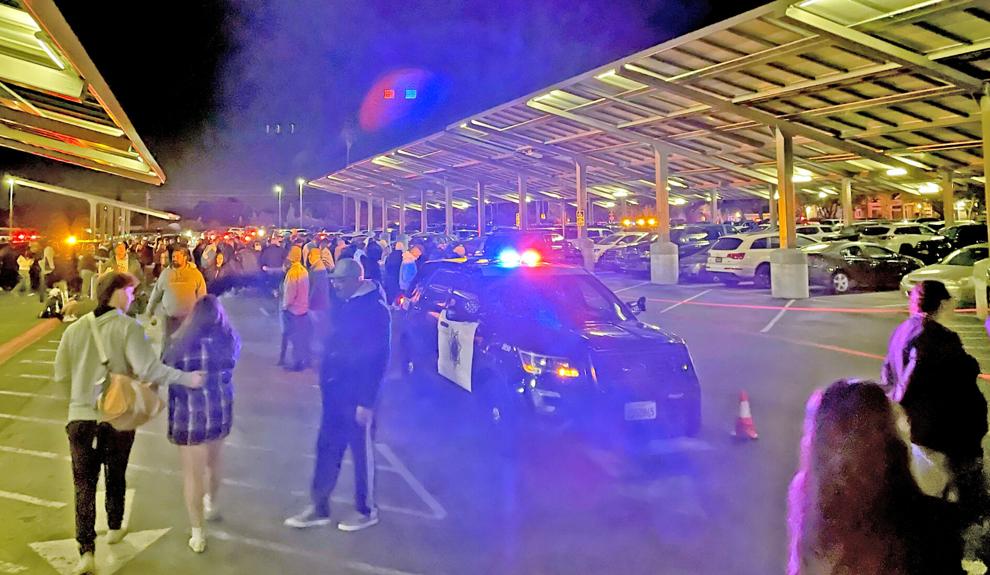 Once Walsh surveyed the field, though, he quickly realized the best strategy was to get his players out of plain view. The only shelter available was the row of tents Serra had along the sideline. Walsh would ultimately order his players to shelter in place behind the tents, to remain out of plain view.
But not until he conferred with the game officials and CCS commissioner Dave Grissom, with an air of chaos still lingering, to game plan correctly.
"We didn't know for certain, but it felt like a wave coming at us," Walsh said. "And that was my initial thought. And then my next thought was, 'I need to go deal with this.' So, I basically walked out back onto the field and was like, 'I need to get information right now so I can help control the situation through any information that I can get.'
"I was also thinking: Where is this guy or gal?" Walsh said. "If there's an active shooter in here, we need to take him out. I know there was a lot of police officers there, and a lot of people. So, then I started thinking, if this is a dangerous situation, where is this person? And let's take him out. So, that's why I walked back out on the field is not only to try to analyze the situation, but also if there's someone out there, we've got to get him."
It never came to that. While play was halted for approximately 30 minutes, it was a matter of just a few minutes that order began to be restored at the Westmont stadium.
"It was a surreal moment when there's helicopters swarming above us and it seemed to be chaos," Walsh said. "But I wanted the kids to breathe, take a deep breath and internalize everything, and understand that — one, and most importantly, we're safe; and number two, we still have some unfinished business that we need to take care of. Because, knowing St. Francis' culture, it wouldn't be surprising if they scored with 2 minutes and 18 seconds left. We also didn't want that either."
When play resumed, the focus on football surprisingly restored, Serra went on to win 16-12.
"It was awesome that we were able to," Baldonado said. "And a big shoutout to the police … that they were able to secure the location and allow the game to finish."
Walsh has come under fire this season, particularly from an article by SF Gate sports editor Alex Shultz published Aug. 26, criticizing him for his advocacy via the "Let Them Play" initiative for allowing high school students to return to the field during the COVID quarantines.
As Serra's head coach of 21 years, Walsh has championed his share of legendary football moments — six CCS titles and a CIF Division 2-AA state championship in 2017 — and will have the chance to play for another one when Serra meets mighty Mater Dei Saturday, Dec. 11 at Saddleback College in the CIF Open Division State Championship Bowl.
Perhaps the best testament to Walsh's legacy is his grace under fire amid the chaos last Friday night at Westmont. Say what you will about him, actions speak louder than words, goes the adage. And Walsh's actions, amid the echo of gunshots, while seeming to be in the midst of one of the darkest crises facing modern-day America, demonstrated the man's true mettle.
"You never know how your human emotions are going (to react) until you're in it," Walsh said. "And I was proud of our community that we did everything we could to keep each other safe. And, also, what I was happy with, because I didn't really know, is I didn't feel any fear. I felt more like: I need to protect. That was my human response."