For Kelly McDonald, landing at Hillsdale is like coming home.
Sure, the former West Catholic Athletic League Softball Player of the Year is a 2009 graduate of Notre Dame-Belmont, but McDonald grew up just down the street from Hillsdale. So, when Hillsdale's varsity softball team suddenly needed a new head coach, McDonald was a perfect fit.
The team initially had Maia Monchek lined up to take over. With longtime local coaching legend Randy Metheany retiring as the Knights' head coach after last season, Monchek served as co-head coach alongside him in 2018. But the plan changed when Monchek, who just happens to be McDonald's best friend, took a teaching job in Atlanta.
"I was shocked," McDonald said. "She's my best friend. She told me she was moving last summer. So, I was really sad."
The silver lining for McDonald was it gave her a shot at her first high school coaching position. The daughter of West Bay Warriors travel softball coach Ray McDonald — her brother Mickey is also a minor leaguer in the Oakland A's organization — she has six years coaching experience on the summer circuit, first with the Cal Nuggets in in 2013 and '14 before leaving to help her father form the San Mateo-based Warriors.
Seven players on Hillsdale's varsity roster played for McDonald with the Warriors, including Thursday's heroine Kealani Kaufusi. The Knights rallied for a 3-2 win at home against Mills, with Kaufusi cranking a solo home run in the bottom of the sixth to break a 2-2 tie.
It is the second straight win for McDonald to start her career, both of them being dramatic one-run wins. The Knights opened the season with a 4-3 win over St. Ignatius.
"I would prefer they take it a little easier on me in my first two games," McDonald said. "But they like to keep it interesting … and a win is a win."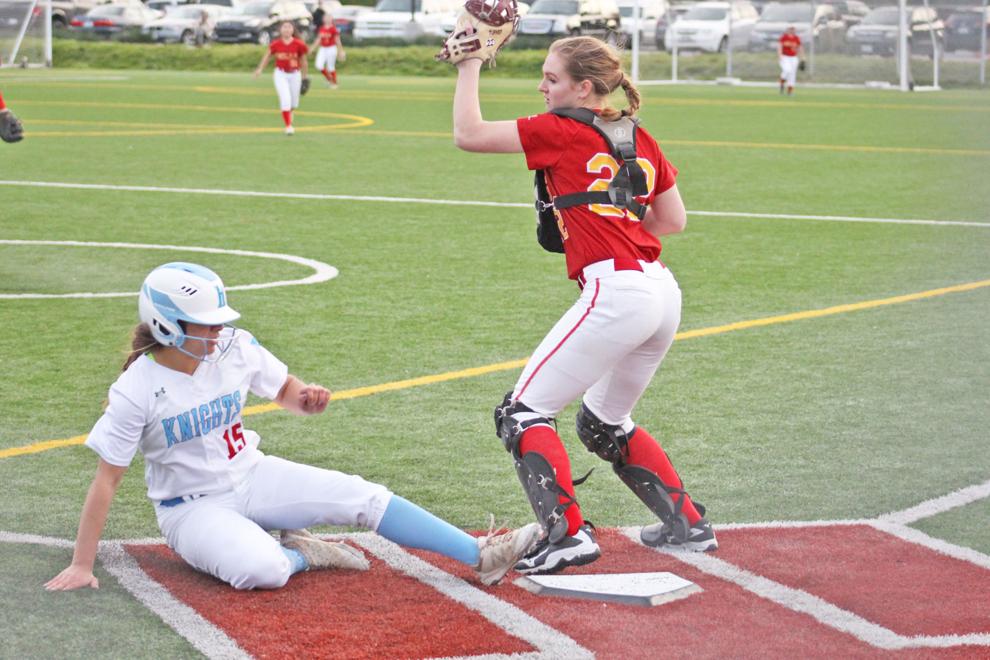 Kaufusi was 2 for 3 in the game, with the home run an inside-the-park shot which saw her flying around the base paths. The senior got a look at where the ball was in deep right field as she was rounding second base, then got the green light from McDonald as she rounded third.
McDonald said she likes to play aggressively but was also banking on Kaufusi's speed to score the go-ahead run. The senior slugger lived up to the scouting report, flying around third and sliding into home one step ahead of the throw.
As a third-year varsity player, Kaufusi has now played for three different varsity head coaches. She said the transition from Monchek, who also coached with the West Bay Warriors, to McDonald was a smooth one.
"They both coached for the Warriors, so we do a lot of the same things," Kaufusi said.
After graduating NDB, McDonald went on to play collegiate softball at UC Santa Barbara. Her playing career was sidetracked her freshman year, however, when she suffered a shoulder injury sliding into home plate. She recovered to return to the UCSB lineup as a designated hitter, but the longtime shortstop was never the same in the field.
After graduating from UCSB, she spent six years working for the Oakland Raiders. She moved from the sales department, to entertainment to marketing. When the team relocated its business operations to Las Vegas, though, she spent just 10 months there before tendering her resignation.
Now, the San Mateo native has landed on her feet at Hillsdale.
"It's just kind of a natural fit for me," she said.