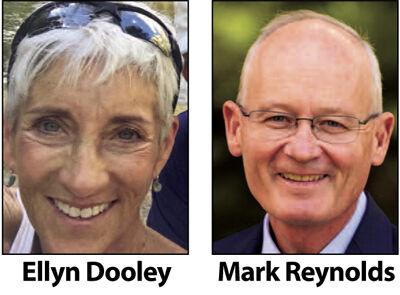 During the 2020 campaign, candidate Joe Biden took up the challenge of climate change. He gave a televised climate speech and ran climate-focused ads in swing states. He bet that this issue, once considered politically risky, had become a winner. The bet paid off.
Candidate Biden is now President Biden, but his party doesn't have unfettered control of the federal government. He must govern in partnership with a closely divided House, a 50-50 Senate, and a conservative Supreme Court. That makes bipartisanship essential.
Biden understands that people in all parties are affected by climate change. In a speech last fall, he said, "Hurricanes don't swerve to avoid red states or blue states. Wildfires don't skip towns that voted a certain way. The impacts of climate change don't pick and choose. It's not a partisan phenomenon, and our response should be the same."
Republicans in Congress are expressing similar opinions. In October 2020, U.S. Sen. Lisa Murkowski (R-AK) participated in a climate policy webinar with climate-hawk U.S. Sen. Sheldon Whitehouse (D-RI). Murkowski noted that bipartisanship makes policies endure, saying, "Let's work in a way that is going to get the support that you need from both Republicans and Democrats."
Leaders in San Mateo County also are calling for climate action. On his first day in office, state Sen. Josh Becker, D-San Mateo, introduced SB67 and SB68 to advance clean energy and building decarbonization. In the last Congress, U.S. Rep. Jackie Speier, D-San Mateo, authored the Affordable American-made Automobile Act (HR5393) and she co-sponsored the Climate Action Now Act (HR9); the USE IT Act (HR1166); the 100% Clean Economy Act (HR5221); and the Energy Innovation and Carbon Dividend Act (HR763) — more on this below.
And there is a swelling public demand for action. According to the Yale Program on Climate Change Communication, in 2015, 11% were "alarmed" about climate change. By 2020, that number more than doubled to 26%. An additional, 28% now describe themselves as "concerned," so 54% of Americans are now either "alarmed" or "concerned" about climate change. In San Mateo, 81% of residents support regulating CO2 as a pollutant and 76% want a tax on carbon dioxide pollution. There is even strong grassroots Republican support for climate action, especially younger Republicans.
Those numbers make sense. This year made it starkly clear that climate change is already hurting Americans. More than 5 million acres burned across Western states, displacing thousands of people. The Southeast suffered record-breaking hurricanes with storm after storm making landfall before communities could recover from the previous storm. The average global temperature tied a record high.
We must move as quickly as possible to address the root cause of these extreme events by drastically reducing greenhouse gas emissions. One fair and effective way is to enact a carbon fee and dividend law. Congress could charge fossil fuel companies a pollution fee on all oil, gas and coal sold in the United States, based on the greenhouse gas emissions of their products. That price on pollution will steer our country toward cleaner options and reduce planet-warming emissions economywide. The revenue from the fee can be given to Americans regularly — a "carbon cashback dividend" putting money in our pockets as we transition to a clean-energy economy.
The last Congress introduced legislation like this, known as the Energy Innovation and Carbon Dividend Act (HR763). It gained support from local organizations and people across the political spectrum. The county of San Mateo, the cities of San Carlos, San Mateo, and Burlingame, La Honda Winery, TopHatch, state Sen. Josh Becker, and state Senate candidates Michael Brownrigg and Alex Glew, and the former mayor of Burlingame, Terry Nagel, all expressed support for HR763 or a similar carbon fee and dividend proposal. Most notably, U.S. Rep. Speier was an early co-sponsor of the bill.
President Biden is committed to climate action. Millions of Americans are eager for solutions. Our community is ready for U.S. Sen. Diane Feinstein, U.S. Sen. Alex Padilla, and U.S. Rep. Speier to put a price on greenhouse gas emission. Now is the time for Congress to make a carbon fee and dividend bill the law of the land.
Ellyn Dooley, in an effort to preserve a livable planet for her granddaughters, dedicates her time as a volunteer with Citizens' Climate Lobby advocating for national carbon dividend legislation. Mark Reynolds is the executive director of Citizens' Climate Lobby, a nonprofit, nonpartisan, grassroots advocacy organization focused on national policies to address climate change.