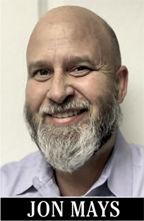 If we mess up the Jumble, I hear about it. Boy do I. If we mess up a headline, I hear about it. People call us all sorts of names, forgetting, of course, that we all make mistakes. But most people's mistakes aren't made in 50 point font.
So when we get a note of thanks, it is something to cherish. When we get 10,000 words of thanks, it makes my week.
Since that happened this past weekend, this, of course, was the best week ever. The 10,000 words of thanks came via Joe Spina, a teacher at Bayside Academy in San Mateo. The words were from his students. In it, they told us that they loved the comics, the sports section, the puzzles and all the typical things that seventh and eighth graders might like. But there was more. Many of the students said they liked the stories about the out-of-control geese population in Foster City, the challenges of staffing the school meal program in South San Francisco and even the one about Millbrae considering further restrictions for COVID. One student even said it brought up a debate about safety versus ensuring small business owners survive through the pandemic. They thanked us for putting out the paper and for having it delivered to their school.
It is part of a teaching method Spina employs in which students are required to read outside of class for 20 to 30 minutes a day. It can be graphic novels, literature, newspapers or more. He has them occasionally read a newspaper story with focus and then they frame it through some prearranged questions such as "This story is significant because," "This quote matters because," "This will have an effect on," or "One part of the story that really connects with me is." Through that effort, the student writes an analysis of the story and then dive into a class discussion. Spina also said the students enjoy reading the paper with their family as well.
For Spina, the main goal is literacy improvement.
"The local paper is important as it is something that they connect with — they feel as a part of the community and the stories do connect with many of them. They may even have dinner conversations, or talk with family in the car about the stories — and that is literacy development in practice," he said.
For students at Bayside, the goose story held special relevance since they also have to contend with the byproducts even though the feces is regularly cleaned and the school meal situation connected with them since they are all familiar with it, Spina said.
I love what Spina is doing for several reasons, and it's not just the kind notes, though I was very impressed by their thoughtfulness and honesty. Literacy is incredibly important in this era of videos, memes and free-thought-sucking social media scrolling. The more we all can explore a topic at length and see all sides, the better we all are. Also, local issues affect us directly. They can have a direct and tangible effect. The idea of a seventh grader contemplating the effect of a proposal on a local shop owner has further meaning because they may have met that person. Exploring local issues also has the capacity to grow compassion as they may not have thought about the impact of school lunch staffing before, and it also builds the sense of how issues originate. Cause and effect: State legislation that establishes funding for food but not for staffing creates more opportunity for meals, but also affects districts' ability to keep up with demand. It also teaches kids that local elected officials make decisions that affect them so they have a deeper understanding of how their local community works. After all, Joe Biden isn't the only elected official in the United States. There are layers of government and each makes different decisions that affect each other and all of us.
I don't know how many other schools use us or other local publications to teach about current events, politics and other issues but I appreciate Spina's ability and yearning to develop literacy and community engagement and understanding at an early age.
Current events can at times seem abstract to a young mind, so engaging them early and with stories that are immediately relevant is an excellent entry point. So thank you to Joe Spina, Bayside Academy and all the seventh and eighth graders who take the time to read and appreciate our work. And don't worry, I'll keep an eye on the Jumble and comics for you too.
Jon Mays is the editor in chief of the Daily Journal. He can be reached at jon@smdailyjournal.com. Follow Jon on Twitter @jonmays.