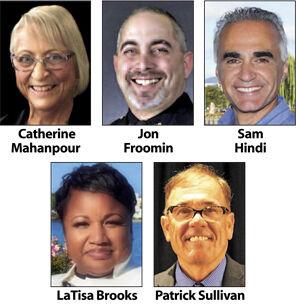 The incumbent candidates in the Foster City Council race say the current council — for the first time in years — works well together and should remain intact, but two challengers say change is needed.
Mayor Catherine Mahanpour and councilmen Jon Froomin and Sam Hindi are running for re-election. Also running for council is businesswoman LaTisa Brooks and Realtor Patrick Sullivan. There are three open seats.
The current council is relatively new. In the March election, then-vice mayor Herb Perez was recalled after many in the city accused him of being uncivil with both his council colleagues and residents. Froomin in the same election was elected to fill the seat vacated by Perez and said the council has been increasingly functional since.
"I was put in office to help facilitate that change and I believe what the community is seeing from the council now is very different in a positive way compared to what they were seeing even eight or nine months ago," Froomin said. "If people can see the amount of improvement between April and now, imagine what can happen with another four years of that group working together and building on that."
Mahanpour made similar points.
"We've been working together really well as a team and I feel we've been helping our city in a big way," she said, adding experience is needed on the council now more than ever as the city works to rebound from the impact of the pandemic.
Sullivan agreed the current council is more civil than its predecessor, but still sees plenty of room for improvement.
"I think they're relatively civil to each other," he said. "But I don't think they disagree too much. My whole thing with the current council is they're afraid to make difficult decisions and the difficult decisions are finding a city manager, making more transparency happen. … Is it quieter? Yes it's quieter on the council. Are they making more informed decisions for the city? No."
The incumbents rejected those claims.
"I respectfully disagree with Patrick because I think we've made great strides this year since March," Mahanpour said. "We are discussing much more. We're having lively discussions. … One of the things I wanted to do is build a team so we're not afraid to get up there and say what we think. We can discuss these items civilly and respectfully and I think we've made great strides in that. I want to see that continue."
The incumbents also said they're not in any way avoiding the selection of a new city manager, but are ensuring the search is thorough, which takes time. Hindi also noted the search is occurring during a pandemic.
"I don't think it's slower than what you'd expect when you do a national search," Hindi said. "Last time we did only a local search and that did not provide us with the pool of candidates that we wanted and we ended up hiring from within. This time around we wanted to expand to a national search understanding the challenges before us, from COVID to the levee and all other issues within the city. … We're almost there."
On the topic of civility, Brooks suggested she brings qualities that would enhance relations among councilmembers and residents.
"I'm going to defer to my understanding and knowing what a councilmember's strengths should be," she said. "Being a great listener, being able to collaborate with people from all walks of life, different levels of profession and personal experiences. … Being open-minded, being inclusive and providing equitable experiences for all of their residents."
Housing continues to be a particularly controversial topic in the city as officials expect a significant increase in the amount of units the state will require to be entitled in the coming years.
Mahanpour and Froomin are upset with the state's approach to housing and feel local control should be retained as much as possible.
"We need to maintain local control because we know what our city needs and we know what our city resources are," Mahanpour said. "We know about the traffic and we know we're being stressed on our resources especially with the pandemic. … How can we maintain more housing if we don't have the resources and infrastructure to support it?
"It's basically the same conversation I had in 2015 when I was elected where I said no more housing until we figure out how we can support the housing," she continued. "We're pretty much built out here in Foster City."
Sullivan agreed local control should be maintained, but acknowledged the housing crisis is squeezing out teachers and other workers.
"The bigger issue we have is making it affordable," he said. "All we're doing here on the Peninsula is building high-end rentals. How're we going to keep our teachers, how're we going to keep our chiropractors. We need to work at a better solution."
Hindi said change is inevitable when it comes to growth and the council needs to come up with ways to mitigate the impact.
"Things cannot stay as they are. Things will change," he said. "The question before us is how do we embrace that change and minimize the negative impact on our community."
He added facilitating the production of affordable housing is his main focus.
"I think there's a need for affordable housing in Foster City, the region and entire state," he said. "That's where my focus would be to try to come up with solutions or developments that will provide affordable housing rather than market rate housing."
Brooks said businesses shouldn't expand without a plan for housing employees.
"I'm not so sure we should be authorizing the expansion of businesses in our community," she said. "Those discussions and my opinion need to be with the employers at the table because these are their employees that are increasing the amount of housing that is required of us."
Like all cities, Foster City is grappling with revenue losses due to the pandemic and councilmembers have offered ideas for how to respond.
Froomin and Mahanpour said the city needs to be fiscally conservative moving forward.
"We need to be conservative at this point in time because we don't know how long this is going to last," Mahanpour said. "We really need to be fiscally responsible right now and make sure all the projects we look at we examine them to make sure they're essential projects that have to be done."
Hindi applauded the council for saving money by deferring various capital projects and said there might be additional savings when it comes to the city's fleet of vehicles.
"We could prolong the life of our fleet," he said. "We don't have to turn over the vehicles so often and could recycle them from one department to the other."
Mahanpour said staffing levels at City Hall should be revisited and Sullivan agreed cuts may be necessary.  
"We're going to find out we won't need as many people at City Hall maybe and that might mean some savings to the city," he said.
Finally, the city's landmark levee improvement project broke ground on Wednesday and residents will surely be affected by construction over the next couple years. All of the candidates agreed the city's communication efforts about potential impacts could be enhanced.