The West Bay Warriors softball club traveled to Colorado last week to compete in one of the biggest tournaments of the season. With 900 teams, 16,000 players and more than 600 college coaches in attendance, the tournament is formatted into a week-long schedule to maximize opportunities for these young athletes in the recruiting process.
"We are still new and other teams have had their brand out for years" said Warriors head coach Kelly McDonald. "They [colleges] don't know about us, so we have to build the organization and go out to find the best competition and prove that our girls deserve to be recruited."
It hasn't been the easiest process for the Warriors with the new rule changes and delay of the recruiting process for this age group. The NCAA adopted new recruiting rules earlier this spring for every Division I sport except for football. The rules were implemented to stop the growth of early-age recruiting. It is challenging because it has created a new time frame and changed the nature of communication between colleges and athletes. The new rules:
• Zero communication between a coach and athlete until June 15 after sophomore year.
• No official or unofficial visits until August 1 of junior year.
• No off-campus contact until August 1 of junior year.
• No verbal offers or commitments from student-athletes until June 15 after sophomore year.
"The top teams have (college) commits prior to the rule change, and it has seriously helped our girls throughout the tournament," said McDonald, "Competing against these teams have helped get our name out there and building relationships with colleges. It gives them that extra drive and confidence that they know people are watching."
The Warriors program was formed in San Mateo in 2015 with only six players on their roster practicing at Chanteloup Field, taking ground balls from head coach Ray McDonald. Three of those players — Maicie Levitt (St. Ignatius High School, Cornell University), Holly Fletcher (Aragon, University of South Dakota) and Brianna Santos (Hillsdale, University of Colorado-Colorado Springs) — will play collegiately this coming season.
"The 2022 class (the 14s team) is the reason why our brand is expanding and building," said Kelly McDonald. "But the 18s team is the reason why we are here and so strong with their loyalty and commitment to this program by creating this family."
For the younger Warriors, competing in Colorado has become an important week for not only the organization as a whole to expand the brand, but also for individual players to be put on the watch list for potential college commitments.
"The Bay Area has been on the outs for the longest time when it comes to college recruiting," McDonald said, "Our hard work and dedication to these kids is constant and it's not 'just dads' (doing the coaching). [The players] relate and have so many resources, because it's not just about softball, but life."
The Warriors 14s Gold was placed in the Sparkler Junior Power Pool Bracket in Colorado, which consisted of the top-40 teams in the tournament, going 7-1 in pool play. Their one loss came on the last game of pool play, a 2-1 loss Tennessee Mojo-Fisher, the No. 1 team in the nation, Kelly McDonald said.
Starting pitcher Katelyn Heuser was a huge asset not only against Tennessee Mojo by keeping them to only 2 runs, but the whole week she pitched 40 innings and didn't give up a walk.
Saturday started the double-elimination bracket portion of the tournament and the Warriors faced off against eventual tournament runner-up, OC Batbusters Flores, dropping a 7-4 decision.
That loss sent the Warriors into the losers bracket, where they had to play three additional games to stay alive. After fighting all day, the Warriors won its final three games to advance to Sunday.
Having finished playing around 10 p.m. Saturday night, the Warriors had an 8 a.m. wake-up call Sunday, as they faced off against Texas Bombers Gold-Burgess, losing 10-6 and ending its tournament. The Texas Bombers went on to win the championship.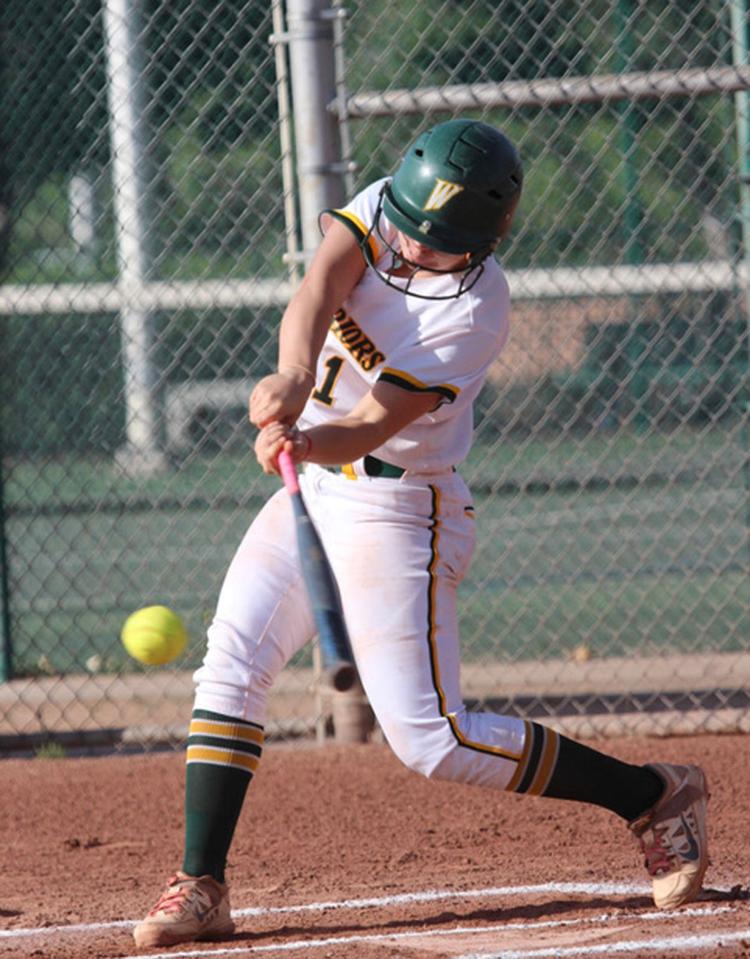 "That was a lot of softball for sure, but I am so proud of the way that they competed all week," Kelly McDonald said. "Last year we took a team to the power pool and comparing the two (years) is just astronomical. They are a year older and that really helped them get to where they are."
The one who stood out the most this weekend was Olivia DiNardo. The rising Aragon sophomore, who is getting looks from big-name NCAA Division I programs, had 22 hits, 9 doubles, 3 home runs, 20 RBIs. She had a .489 batting average, with a 1.410 OPS and .889 SLG. She also caught 10 of the 13 games.
Three additional players stood out last week:
• Megan Grant (Aragon, UCLA commit) had 18 hits including 5 home runs, 2 doubles, 1 triple, 14 RBIs, 15 runs scored, .419 AVG, .860 SLG, 1.329 OPS.
• Lexi O'Gorman led the team in batting average (.514) and OBP (.575).
• Talia Tokheim (Sequoia) also hit 5 home runs, 3 doubles, 2 triples.
Looking ahead, Warriors 14s Gold will head to Roseville to play in the ASA Nationals. Following that they head for the biggest stage of the summer which is Premiere Girls Fast Pitch Nationals where the best of the best teams wrap up the summer.
"We have played the top 1, 2, 3 teams in the nation this summer," said McDonald regarding the PGF Nationals. " It shouldn't be anything new for us."