When the Sacred Heart Prep Gators walked off the court for the final time last season, their focus was solely on basketball.
It wasn't easy for the boys' basketball team to maintain its focus. The CIF State Boys' Basketball Championships Division II regional semifinal was played on March 7, 2020. It was just days prior to the COVID-19 pandemic shuttering the season. The girls' basketball team at neighboring Menlo School had already voluntarily ended its season due to COVID concerns.
Yet, after the Gators fell 56-43 to St. Patrick-St. Vincent in Vallejo — amid a small old-school gymnasium packed to standing-room only capacity with screaming fans — Sacred Heart Prep's players had the luxury of their only concern being for their season having just ended.
"After the buzzer it was more just thanking our seniors for the incredible year we had with them," SHP senior Harrison Carrington said. "We weren't really thinking about the future. We had no clue what was going to be happening. We were just hoping that it would be a normal year, which it obviously wasn't."
"Then the world shut down," SHP head coach Tony Martinelli said. "Everyone thought it was going to be two or three weeks, and we'd be back to normal, and that never happened."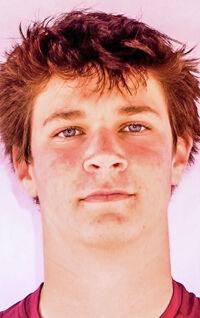 When the Gators took the floor Saturday night to take on Bellarmine, it was the end of a wild day that has become the new normal for SHP athletics. Seniors Teddy Purcell and Ryan Wong were both in the SHP baseball starting lineup earlier that day. They both also played in the SHP's basketball game that night.
Since the Gators returned, it has been all hands on deck with every sports traditionally played over the course of the high school year being crammed into a mere portion of the spring season calendar. For Sacred Heart Prep, a small private school of 639 students, the only way to field teams is to rely on multisport athletes.
According to SHP assistant principal of athletics Frank Rodriguez, approximately 70% of the school's students participate in at least one on-campus sport, while approximately half the students play multiple sports.
"I think in this particular year, and the way the seasons overlap together, we just didn't feel like it was fair to these seniors … to lose their seasons if we could make it work," Rodriguez said.
Two weeks ago, an even tougher test was presented. The SHP baseball team hosted Carlmont 4 p.m. April 21. With the basketball team hosting King's Academy at 6 p.m., Wong and Purcell — who also played moonlighted as the football team's starting quarterback until the April 17 season finale — hustled over to the McGanney Sports Center to make history by playing in two games from two different sports on the same day in games that, for a portion of them, were being played concurrently.
Rodriguez explained the phenomenon as student athletes running from the baseball field to the basketball gym and changing uniforms in their cars.
"And run into the gym, put on their shoes, and Tony put them right in," Rodriguez said.
Four SHP athletes split time between football and basketball. Along with Purcell and Wong, seniors Will Mackie and Mat Bucher also play basketball, which started its season April 19, two days after the completion of football season.
"Our football program is so good, and when we get those guys at the end of the basketball season, it just brings things up another level," Martinelli said. "Those guys are fighters. They're taught that out on the football field, and it just translates to the basketball court. And it brings all the other guys along with them. … That just gives you a level of toughness that, even though we don't have the size that Bellarmine has, I think they at least felt that we were playing in the game with them. And that's the main goal."
At the end of the 2019-20 season, players were aware of the novel coronavirus that had already been traced domestically to neighboring Santa Clara County.
"We knew about it, it was in the back of our minds; we just had no clue what was about to happen," Carrington said.
Getting back on the court took the Gators 13 months and 11 days.
"So, getting to this point, I just can't say enough about how excited I am to be back in the gym," Martinelli said. "Seeing these guys with smiles on their faces again, just competing and playing hard, that's what this is all about."