In the last 17 years since he has been at the helm of Peninsula Humane Society & SPCA, Ken White has seen a tortoise survive a car driving over it, cared for in his home some 150 reptiles seized by law enforcement after being smuggled into the country and watched a peregrine falcon injured by a gunshot become rehabilitated and released into the wild.
White has been able to indulge a lifelong interest in everything related to animals during his tenure as president of the Peninsula Humane Society & SPCA, where he has overseen a drop in the nonprofit's euthanasia rate, a shift in animal adoption practices and the 2011 opening of a new facility at 1450 Rollins Road equipped to house animals of all shapes, sizes and conditions.
Having announced the nonprofit raised the $4.75 million needed to purchase land for a La Honda animal sanctuary earlier this week, White has been gratified to see the nonprofit begin preparing for the next chapter in its history of providing animal care. The sanctuary for medically- or behaviorally-challenged dogs and cats with low adoption rates also marks one of the final chapters of his leadership of the organization caring for healthy as well as sick, injured and orphaned animals.
With plans to step down from his post at the end of 2020, White said he feels fortunate to have had so many opportunities in his 41 years of experience with animal welfare. Though he acknowledged his is a seven-day per week job, the satisfaction of working with animals and his dedicated staff has made it worth his while.
"It has been and remains a remarkable career," he said. "I've loved my life in this work."
White said his love for animals started at an early age when he was growing up in Brooklyn in a small, one-bedroom apartment with parents who liked to keep their home clean and didn't allow him to have a pet. He said he graduated with a creative writing master's degree at San Francisco State University in 1977 with two dogs and no idea what he wanted in life, and soon found work as an assistant teacher for students with behavioral challenges at a private school.
Though White decided not to continue his work as a teacher after a couple years, he said the moments when his students interacted with his dogs were among the most memorable moments from the job and would ultimately spur his interest in pet-facilitated therapy.
"It really just sort of touched me in a way as someone who loved animals, spent my childhood reading about animals but didn't really have animals. I knew how much it meant to me," he said. "It was fascinating to see what they meant to others."
White said he was eventually hired by the San Francisco SPCA to create a curriculum for school children and animals, where he gained an even better understanding of the impact animals can have in connecting with children or older adults in hospital and school settings. White said he spent some 10 years at the SF SPCA before helping create San Francisco's animal care and control program.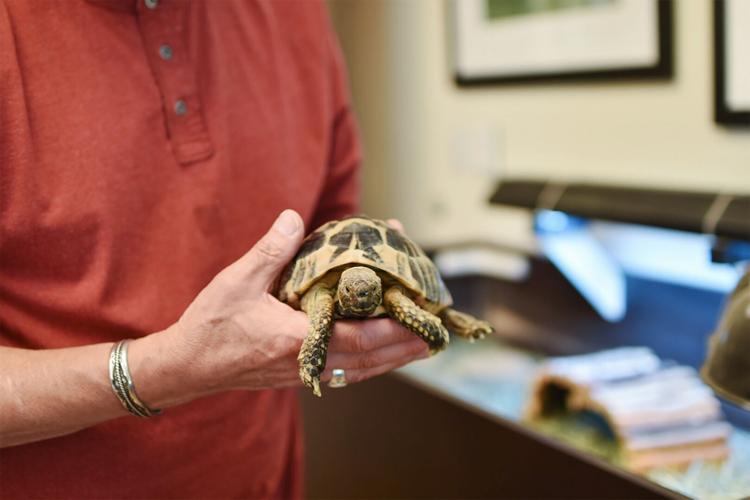 Though White served as a vice president for the Humane Society of the United States and spent seven years at the Arizona Humane Society, he was eventually called back to the Bay Area to lead the Peninsula Humane Society & SPCA in 2002. Though the organization founded in 1951 had been the first in the nation to open a public spay and neuter clinic, White said the nonprofit was struggling financially and internally with a culture that wasn't unified when he stepped into the leadership role.
He said the beginning of his tenure at PHS/SPCA was months after a high-profile dog-mauling case in San Francisco, which resulted in a fear of pit bulls and an influx of the breed at the animal shelter. In response, White said the nonprofit's staff dedicated themselves to revamping the shelter's adoption practices to work more closely with families considering animal adoptions and better understand their lifestyles and expectations for their new pets.
White said the nonprofit also created a mobile spay/neuter clinic program that sent veterinarians into neighborhoods where dog breeds like pit bulls were prevalent. Together with the addition of animal behaviorists to PHS/SPCA's staff, the changes helped the nonprofit experience a drop in the number of unwanted pit bulls and stronger connections with the community, he said.
"It's changed our ability to help animals, it's changed our culture internally and it's changed our relationship with the community, all in positive ways," he said.
White credited the 22,000 households who contribute to the nonprofit's work as well as its more than 1,200 volunteers for helping reduce PHS/SPCA's euthanasia rate 98% since 1970 and make the opening of the $22 million Tom and Annette Lantos Center for Compassion in Burlingame possible.
Though he acknowledged many other animal shelters are only able to keep animals for some two or three days before they are placed with an adoptive family, White said the animals that come to PHS/SPCA are able to stay longer and receive any necessary medical or behavioral treatments they need before they find a new home. Started in the mid-1970s, the nonprofit's wildlife care program has expanded over the years as well and is set to release 1,300 to 1,400 wild animals in the wild this year, he added.
White said he and his wife have cared for dozens of animals who might not otherwise have a home in their San Mateo home over the years, including several dogs and cats as well as a pot-bellied pig, parrots, tortoises and an Argentinian horned frog, among others. He noted the nonprofit's volunteers have helped foster animals when there is an influx of certain animals, adding they have also helped set up a temporary kennel for dogs who didn't have homes after Hurricane Katrina in 2005.
With plans to remain involved with PHS/SPCA as a consultant on special projects after he retires, the 65-year-old said he is looking forward to traveling to national parks, hiking and spending time with his pets and a good book when he steps down from the post in 2020.
For White, scenes such as an animal behaviorist training volunteers to work with dogs in the shelter's indoor dog park — which has been designed with specialized air filters and charcoal and rock filters under the grassy surface — are among the moments he knows he will cherish for years to come.
"This is just a moment in our organization and it's quite nice," he said.