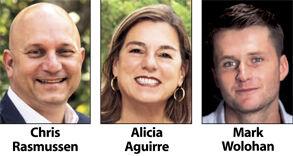 Three are vying to represent Redwood City's District 7 that consists of the predominantly residential Farm Hill area — recently retired community police officer Chris Rasmussen, incumbent Alicia Aguirre and nonprofit program facilitator Mark Wolohan. 
Faced with mounting crises including economic uncertainty caused by COVID-19, civil unrest due to disproportionate community policing and a regional housing shortage, the three candidates largely separated themselves through speaking on their backgrounds during an online interview. 
Aguirre, the daughter of Latino immigrants, spoke about the pandemic-induced struggles community members face through the lens of a professor at Cañada College. Rasmussen largely reflected on his time as a Redwood City police officer when discussing police reform and interactions with homeless residents. And Wolohan drew from his modest upbringing in Redwood City and family struggles when speaking on growing housing needs. 
Redwood City has continued to see an outpouring of interest in development while some residents have pushed back on growth. In balancing those needs, Aguirre said new housing, particularly below- and very-below-market-rate units, needs to be centered downtown or around transit corridors. 
Listening to community concerns is a top priority for the incumbent who said the council also has a responsibility of explaining the complexities of developing more homes, often linked to commercial development. 
"I'm laser focused on housing and how that should move forward," said Aguirre, sharing appreciation for input from both the development "naysayers and yaysayers."
Rasmussen also called for developing around transit center areas to protect the character of single-family neighborhoods which also need to be protected from being redeveloped into mansion-sized homes, he said. 
As office space sits empty, Wolohan said the buildings should be transitioned into affordable housing. He said developers should also shift away from luxury apartment buildings, often left with vacant units, to build affordable housing. 
"I don't think the answer is to just increase supply. I think you have to increase the right kind of supply," said Wolohan. "It doesn't make sense to keep building more and more luxury apartment buildings if it's not effectively serving the needs of the community." 
Despite being eager to pursue affordable housing proposals, the three candidates were hesitant to support development at the salt ponds owned by Cargill Inc. To defend the city against sea level rise, many have also called for the ponds to be returned to marsh land, a notion the candidates supported.  
Residents and activists have also rallied in the city to push officials toward stronger police reform. Protests erupted in May following police killings of Black Americans, leading thousands to gather in Redwood City's Courthouse Square and calls from residents to reimagine policing in the city.  
Rasmussen voiced strong support for transparency, police oversight "if done correctly," and for diversifying the department to look more like the community it serves. He and Wolohan agreed more officers should be hired from within the city. 
"We need to look at sustainability with our officers and community investments. ... Our community should look like our police department as well," said Rasmussen, who supports implementing community services officers to respond to traffic and other nonviolent calls. 
Wolohan said the department should be boosted by those with associate or bachelor degrees. Transparency within policing was also a concern for the Redwood City native who called for substantiated records to be made public and slammed the department for not implementing body cameras. 
Aguirre, a member of the Ad Hoc Committee on Policing which organized the city's community listening sessions, said the change residents have called for would require deeper conversations. Rather than focus on the police department, she said all city departments need to begin training on and discussing equity. 
Both Wolohan and Rasmussen expressed disappointment in the listening sessions, which were implemented to allow residents to voice specific concerns around community policing, city resources and equity. 
While Wolohan called the sessions "symbolic," and lacking action, Rasmussen said the events felt "scripted." Like Aguirre, the candidates said they'd like to see the conversations continue with Wolohan suggesting the police department conduct monthly town halls.
As the former homeless outreach coordinator for RCPD, Rasmussen also said calls regarding unsheltered residents should not involve officers who should be focused on emergency situations. He and Wolohan also applauded the council for implementing an RV parking program, aimed to transition RV dwellers into permanent housing. Before retiring, Rasmussen said he assisted the Ad Hoc Committee on Safe Parking with developing the program. 
He said the city should continue searching for additional open spaces such as campgrounds where the unsheltered can go instead of sleeping on the streets. Focus should also be placed on solving "small problems" like access to bathrooms, food, medicine and water, said Rasmussen, who also serves on the San Mateo County Mental Health Substance Abuse and Recovery Commission. 
The commission has played an advisory role in the county's pilot program contracting mental health professionals to respond to crisis calls alongside police officers. Redwood City has partnered with the county on the program. 
Having unhoused relatives, Wolohan said the crisis feels personal. He suggested the city work on providing educational opportunities to those unsheltered by expanding Wi-Fi access. For those who do not have access to RVs, Wolohan said the city should look to adopt the Salvation Army structure for shelters which provide housing and work opportunities. 
Aguirre suggested the city look to San Jose for housing ideas, where shipping containers have been turned into small homes. Noting the housing crisis is "larger than Redwood City," Aguirre said council will have to work to get ahead of growing concerns the pandemic will force more residents out of their homes. 
"We don't know what's going to happen in the next couple of months and the next year with COVID. … The budget process has to be transparent. It has to be carefully thought out," said Aguirre who said her experience navigating the city during the 2008 recession was a "dress rehearsal" for 2020.  
The council veteran said the city may have to consider sharing services with the county or neighboring cities while also having to balance necessary infrastructure upgrades. Wolohan said infrastructure upgrades should be paused to save employees from losing their jobs or seeing wage cuts. 
He also suggested the city should amend the Utility User Tax which covers gas, electricity, wireless and cable services. Rasmussen agreed with Wolohan that employees should be protected and shared Aguirre's view that the city will have to be innovative with how services are provided. 
Three other districts are hosting elections this year. A seat in District 1, representing the Redwood Shores neighborhood, is being pursued by former mayor Jeff Gee and current Planning Commissioner Nancy Radcliffe. 
In District 3, three are vying to represent the minority majority area of Friendly Acres, including activist Lissette Espinoza-Garnica, public health professional Isabella Chu and incumbent Janet Borgens. Planning Commissioner Michael Smith is running unopposed to represent District 4, a traffic challenged area where major roads intersect. 
Current terms for Mayor Diane Howard and councilwomen Giselle Hale and Diana Reddy are up in November 2022.