It's high stakes under the big top in San Bruno, where Artichoke Joe's Casino opened into an outdoor tent — allowing locals space to gamble amid the pandemic.
Exhausted by the limited operations allowed during quarantine, Artichoke Joe's President Vincent DeFriese said he took a risk and ordered a 13,000-square-foot tent to hold a makeshift, outdoor card room.
Though anxious and uncertain how popular the unorthodox facility would be, DeFriese said he was heartened to see the line of patrons ready to start playing when Artichoke Joe's opened into its parking lot last week.
"At this point, knock on wood, we've been doing very good," he said, noting there have been no reported cases of workers or guests contracting coronavirus.
All the card tables and platforms have been moved outdoors and the indoor casino is largely gutted — barring the restaurant, cash cage, restroom and other support services.
Sneeze guards and plastic shields have been installed to reduce the threat of virus transmission, and everyone wanting to play must pass a COVID-19 screening before entering.
Guests are expected to always wear masks and observe social distancing expectations. Food can be eaten at areas away from gaming tables and a drink can be served with a meal but the bar is closed.
DeFriese said the outdoor casino can accommodate about 75% of its usual crowd, and the facility has been near its allowable capacity at its most popular hour around midnight.
The experiment has encountered hiccups though, acknowledged DeFriese, who said weather and wind patterns posed significant challenges.
The first weekend, the tent was opened to allow air flow but a sudden gust of wind blew cards across the gaming space. The heat wave and wildfire smoke also made it unpleasant and cold weather rolling in through the evening hours has cooled plenty of hot hands at the table.
Additionally, Artichoke Joe's is yet to allow Texas Hold 'em because the game traditionally featuring several players huddled around a table is not conducive to social distancing.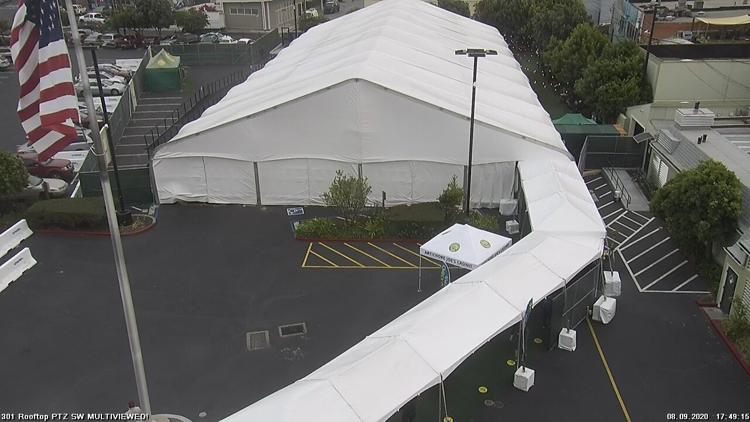 The casino ordered construction of a prototype table though which DeFriese said he believes will allow poker to return soon in the safest possible fashion.
"Our loyal poker players are wanting to come back and so that's our next move," he said.
The San Bruno casino is the first in the Bay Area to reopen outdoors since the pandemic halted large indoor gatherings, said DeFriese, who anticipated the tents will start popping up more frequently across the industry in the coming weeks.
For his part, DeFriese said the company was compelled to give the arrangement a shot to serve its customers, and also accommodate its more than 400 employees who were out of work for an extended stretch.
He said all the workers needed to go on unemployment during the shutdown, but the casino continued paying their benefits with hopes that employees would return when possible.
And though he was fearful many colleagues would depart, DeFriese was happy to see so many return.
"We figured let's bring 400 people back and hope we can make enough money to keep the door open and we are very pleased to this point in the last week that it has been a good move," he said.
The tent took nearly two weeks to arrange, and DeFriese said it will remain the central gaming space until indoor gaming is allowed again — and even longer, in case operating rules change in the future.
"We are going to leave the tent up for a while to go back out, if need be," said DeFriese.