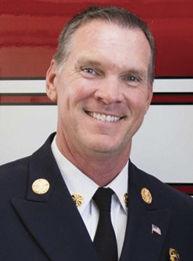 After more than 36 years of public service, John Healy, the fire chief for the San Mateo Consolidated Fire Department, announced he plans to retire at the end of the year.
Healy began his career at age 19 as a volunteer firefighter in Foster City, and spent 16 years with the San Mateo Fire Department. Healy was instrumental in the creation of San Mateo Consolidated Fire Department, as he helped oversee the merger of the three departments in San Mateo, Foster City and Belmont which took several years, according to the department.
Healy said it's been a privilege to work side by side with some of the most dedicated fire service professionals in Foster City, Hillsborough, Union City, San Mateo and Belmont.
"My career has provided me countless life lessons and unforgettable memories. The most important lessons learned were service before self, giving your very best daily, and leaving every situation better than you found it. Those were characteristic taught to me, and I have worked to share these values with the team, so that they may pay it forward to future members," Healy said in a prepared statement.
Growing up in San Mateo, he attended local schools and feels fortunate to work in his hometown where he's been an active member of the community. Healy and his wife Stacey are raising three sons, two who attend Serra High School and one now in college, according to the department.
Over the course of his career, he's seen vital progression of a profession that holds high value on training and education. Healy earned an Associate of Science degree in fire technology from College and San Mateo and a Bachelor of Science degree in both fire administration and fire prevention technology from Cogswell Polytechnical College in Sunnyvale. He attended training throughout the state and has earned California state fire marshal certification as a chief officer, fire investigator and fire instructor, according to the department.
Reflecting on his career, he said he'll miss the adrenaline rush from responding to emergency incidents.