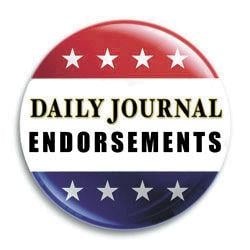 The city of Half Moon Bay has enjoyed stable leadership in the past few years and its representatives on the City Council have a reputation for progressive thought and listening to the community.
Current Mayor Adam Eisen also fills that role well. The council is not in lockstep on every decision, but that is also a sign of a healthy group of decision makers. As mayor this year, Eisen has had to fill a different role in ensuring the community remains safe and secure while also contending with high level discussions on access to the beachfronts in the time of COVID-19. He has handled that role well and deserves another term on the council.
This is the first time the city has had district elections and challenging him for his seat is Joaquin Jimenez, an active outreach liaison to the farmworker community. Jimenez has an excellent background in community service as a school teacher and a correctional officer. He is running in part to represent the city's Latino community, which deserves to have a voice on the council. The idea behind district elections was to provide better opportunities for diverse candidates and this has proven to be the case. While Jimenez's background as a community activist and a natural connector make an appealing case for his rise to the council, Eisen is able to more consistently convey his ideas. Jimenez doesn't need our encouragement but we hope he stays involved and gets another shot at running for the council in the future.
However, for now, Eisen's experience gives him the edge in this race. He deserves your vote.