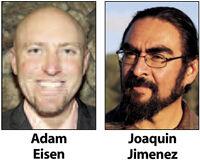 In Half Moon Bay's first by-district election in November, incumbent Mayor Adam Eisen is competing with challenger Joaquin Jimenez to represent District 3 on the City Council.
District 3 encompasses the southern part of the downtown area and is the only contested race for a seat on the council. Councilman Harvey Rarback is also up for re-election in District 2, but faces no competition.
Eisen says his experience leading the city as it grapples with a pandemic-induced budget deficit, wildfires and impacts associated with increasingly large crowds of visitors to the coast qualify him for re-election.
"I have relationships established, I have the experience needed," he said. "It's time to build on progress and keep Half Moon Bay moving in the right direction."
Jimenez, a political newcomer, is running in part to represent the city's Latino community.
"I'm a Latino person who will bring the voice of 32% of our population that hasn't been well represented by our city government," he said. "People want change. … I'm bringing diversity and equity into the community and I think it's time."
Jimenez grew up in the city and has worked as an elementary school teacher in an immersion program as well as a correctional officer in the San Mateo County Probation Department. He also works for the nonprofit ALAS as a community outreach liaison for farmworkers and their families.
Eisen, who was elected to council in 2016, is a business executive with Marriott International, an avid participant in the American Youth Soccer Organization as a coach and referee and a volunteer at local schools, according to the city's website.
Jimenez has been endorsed by Assemblyman Marc Berman, D-Palo Alto, and three sitting councilmembers — Deborah Penrose, Robert Brownstone and Rarback — among others.
Eisen has been endorsed by U.S. Rep. Jackie Speier, D-San Mateo; state Sen. Jerry Hill, D-San Mateo; and Assemblyman Kevin Mullin, D-South San Francisco, to name a few.
During an interview with the Daily Journal, Eisen surmised his aforementioned council colleagues support his opponent in part due to disagreements about city finances.
"Our city finances were severely cut by 70% [due to the pandemic] and budget cuts needed to be made," he said. "I had to convince council in very difficult decisions that we needed to lay off staff, furlough staff and we needed to make reductions in hours. … It's what we needed to do to stay solvent.
"They were very tough decisions and probably one of the reasons why some of those councilmembers are willing to support Joaquin," he said.
Eisen also said he's the "only councilmember to increase the amount of funding brought into Half Moon Bay" when he came up with a system to collect untapped revenue from short-term rentals.
On the topic of the city's financial outlook, Jimenez said "a strong economy is about giving the opportunity to the community to grow sustainable businesses that will benefit us all and help our economy."
Jimenez said affordable housing is his top priority because teachers, farmworkers and other workers are struggling to afford living in the area. He said he's identified at least three locations near downtown to support such developments.
Jimenez is also adamant about preserving open space and farm land and suggested residents rather than visitors should be prioritized when it comes to future development.
"Development in Half Moon Bay has to be in a smart way to make sure we conserve that small town charm that we have," he said. "Of course our economy depends on tourism, but we have to take care of our community first before we're able to offer anything else to our visitors."
To help low-income renters, Jimenez also noted he collected more than 300 signatures to propose rent control in the city.
Eisen also said affordable housing is a top priority that's reflected in recent planning efforts, including the update of the Local Coastal Program and Land Use Plan, with which he has been intimately involved.
"I don't know what Joaquin particular did to make [affordable housing] happen," he said. "I've been the one working for four years to make it happen, I'm the one that got it all done in the General Plan, I'm the one who made sure the overlay exists for farmworkers."
The farmworker overlay is included in the Local Coastal Program and Land Use Plan update to provide additional opportunities for workforce housing on farms.
Finally, on the topic of policing in the city, Jimenez said the relationship between deputies and the community as well as de-escalation training programs need to be strengthened. Eisen touted efforts by the council, including forming a subcommittee to re-evaluate policing and forwarding a recent officer-involved shooting case to the attorney general in response to concerns in the community.
Eisen also said he wants to expand the small police presence on the coast and both are against defunding the police.