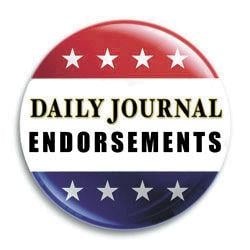 The point of district elections was to allow for more competition and diverse points of view. In that respect, this has happened but it's also created silos of candidates. These candidates might be better served running against the entire pool of candidates while also providing more distinct choices for residents.
Alas, this is not the case. In Redwood City, you have former mayor Jeff Gee running against Planning Commissioner Nancy Radcliffe in District 1; incumbent Janet Borgens, public health professional and housing advocate Isabella Chu and progressive activist Lissette Espinoza-Garnica in District 3; and recently retired police officer Chris Rasmussen, incumbent Alicia Aguirre and newcomer Mark Wolohan in District 7.
In their individual districts, the best choices are Aguirre, Borgens and Gee. However, Rasmussen and also Wolohan are very impressive candidates and it's too bad they couldn't compete in at-large elections. Rasmussen's experience as a former police officer in favor of reforms is an extremely positive attribute as is his compassionate work with the homeless. Wolohan, while young, has a practical sense of the city's diverse issues and would provide a new perspective of youth in a cohesive and common-sense way.
Gee is a solid candidate with a firm grasp of the city's issues but his ties to development and his work in construction have created potential conflicts in the past. Borgens might have been rattled by the progressive challengers in her district but showed in our interview an unnecessarily negative temperament. Still, they understand the city's issues and needs and would have no need to come up to speed. They both also have a proven track record of constituent service and listening to the community. Both deserve your vote.
Aguirre should also be recognized for her quiet, but powerful, leadership. Aguirre doesn't call attention to herself, but instead works tirelessly with an eye on equity with every decision. She listens to the community and enjoys synthesizing the various points of view to make decisions based on what is best for the entire city. It is this type of workhorse mentality and quiet action that should be rewarded with another term. The city deserves her service. We assume Rasmussen will stick around and find new ways to serve the community. We recommend he run again. We also recommend the city soon find a role on a committee or other group for Wolohan. He represents your next class of leadership and should be heard. Espinoza-Garnica should be heard as well. Her point of view is based on a sense of justice and equity and should be incorporated. There is a practical reality to politics, and some of her ideas don't align with that, however, they represent an emerging sentiment that must be addressed in various ways. We commend her for bringing her ideas to the table. Same with Chu, who is focused on zoning changes and new housing. This is an acute need for this area and having a candidate willing to charge forward with the concepts is helpful. Radcliffe has the requisite experience and community connections, but wasn't able to synthesize top issues as well as Gee.
As Redwood City completes its first district elections cycle, it has proven to be less than perfect but still interesting. It is also a work in progress. If the goal was to ensure there are challengers to incumbents and that diverse points of view were brought forward, it was successful. Still, Aguirre, Borgens and Gee remain your best bets for council.