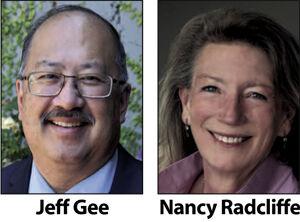 With the first district elections taking place in Redwood City, two candidates are vying to represent the Redwood Shores neighborhood in District 1, former mayor Jeff Gee and current Planning Commissioner Nancy Radcliffe.
While the pair largely agree on which major issues the city faces — rising sea levels, a housing shortage, pandemic-induced budget shortfalls and civil unrest over community policing, they expressed subtle differences in how they would achieve solutions during an online interview. 
As Redwood Shores residents, both candidates noted the importance of actively addressing climate change effects on the neighborhood. Maintaining levees and ensuring residents remained insured in case of flooding is vital for the district, populated by more than 11,300 residents, said the candidates. 
Concerns around sea level rise also influences the candidate's views on potentially permitting development on salt ponds owned by Cargill Inc. While neither candidate has ruled out permitting construction on the land, both said their decision would depend on what types of projects are proposed. 
To defend the city against sea level rise, many have also called for the ponds to be returned to marsh land, which Gee said he would be interested in if solutions could be presented that did not require taxpayer contributions.  
"The property owners, the taxpayers, the environmental groups, the sea level rise groups, we all need to come together and solve this because there is no one answer that any one person can come to the table with," said Gee. 
Gee reflected fiscal conservatism in his view of city budget management as well. As businesses remain hindered by the pandemic and infection mitigation efforts, city revenue from sales and hotel taxes have been depleted. Gee suggested the city may need to outsource services and while downsizing others.
Radcliffe said she'd like to see some services protected including public parks and called for library services to be expanded in North Fair Oaks and Redwood Shores. Libraries frequently act as community centers, she said, and can be a "psychological boost" for residents. 
"We don't know when [the pandemic] is going to end and that's the hardest thing for everybody, not only looking forward as far as planning but also for everyone's mental health," said Radcliffe. 
In light of calls for police reform, Radcliffe also said the police department budget would be the topic of future council discussions. Protests erupted in May following police killings of Black Americans, leading thousands to gather in Redwood City's Courthouse Square and calls from residents to reimagine policing in the city. 
Both Radcliffe and Gee said the city's community dialogue sessions were a "good start" but additional conversations will be necessary. Both noted officers have been tasked with responding to calls they haven't been trained for including incidents of mental health crises, domestic violence and homelessness. 
"[The dialogue sessions] was the beginning and should not be the end. There are a lot more conversations that need to happen," said Gee. "There are a lot of loud voices and there are a lot of quiet voices. … Not everyone is going to get what they want but we have to find that balance." 
Radcliffe raised interest in the CAHOOTS program developed in Eugene, Oregon. which deploys mental health professionals to necessary calls. Gee said police reform and emergency response would benefit from a partnership with the county, as being done in a pilot program modeled after CAHOOTS. 
On caring for those experiencing homelessness in the city, both said they appreciated the current council's efforts to develop housing solutions such as an RV parking program launching this month. While neither approved of the proposed location for a county-run navigation center, which sits near a raw material processing plant, both said the service is needed. 
Radcliffe said the center should be located closer to the North Fair Oaks Community Center where other programs exist while Gee said the structure should have been included in a parking garage project on Veterans Boulevard near county services. 
Housing support is also vital for treating homelessness, said the candidates who both assisted in the development of the city's Downtown Precise Plan. While Gee emphasized prioritizing developments offering substantial below-market-rate units, Radcliffe supported housing diversity, noting housing needs vary widely. 
"Council and Redwood City is always looking for new innovative ways to deal with projects and we're very open to thinking outside the box and to being creative with how we help people," said Radcliffe. 
Three other districts are hosting elections this year. A seat in District 3, representing the minority majority area of Friendly Acres, is being pursued by activist Lissette Espinoza-Garnica, public health professional Isabella Chu and incumbent Janet Borgens. 
In District 7, recently retired community police officer Chris Rasmussen, incumbent Alicia Aguirre and nonprofit program facilitator Mark Wolohan are campaigning to represent the heavily residential Farm Hill area. Planning Commissioner Michael Smith is running unopposed to represent District 4, a traffic challenged area where major roads intersect. 
Current terms for Mayor Diane Howard and councilwomen Giselle Hale and Diana Reddy are up in November 2022.