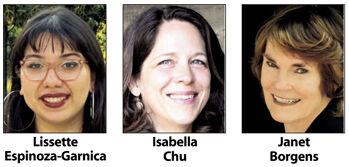 Vying to represent Redwood City's District 3, consisting of the majority minority neighborhood of Friendly Acres, activist Lissette Espinoza-Garnica, public health professional Isabella Chu and incumbent Janet Borgens emphasized equity in their vision for the city.   
During the city's first district elections, the candidates are faced with compounding crises including a financial downturn sparked by a global pandemic, a Bay Areawide housing shortage and civil unrest over disproportionate community policing. During an online interview, the candidates took strong and often opposing stands on how to govern the city experiencing increased hardship. 
Where the candidates seem to diverge the most is on police reform. Protests erupted in May following police killings of Black Americans, leading thousands to gather in Redwood City's Courthouse Square and calls from residents to reimagine policing in the city. Since then, city officials have spearheaded community dialogue sessions aiming to find a consensus on reforms in policing and community resources.  
While Espinoza-Garnica called the discussions tone-deaf and admonished the current council for not moving forward with community calls to "defund the police," Borgens explicitly noted she would never vote for removing a police presence from the city but would consider resource adjustments. The defund or descope campaigns have grown in national popularity as policy initiatives which redirect portions of police budgets to other community resources such as mental health support and education.
Chu noted that public discourse on policing varies widely but said residents she spoke with were disappointed by the dialogue sessions. She called for a public health approach to policing, as with all her policy stances, and for departments to no longer hire officers fired for violent incidents from other departments. She also voiced support for the #8Can'tWait initiative, a campaign detailing equitable police reforms.
"There's a big difference between acknowledging a problem exists and being really willing to do what it takes to fix it," said Chu. "There's a big range of how people view this but I do think there are practical things we can do." 
Borgens noted the city has partnered with the county on a program contracting mental health professionals to respond to crisis calls alongside officers, modeled after the CAHOOTS program developed in Eugene, Oregon. 
"The CAHOOTS program that everyone is talking about is amazing and absolutely I'd like to see us do some partners … after but we're not there yet. I wish things moved faster than they do but they don't move this fast in government," said Borgens, adding that funding such programs can also be expensive.  
On looming budget concerns, Espinoza-Garnica said taxing big business, redirecting police budgets to services and implementing a vacancy fee on property owners could enable equitable revenue streams for the city. 
"We are building a market based on speculation and that's going to eventually cause another recession," said Espinoza-Garnica, who also slammed the city for moving forward with contracted raises for both the city manager and city attorney. 
Chu, who voiced openness to analyzing police budgets in light of shifting public opinion, called for stimulating blue collar jobs for Redwood City residents by supporting development proposals. Similar to many companies facing hardship due to the pandemic, Chu also said those making the most within city departments should consider cuts to ensure employees making lower wages can keep their employment. 
Borgens noted the city was required to move ahead with the contracts but said bringing labor stakeholders to the table to discuss wages has happened and may have to happen again. She also applauded city staff for adapting to city needs brought on by the crisis with departments facing budget constraints. Looking ahead, she expressed concern for rising pension obligations for which she said the city has prepared.  
Recognizing the growing housing crisis, the three candidates said they'd like to see development growth but presented differing ideas on how to shrink the city's housing shortage. While Espinoza-Garnica supported upzoning single-family neighborhoods and publicly funded development proposals, Borgens called for partnering with developers and nonprofits to push for greater diversity in units. 
"When do we go to our low-income community that we say we're building housing for and ask them 'what kind of housing do you want?' We haven't asked that question. We just build stack-and-packs and put them in these big apartment [buildings]," said Borgens. 
Chu also supported building taller through upzoning and permitting second-story additions, she also shared Borgens' view that affordable units need to be built around transit corridors. Additional housing units along with access to running water is also a method for reducing homelessness, said Chu, but Borgens noted some homeless residents do not want to be rehoused. 
The three candidates agreed wraparound services are necessary for assisting those experiencing homelessness, which Borgens noted the city is attempting through an RV parking program. Chu said the program speaks to an "utter failure to build adequate housing," and called for reviewing land use policies rather which currently "give away land for free for cars." 
While Borgens declined to comment on whether she would vote to permit development on salt ponds owned by Cargill Inc., Espinoza-Garnica sternly opposed the notion, citing climate concerns and rising sea levels. Chu said the city would have to offer a deal of "comparable value" if a no vote is given for proposals on the wetlands. 
Three other districts are hosting elections this year. A seat in District 1, representing the Redwood Shores neighborhood, is being pursued by former mayor Jeff Gee and current Planning Commissioner Nancy Radcliffe. 
In District 7, recently retired community police officer Chris Rasmussen, incumbent Alicia Aguirre and nonprofit program facilitator Mark Wolohan are campaigning to represent the heavily residential Farm Hill area. Planning Commissioner Michael Smith is running unopposed to represent District 4, a traffic challenged area where major roads intersect. 
Current terms for Mayor Diane Howard and councilwomen Giselle Hale and Diana Reddy are up in November 2022.