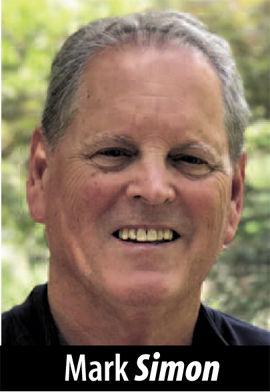 Belmont Mayor Charles Stone recently led a lobbying effort to keep Belmont intact under the new district lines that were drawn by a citizens' commission for the San Mateo County Board of Supervisors.
His reward: At least one of the plans recommended by the commission excludes Stone from the supervisorial district seat he has been running for since COVID was a pup.
And there you go. Politics, like rust, never sleeps.
Redistricting long has been the purview of wonks, nerds and political players. It is when new district lines are drawn to reflect changes in populations after the U.S. census. This used to concern only state legislative and congressional seats and it was a wonderland of political manipulation until the state's voters approved a plan to have the lines drawn by an independent commission.
But with the growth in district elections at the local level, virtually every jurisdiction in San Mateo County (and elsewhere) is wrestling now with dividing up their community. Intended or otherwise, politics still shows up.
The county, mirroring the state, is using an independent commission of residents to draw up recommendations for the Board of Supervisors' five seats. The commissioners are required to concern themselves with preserving city boundaries as much as possible and protecting communities of interest. This last one is critical. In the past, redistricting was used to protect political power, usually by dividing communities that represented a potential threat to the status quo, whether it was minority communities or Republicans.
In our brave new world, commissioners are bound by law not to consider the political consequences of their plans.
The result is that the plan authored by Rudy Espinoza Murray, and another named the Unity Plan, are replete with political consequences. In the Unity plan, Stone is cut out of the district he has been seeking while his opponent, Noelia Corzo, is not. One plan effectively excludes ethnic minority candidates from one of the current campaigns. Up and down the county, there are similar tales of woe — this candidate bounced, another benefited; too many to detail here.
Suspicions were high that Espinoza Murray, whose plan passed by an 8-7 vote, had systematically helped his friends, an accusation he emphatically denies. "No candidate was taken into account of any map I drew. … I do not know where any candidate lives. I could swear on my mother's life," he said. He tried to show some leadership and is getting unfairly skewered for it.
And, as a fun note, the Unity Plan also passed by an 8-7 vote.
The final plan has to be approved by the current Board of Supervisors, four of whom are termed out and will not be seeking another term, and will be unaffected by the political outcomes of their decision.
Expect them to straighten this out. Given the makeup of these four supervisors, it is hard to imagine them embracing a plan that wreaks havoc with the current political status quo, which includes declared candidates actively campaigning. In other words, in a process designed to take politics out, expect political realities to prevail. Ever has it been so.
DISTINCTLY DC: There is a baffling dispute going on in Daly City over a 22-acre site owned by the Jefferson Union High School District to build more than 1,200 units of affordable and market rate rental apartments. The impoverished school district would retain the property and wants the income from it.
The City Council has approved large housing projects before, but this one is being held up, apparently, by a coalition you would think would be supportive, including a representative of the Sierra Club and Change SSF, known for its housing advocacy. There is a dispute over what may or may not be a community garden, which would be replaced in the project plan by — a community garden.
This has gotten heated. Daly City Mayor Juslyn Manalo recently complained via Facebook that she has "been vilified profusely" by council colleague Pam DiGiovanni, who is "spreading lies and ENOUGH IS ENOUGH." In a series of exchanges, Manalo declined to detail the lies, saying repeatedly, "Up and down this county, sometimes boards and councils, they don't all agree." 
She noted that Daly City has approved a number of affordable housing projects, including a 500-unit building. "We've always been proponents of housing and affordable housing," she said. 
From the outside, this has the feel of political crosscurrents. Manalo is rumored to be gearing up for a supervisor run in 2024, to which she responded: "I never declared I'm running for supervisor. And Supervisor David Canepa I believe is running for reelection in 2024." She added, "I want to serve my hometown and I will be filing for reelection for City Council in 2024."
Mark Simon is a veteran journalist, whose career included 15 years as an executive at SamTrans and Caltrain. He can be reached at marksimon@smdailyjournal.com.