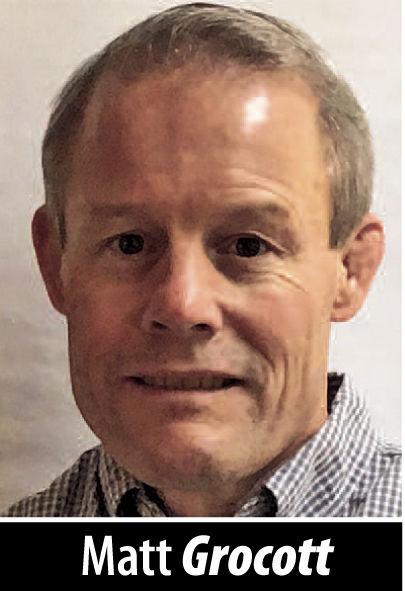 As I sit and write, I am using the keyboard to my iMac computer. I also have an iPad. My wife and son have iPhones. At one time they wanted to have Apple Watches but that time has passed. Thinking about things passed, when was the last time you saw someone using their iPod?
Certainly Apple has come out with many innovative products over the years. Their engineers and designers are to be applauded! If you are from my generation, you have watched the world change before your very eyes as these various electronic devices have entered our lives. If you are of a younger generation, you have never known the world to be any other way. Where I notice the biggest difference between young and old is in idle conversation. A question will come up that is trivial in nature and in seeking the answer, older people will test their memory. Younger people, on the other hand, will immediately whip out their cellphone and in short order blurt out the answer. Where's the fun in that?
Well, again, applause to Apple's engineers and designers ... and to Steve Wozniak and Steve Jobs who got the whole thing started back in 1975 in a garage!
Have you heard about the latest "i" product to come out? It wasn't invented by Apple and Tim Cook gets zero credit for it. The newest "i" product is the iSham and was invented by House Speaker Nancy Pelosi, along with her able assistant, Congressman Adam Schiff.
In the case of Apple's "iProducts," there is debate about what exactly the "i" is supposed to mean. Some say it refers to the internet. Others say it was an ingenious marketing ploy meant to give the user a sense of intimacy with the product.
In the case of the iSham, there is no debate. It is wholly understood that the "i" stands for something the Democrats have wanted ever since president Trump won the election. The "i" stands for impeachment. Of course!
Why, then, is it called a sham? Because what Speaker Pelosi and her Democrat colleagues in the House of Representatives are doing has no resemblance to what was done in 1868 when Andrew Johnson was impeached. Or is it remotely the same to what was done in 1974 when Richard Nixon was almost impeached. And it isn't the same as how things were handled in 1998 when the House voted to commence impeachment proceedings against Bill Clinton.
It seems that Speaker Pelosi is trying to "have her cake and eat it too." She wants to dominate the news media with continuous talk of impeachment until the 2020 election. She wants the great majority of people who only listen to the headlines to believe the president is being impeached. She does not want, however, for there to be a vote on impeachment in the House because she is afraid it will dirty her Democrat colleagues who are from districts that President Trump won in 2016. And she does not want any involvement of the House Republicans in the process. It's an iSham.
Personally, I am sickened by the Democrats and their efforts to damage this president. While he has been busy doing good for America, they have done nothing but dog his heels for more than three years. If the 2016 campaign is included, it has been more than four years. It is shameful. The only way I can stay sane is to put away the iPad at night and get out a good book!
Below is a passage from a book I am currently enjoying. It was written by Francis Parkman and is titled, "The Oregon Trail." It was published in 1910 by Longmans, Green, and Co.
"Yet, wild as they were, these mountains were thickly peopled. As I climbed farther, I found the broad dusty paths made by the elk, as they filed across the mountain side. The grass on all the terraces was trampled down by deer; there were numerous tracks of wolves, and in some of the rougher and more precipitous parts of the ascent, I found footprints different from any that I had ever seen, and which I took to be those of the Rocky Mountain sheep. I sat down upon a rock; there was a perfect stillness. No wind was stirring, and not even an insect could be heard. I recollected the danger of becoming lost in such a place, and therefore I fixed my eye upon one of the tallest pinnacles of the opposite mountain. It rose sheer upright from the woods below, and by an extraordinary freak of nature, sustained aloft on its very summit a large loose rock. Such a landmark could never be mistaken, and feeling once more secure, I began again to move forward." (Chapter XVII; pp 225-226)
Yes, move forward we will!
A former member of the San Carlos City Council and mayor, Matt Grocott has been involved in political policy on the Peninsula for 17 years. He can be reached by email at mattgrocott@comcast.net.