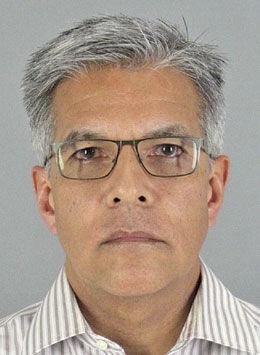 It's taken almost three years for the female victim of a former Mills High School band teacher's sex assaults in 2008 and 2009 to see his case adjudicated in San Mateo County's criminal justice system.
When 60-year-old Ken Crowell pleaded no contest to three felony charges of unlawful sexual intercourse with a minor in November 2017, more than two years had passed since she stepped forward in May of 2015 with reports of the incidents. Whether the Redwood City resident would serve the full length of a two-year jail sentence delivered Feb. 2 remained in question as he applied for a work furlough program, which would have allowed him to work during the day and return to the jail at night, and requested to serve his term under house arrest after his work furlough application was denied in March.
And as lengthy hearings resulted in continuances and additional court appearances, Crowell's victim, now a 26-year-old Bay Area resident, waited — sometimes patiently, at times with frustration — to see what fate Crowell would face in the end.
Like many other freshmen who entered Mills High School in Millbrae in 2005, Crowell's victim, who will be called Jane Doe in this story because she did not want to be identified, wondered what the next four years held in store. With questions about which classes to take and how to navigate a new social environment, among others, Doe knew she would pursue music at the school.
Having played a musical instrument since she was in fifth-grade, Doe found collaborating with other student musicians in her school band made her forget about her life at home, where distance between family members made her want to spend time elsewhere.
"Music was just fun for me as a kid," she said. "Music class was a space … where my part was important to the people around me … that was the only time every day where I felt like I had purpose."
So when Doe found herself in jazz and concert band classes with Crowell, who had been teaching in the San Mateo Union High School District for 10 years, she found not only a community of students similarly interested in music, but also a charismatic teacher whose sense of humor forged a connection with many students.
As freshman year wore on, Doe remembered seeing junior and senior students spend time in Crowell's office during lunch periods and after school and hearing the running jokes they exchanged with each other.
"He would use humor, he would build inside jokes with people," she said. "He would cultivate those inside jokes and turn them into like long-running rapports with students."
She also noticed the intensity Crowell brought to his teaching, sharply criticizing some in front of a class, which many chalked up to Crowell's passion for musical perfection.
As Doe continued to explore music at the school, she became involved in a wide array of projects, some of which Crowell led, including the school's jazz band and a Saturday youth band he coordinated outside his time with the school. She said his interest in coaching an a capella quartet she and three friends started in her junior year marked the beginning of his focus on her musical abilities, noting he would commend her for coming into sessions early to practice or praise her for working through difficult music.
So when a tendonitis surgery prevented the then 50-year-old teacher from conducting the school musical that spring, Doe volunteered to do it in his place and with his guidance. Having observed Crowell conduct musical groups on several occasions, Doe said it didn't seem unusual for her to take on the challenge when other students at the school had taken on leadership roles in other areas in which Crowell taught, such as tech crew.
She said the project launched her into a daily schedule in which she would spend hours with Crowell after school. Though students would come in and out of their meetings, Doe said they spent many hours working alone in his office. She said Crowell would at times turn the conversation to her life outside of school and music-related activities, and she confided in him regarding her aversion to spending time at home, at the same time learning from him about challenges he was facing with a divorce from his wife.
By the end of her junior year, the then 16-year-old reflected on her growth as a musician, having successfully conducted the school musical and even passed some of her knowledge onto a friend, who conducted the band at the school's graduation. When it came time to sign yearbooks at the end of the year, a band tradition, Doe expressed her gratitude in a note to Crowell for making those opportunities possible.
She said he contacted her by phone around 10 p.m. one night at the end of the semester to say he was really moved by her note and asked her if she wanted to come over to his Burlingame home. Having spent long hours at performances and practices, Doe said she and other bandmates had been to his house once before to eat lunch with him and had known alumni of the school to visit him there.
But she noticed a shift in his behavior when she arrived. After he reiterated he was moved by what she wrote, she said the conversation faltered, as though he was waiting for her to say something. He eventually offered to walk her home, and on the way suggested they take another route through a park, where he stopped to hug her for several moments before kissing her.
She said she froze and felt horrified when he pressed his lips against hers, and when it was over Crowell noted they should go before anyone saw them. She remembers struggling with a surge of thoughts in the minutes that followed — that she had not wanted him to kiss her, memories of their conversations about his struggle with his divorce and his directive that she not tell anyone what had happened.
"[I] just remember thinking to myself … everything in my life has changed now," she said. "I don't know what is going on, I don't know why any of this is happening, but everything's different because I'm not going to tell anyone about this."
In the months leading up to the kiss, Doe said she believed Crowell had been paying attention to her because of her promise as a musician. She said she had harbored doubts about her musical abilities, but with Crowell's encouragement and her growing investment in her skills, was beginning to think about pursuing music after high school, possibilities she instantly doubted when he kissed her.
"When he … kissed me, I thought that just sort of destroyed, shattered that idea that he was just the fun, cool teacher," she said. "I think on some subconscious level, what I went through was the realization that … if all the time that he's invested in me culminated in this, that means that I wasn't actually important because I was hardworking or because … my part was important to the whole group every day at these rehearsals. I was important because he wanted this."
'My life spun out of control'
When Crowell continued to pursue a romantic relationship with her, Doe said she went along with it, in part rationalizing it as unrelated to their student-teacher dynamic and because she didn't want to believe that one of the only adults who showed care for her and her peers could be abusive. She said the relationship became even more complicated by a call around the same time that summer from an investigator with the Millbrae Police Department, who was reviewing Crowell's sexual relationship with an 18-year-old student in previous years and asked if she would answer his questions.
Doe said she and Crowell discussed what she would say to police, and he coached her through how she would lie to them about their relationship. The investigation ended not long after it started, and that student told the Daily Journal she didn't feel comfortable coming forward in court. However, it caused Crowell to resign from the school after an almost 13-year career with the high school district.
Doe said the months that followed marked the beginning of a struggle with depression, suicidal thoughts and an eating disorder that upended her senior year, which ended with a three-month hospitalization that jeopardized her graduation. Some 10 years later, Doe said she now sees her struggle with bulimia as a way to cope with the stress of keeping her involvement with Crowell to herself. She said protecting Crowell prevented her from seeing friends out of fear she might reveal something about their relationship, and her belief others would think she was stupid for getting herself into the situation stopped her from telling anyone about what she was experiencing.
"My life spun out of control because I was no longer calling any of the shots," she said.
In the years that followed, Doe said their relationship continued alongside her struggles with mental and physical illnesses, but her desire to experience new things in college came into conflict with Crowell's preferences. She said she finally spoke with a therapist about the relationship after a college professor suggested she discuss her struggles with his wife, but initially did not want anything to do with reporting Crowell's actions to authorities.
Doe said the relationship eventually came to an end in late 2014, just a few months before she learned he was using many of the same, critical teaching strategies she experienced at his post at Westborough Middle School in South San Francisco, where he was eventually hired after he resigned from Mills High School. Having gone into education after college, Doe struggled with hearing Crowell still yell at and humiliate students years after he taught her and her classmates, and, in reflecting on his actions toward her in a new light, believed reporting his behavior could prevent others from harm.
In May of 2015, Doe went to the Burlingame Police Department to report the incidents, launching an investigation that would lead to Crowell's arrest a year later in which 14 felony charges of sexual assault were filed against him.
Former Mills High School music student Nate Marsh was among the school's alumni who found news of Crowell's arrest and court case difficult to stomach. The now 27-year-old, Denver-based musician was a year older than Doe at the high school and involved in many of the same classes, such as jazz band and concert band.
Marsh said for many years he valued Crowell's teaching, noting the solid musical foundation he developed as a high school student that he was able to build upon during his college education. But Crowell's criminal convictions refreshed Marsh's memories of his harsh teaching style toward students he didn't favor as well as rumors that swirled among students of the school about how Crowell may have had inappropriate relationships with his "favorite" female students, leaving him with questions about what could have prevented Crowell from harming his classmates.
Having wondered if he and other students who observed Crowell's tendencies could have done more when they were in high school, Marsh noted that there were many others involved with and surrounding the school community at the time of Crowell's offenses who could have played a role in investigating his behavior. Marsh wasn't ready to cast blame on any one group, but said he still struggled with the fact that Crowell was allowed to teach at another school after law enforcement officers investigated his actions in 2008.
"I don't know how you fix that, but I know that that's a huge failure of our system," he said, noting other similar instances, including the 2008 drug, child pornography and improper peeping convictions of former Mills English teacher David Lista and a 2007 case in which a Capuchino High School band teacher had sex with a student, have indicated for him Crowell is not the only teacher who acted inappropriately. "It's really sobering to hear that it's such a widespread problem. I think on a societal level, we have a lot of work to do."
Though district spokeswoman Sheri Costa said the crimes Crowell was convicted of are few and far between in education, she acknowledged one case is too many and noted the steps the district has taken to reinforce its policy of launching a school investigation and report to law enforcement after any allegations or suspicions of inappropriate behavior or abuse are reported.
"Whether 2008 or 2018, our belief is one of zero tolerance and immediate action into any allegations or suspicions of inappropriate behavior or any kind of abuse," she said in an email. "Although our zero tolerance policy has been steadfast for years, what has vastly improved here in our district has been our ability to provide in-depth mental health support to our students."
Costa noted administrators and teachers have always prioritized building trust with students so they feel like they can ask for help in a variety of situations, including when an adult breaks trust or abuses power. She added that now a team of mental health professionals who regularly check in with school communities are expected to build relationships with students and their families so they can open up about any troubling situations they might want to share or need help processing.
On April 3, Crowell's sentence was adjusted so he will be required to serve eight months in county jail and the remaining 16 months of his two-year sentence on house arrest wearing a GPS device, prosecutors confirmed. The five years of probation he received in February remains and he was required to pay $3,520 in restitution to Doe.
Crowell's defense attorney Charles Bourdon said both he and his client did not want to comment on this story.
As an educator, Doe said the responsibility teachers have to help their students — who she said are vulnerable to developing an inflated image of the adults in their lives — maintain healthy boundaries with them weighs heavily on her every day. She said she hopes her experience with Crowell helps others understand unlawful behavior, no matter how much talent a professional has to offer, should never be accepted.
"This is about how to recognize and truly have zero tolerance for somebody who has unacceptable behavior in front of children and then understanding that … as great as that person is, none of that excuses the rest of the stuff," she said. "It's pretty sad that [a] person who has potential to be good, makes decisions to be so toxic."