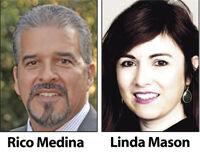 In a rare contested race featuring experienced candidates hoping to become the Peninsula's only independently-elected mayor, two colleagues are running for the top spot in San Bruno.
Mayor Rico Medina is running for re-election after a three-year term, and the incumbent is challenged by San Bruno Councilwoman Linda Mason.
The race forms as the city grapples with a budget deficit expected to grow worse due to the pandemic, and each has their own vision for improving the city's financial future.
For Mason, she claims the community needs a new voice guiding critical conversations regarding San Bruno's direction during a uniquely challenging time.
"I think we need change," said Mason, who was elected in 2019 to a three-year term following a stint on the city's Planning Commission.
To that end, she suggested a fresh perspective will yield greater diversity and consideration of voices she feels have been shut out in recent years by an insular group of tenured San Bruno politicians.
Acknowledging those concerns existed under a previous administration, Medina defended the city's track record of inclusion under his term as mayor. Prior to that, he has served on the San Bruno City Council since 2005.
"People say we need new. This is the newest council this city has seen in decades. It is constantly being infused with new energy and new ideas, and I think that is great," said Medina, noting the recent addition of Mason and other new councilmembers in recent years.
San Bruno is the only city on the Peninsula that elects its mayor separate from the rest of the council, though the position is largely ceremonial as the mayor is one of the five members of the City Council. Still, the mayor position leads council meetings and sets the tone and direction for the city.
Medina said there is limited authority associated with being mayor, though there are obligations in emergencies which have required him to be San Bruno's chief communicator.
Whether announcing a decision to shut down the senior center during the pandemic or holding press conferences after the YouTube shooting, Medina said he's demonstrated leadership in critical moments.
"My heart, my passion and my dedication is there. And when the worst is here, I have that experience," he said.
Alternatively, Mason claimed she can do more to advance the interests of residents by empowering boards and commissions to exercise their authority or serving as a unifying figure to collaborate with other local agencies such as the school district.
"We are lacking leadership, in my opinion," said Mason, whose husband Andy is on the San Bruno Park Elementary School District Board of Trustees.
The sort of community-driven guidance she can provide will be critical in helping San Bruno close its $7 million budget deficit while also overcoming the challenges posed by COVID-19, said Mason.
Pointing to the work she did to enhance the city's income by pushing for cannabis business taxes and hotel tax increases or advocate for development impact fees, Mason positioned herself as force driving for economic improvement.
Medina, meanwhile, pointed to mixed-use developments or zoning regulations he helped approve as factors which will be crucial in growing a city which has lagged behind its neighbors.
But there is more room for improvement in the way officials engage with the business community and residents, said Medina, who called for better responsiveness and communication — especially amid the pandemic.
"The city has to do better," he said.
Mason said she felt the city has done a good job supporting needy populations since the COVID-19 outbreak, but believes better metrics could generally improve officials' ability to gauge outreach efforts.
Looking forward, Mason said she believes she has the skills and vision necessary to help San Bruno navigate the challenges ahead.
"The next two years, we need more aggressive and direct leadership," she said.
Meanwhile, Medina said he has the background needed to make the community thrive.
"We will need knowledge and experience," he said.