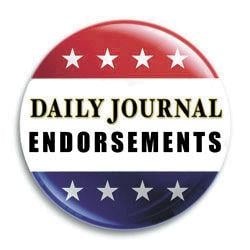 It's been a while since the city of San Bruno has had a seriously contested mayoral race. The city is the only one on the Peninsula that holds a separate election for mayor, a largely symbolic position on the City Council but one that holds the power to influence committees and commissions while also running meetings.
Rico Medina ran three years ago against token opposition and now, Councilwoman Linda Mason is running for the position too. Mason has one year of council experience but believes now is the time for more aggressive leadership. There is something to be said for holding those in power to account and this campaign is allowing voters to decide how everyone is doing. In a sense, having an independently elected mayor dilutes the challenger pool since candidates would likely come from the council and they already have a position of power. So for this, Mason should be thanked. We also like what she is doing on the council and for the city. She is part of a younger movement toward community service and has a different perspective than the city's older establishment.
Still, Medina has been a capable leader who deserves another chance to put his imprint on the city. San Bruno typically has two-year mayoral terms but Medina's was extended to accommodate a new state law to move elections to even years and increase turnout. Three years would be enough time if he was not serving the city well, but it's not sufficient to see what Medina's full vision will be.
The status quo has both Mason and Medina on the council, with Medina leading it. Both are making positive contributions in their current positions. Let's see how Medina does with another two years. If he falls short in any way, look for Mason to make another run. That's healthy.
But for now, Rico Medina deserves another term as mayor.