Situated in the center of Redwood City's downtown for more than 150 years, the historic Lathrop House has withstood countless changes in the city since Benjamin Lathrop, San Mateo County's first clerk, built the house in 1863.
Marked by tall gables laced with intricate white trim, the home has become known as an example of "steamboat Gothic" architecture by Helen Cocco, president of the Redwood City Heritage Association, shedding light on a revival of the skybound elements of Gothic architecture and river-oriented lifestyle Lathrop became accustomed to from years of living in New Orleans prior to his move to California.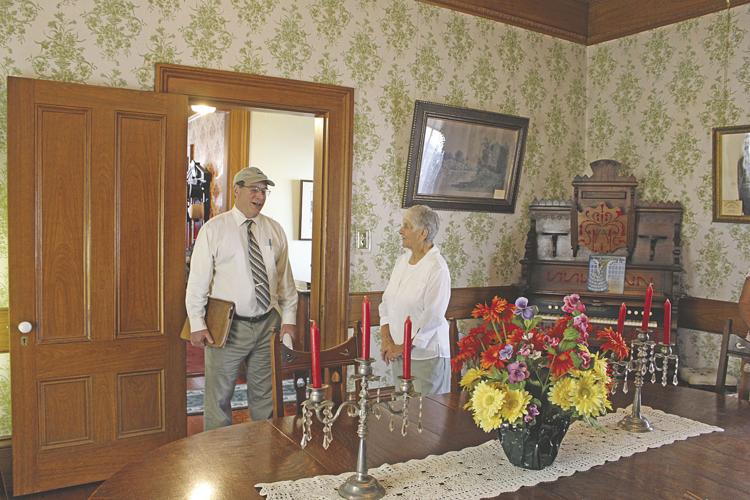 And now the structure is getting ready for its third and what local historians hope is its final move from its current location at 627 Hamilton St. to what is now a parking lot behind the San Mateo County History Museum at 2200 Broadway one block away. The county Board of Supervisors approved $10,000 in funding Tuesday toward a plan to relocate the building taking its historical context and plans to expand tours and public access in the building in its new location.
Cocco, who gives tours of the home, said she is looking forward to the move, which she hopes will protect it as new developments continue to go up in the city's downtown.
"I think it's a good idea because since there's a lot of building and everything going on, we feel like just kind of this little ant amongst the big high rises," she said.
Originally built where the Fox Theatre stands at 2215 Broadway, the structure was moved to the back of the block in the late 1800s and again in 1905 to its current location on Hamilton Street, said Dee Eva, board member of the San Mateo County Historical Association. She said its next move, planned for late 2017 or early 2018, is meant to make way for an expansion of the County Center offices and parking and bring a treasured historical landmark closer to the museum and its programming.
"The whole idea of the move … from the perspective of the Historical Association, is we want it there as a permanent site," said Eva.
Eva said tours of the historic home, which the Redwood City Heritage Association have made available at least twice a month for some 40 years, could be folded into the museum's operations to potentially open it to the public daily once it moves to its new location through a partnership between the two organizations.
Though the home, with an exterior of redwood and interior walls of lath and plaster, has moved multiple times, it has remained at the center of county's development since its early days, in part, due to its inhabitants, said Mitch Postel, president of the San Mateo County Historical Association. Postel credits Lathrop and his contemporaries with giving the county a new beginning when he contested the county's first election many believe had been rigged by San Francisco politicians looking to control the newly-formed San Mateo County in 1856.
"There was an original group of people who were really from around here that joined with Benjamin Lathrop and got a better start for San Mateo County," he said.
Cocco said Lathrop's wife Mary Lathrop purchased the land where the home was built at the Fox Theatre for $500. Though they only lived in it for five years, Civil War Gen. Patrick Conner inhabited the home soon after the Lathrops vacated it, she said, and added to the home's collection a piano that still stands in the structure today.
San Mateo County sheriff Joel Mansfield was the third notable San Mateo County figure to occupy the home, said Cocco. He was responsible for moving the home to its current location on Hamilton Street in 1905 and later died there, she said. His family kept the structure until it was turned over to a series of owners who made it into a boarding house in the '20s and '30s.
Cocco said she has met a former resident on a tour who remembered a time when the master bedroom of the eight-room house was once an apartment for herself and three of her family members in the '40s.
The house, which was turned over to San Mateo County in 1968 soon after the city's centennial year, now serves as a sort of museum, displaying furniture, clothing and interior home design from all of these eras to paint a picture of the lifestyles of Redwood City residents from different time periods in the city's history, with portraits and two porcelain figures currently in the front parlor of the house believed to be Lathrop's, she said.
Cocco, Eva and Postel hope to create a Redwood City history gallery filled with pieces from private and public collections in one of the upstairs bedrooms once the structure is in its new location.
Though the home was pulled by horses and rolled on logs to get to its current location, said Eva, it will be moved in largely one whole piece with more modern technology this time around. The two groups are planning on having the building face Hamilton Street in its new location as it does now, and to build a 19th-century-style carriage house behind the home to help residents envision how early Redwood City residents transported themselves around the city and surrounding area.
For Cocco, the building's new location next to the museum, which was once the county's courthouse, is bound to bring more visitors through it.
"I think putting it up against the courthouse, it would be more accessible to a lot more people," she said.