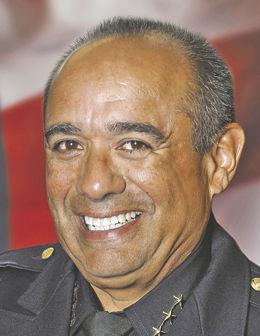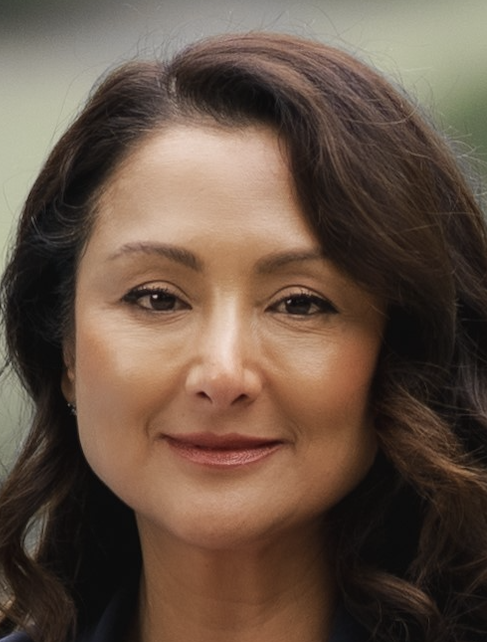 San Mateo County Sheriff Carlos Bolanos and Millbrae Police Chief Christina Corpus debated policies around ICE, use of force and program reforms at an April 27 candidate forum hosted by the Redwood City Woman's Club and moderated by the League of Women Voters of South San Mateo County.
The two candidates will be on the ballot for the June 7 state direct primary election, with Bolanos touting his experience in running the department and implementing policies and Corpus highlighting the need for a culture shift and new blood in the Sheriff's Office.
Both listed low deputy staffing levels as a top concern given the public safety issues involved with insufficient staffing. There are around 100 positions unfilled, with 73 full-time vacancies. Deputy vacancies typically average about 30 but have increased dramatically in the last two years. Corpus blamed the lack of deputies on a toxic work environment and called for more transparency and community engagement. Bolanos acknowledged it was a public safety issue and had said the pandemic, job market forces and the social justice movement have decreased applications.
In November, Bolanos announced his office would not transfer any inmate into the custody of U.S. Immigration and Customs Enforcement after attending several TRUTH Act Forums, a special meeting required when local law enforcement has given the federal agency access. He plans to continue that indefinitely. At the debate, Bolanos said he cooperated with ICE under state law and now will no longer cooperate with it under any circumstance. He accused Corpus of considering it on a case-by-case basis. He noted ICE has the ability, through a judicial warrant, to go and arrest anyone who is a threat to public safety without Sheriff's Office cooperation.
Corpus said she had seen the destruction to children and families of handing prisoners over to ICE and did not support working with it.
"My platform would be I would not work with ICE. The only time I would ever consider it if there was a complete and imminent danger to the communities we serve," Corpus said.
Corpus is the daughter of immigrants from Mexico and Nicaragua. She grew up in the Bay Area and started as a Sheriff's Office correctional officer in 2002. She currently serves as the Millbrae police chief and a captain in the Sheriff's Office, as Millbrae contracts with the Sheriff's Office for policing services. Bolanos started in law enforcement in 1979 and served as undersheriff from 2007 to 2016. He was appointed sheriff by the Board of Supervisors after then-Sheriff Greg Munks stepped down. He won his first election in 2018 and is seeking a second full term.
The candidates both agreed on the importance of policies for de-escalation and dealing with mental health crises. Bolanos said the Sheriff's Office reviews body-worn cameras during every use-of-force incident to ensure deputies use de-escalation techniques. New policies are in place to allow law enforcement to walk away when they are not needed.
"If there is nobody posing a threat to anyone, we will leave. I think that creates a safer community for all of us," Bolanos said.
Corpus suggested increased performance-based training and measurements to ensure adherence to the deescalation policy.
"It will instill trust back into the community that we serve. Providing our deputies with that training and ongoing training, not just a one-time training," Corpus said.
Bolanos touted the Sheriff's Office's work to double the psychological emergency response teams. The Sheriff's Office recently formed a mobile mental health response unit in Half Moon Bay to respond to mental health crises called the CARES program. It also created an acute mental health stabilization unit in prison.
Corpus criticized the reactionary behavior, saying an incident had to happen for a change. She suggested a CAHOOTS mental health crisis program from Eugene, Oregon. She called for scaling back police in responding to mental health calls and highlighted she is working with state Sen. Josh Becker, D-San Mateo, to address mental health concerns.
Bolanos favored a bail system based on risk, not a financial system, and called the bail system broken. He is working with criminal justice partners in the county on solutions.
"I think it is way overdue. There is no reason why someone should be seated in my jail right now based on their financial situation," Bolanos said.
"Now is an opportunity to do it, and I think it is long overdue," Corpus said. Too many people have suffered, and it hurts our communities."
The two candidates highlighted their achievements in working with the cyclist community and increasing bike safety. Bolanos noted a deputy sheriff liaison was assigned in late 2020 to address cycling issues and improve communication with cyclists, like ensuing cars respect a 3-foot spacing rule near cyclists. Drivers accused of violating the spacing rule now receive a letter from the Sheriff's Office noting the report against them. The Sheriff's Office had created messaging boards to remind people to share the road around Cañada Road and Kings Mountain Road in Woodside. Corpus said she was part of the team that created the program for drivers receiving a warning letter for going too close to bicyclists while working in the Woodside and Portola Valley area.