Atherton has been the center of Peninsula tennis for the better part of the last 20 years, so it comes as no surprise that Menlo School, Menlo-Atherton and Sacred Heart Prep were all playing in the second round of the Central Coast Section girls' tennis playoffs.
It should also come as no surprise that top-seeded Menlo School eased into Thursday's quarterfinals with a sweep of Gunn.
Sixth-ranked M-A, on the other hand, had to grind and sweat out a 4-3 win over Los Altos. Sacred Heart Prep, meanwhile, saw its season come to an end with a 5-2 loss to No. 4 Palo Alto.
In other CCS action, both Burlingame and Carlmont saw their seasons finished in the second round. The Panthers (14-6) were bounced by No. 2 St. Francis, 7-0, while the Scots (17-3) came up short against No. 7 Monta Vista.
While it seems as if Menlo simply shows up and wins, that would severely underestimate the Knights players. Their seemingly endless dominance not only stems from having a wealth of talent, it is well complemented by a strong desire to win.
"Not so much pressure (to win)," said Menlo head coach Bill Shine. "But an expectation."
That desire was epitomized by Addie Ahlstrom at No. 1 singles. The reigning Daily Journal Girls' Tennis Player of the year, Ahlstrom found herself trailing 5-1 in the first set.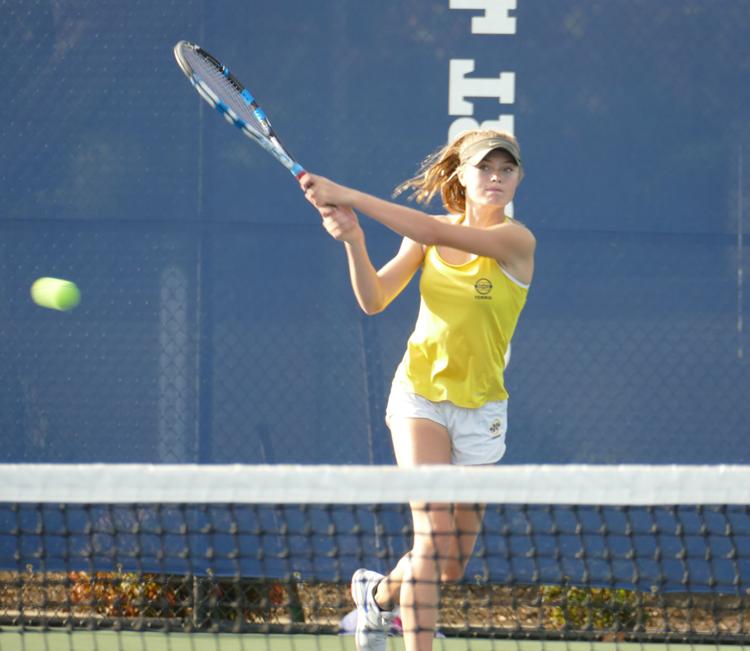 Instead of simply cashing it in and moving on to the next set, Ahlstrom, instead, stepped up her game and simply sprinted past her opponent. She would win six straight games to take the first set, 7-5, and continued her winning ways with six more wins in a row to win the second set at love.
The Knights' No. 3 doubles team of Ellen Cho and Penelope Penfold-Patterson also showed some gumption in winning their match in straight sets.
After a routine 6-0 rout in the opening set, Cho and Penfold-Patterson found their Gunn opponents much more up to the challenge in the second set, eventually going up a break 5-4.
But Cho and Penfold-Patterson rallied to win the final two games and finish off the match 6-0, 7-5.
"A lot of people think it's easy for Menlo," said Cho, a Menlo captain. "But we don't blow it off. Every match has out entire focus."
The rest of Menlo's win were matter-of-fact: Trisha Zhang and Brynn Brady, sophomores who play at No. 2 and 3 singles, along with No. 4 singles player Charlotte Yao, combined to lose three games over six sets. Lindsey Ball and Natalie Westerman who their No. 1 doubles match at love. C.C. Golub and Elsie Ragatz, playing at No. 2 doubles for the Knights, got off to a slow start, but finished with a flourish, winning 6-4, 6-0.
"They're all really competitive," Shine said of the Knights' roster. "It's what drives them.'
Up next for Menlo (20-3) is a home match against No. 8 Los Gatos (9-8) at 2 p.m. Thursday. The Wildcats got past Homestead, 5-2.
While Menlo was wrapping up its match in about 90 minutes, M-A was only halfway finished with its match against Los Altos — one of nine teams from the Santa Clara Valley Athletic League in the 24-team bracket.
The Bears led 3-1, getting wins from Ava Martin at No. 2 singles, Charlie Smith at No. 3 and Kelly Eng at No. 4 singles. But the No. 1 and No. 3 doubles matches split sets, while Allison Brown was involved in a grueling match at No. 1 — up a set, but trailing in the second.
Both Bears' doubles team took quick early leads in the decisive third sets — with the No. 3 doubles tandem of Dana Lau and Katie Donahue bolting out to a 3-0 advantage.
Meanwhile, Sarah Marks and Lila Motamedi, playing at No. 1 doubles, led their third set 2-0.
Los Altos rallied in both matches, eventually taking a 4-3 lead.
Lau and Donahue rallied to tie it and later had the first opportunity to close out the win for the Bears. They rallied with a break of their own to tie the set at 4-all and then held. But with match point on the line, the Eagles duo stayed alive with a win on a deuce point to extend the match.
Marks and Motamedi, however, did not miss out on their chance. They, too, broke Los Altos' serve to tie the set at 4-4, held serve for a 5-4 lead and then broke the Eagles one final time to clinch the match for the Bears.
"I think they (Marks and Motamedi) thought the match hinged on doing something different (than what they normally do)," said M-A head coach Tom Sorenson. "They had been searching for some sort of tactic to use. I thought it was a matter of execution — just hitting the shots they attempt to hit. … Just hit your shots."
Los Altos would go on to close out Lau and Donahue 7-5 to win at No. 3 doubles, while Brown went down 6-4 her third set.
Up next for M-A (15-4) is an upstart Harker squad that pulled off the upset of the tournament thus far with a 4-3 win over No. 3 Cupertino. The Bears will host a second straight Eagles squad at 2 p.m. Thursday.
No. 7 Monta Vista 4, Carlmont 3
The Scots won three of the singles matches, but could not find that elusive fourth point against an always-strong Matadors team.
Monta Vista swept the three doubles matches and won at No. 1 singles to advance to the quarterfinals.
Kat Nguyen was dominant for Carlmont at No. 4 singles, sweeping to a 6-0, 6-0 victory. Nikhila Raman dropped only three games in a 6-3, 6-0 win at No. 3 singles, while Victoria Gittoes posted a 7-5, 6-2 win at No. 2 singles for the Scots.
Carlmont, however, was swept in straight sets in all three doubles matches and at No. 1 singles.