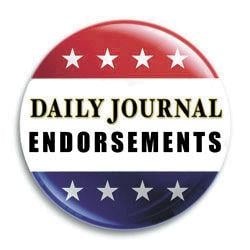 They say experience counts in a crisis, and it does. South San Francisco incumbent Rich Garbarino, the city's current mayor, has that experience.
His challenger, James Coleman, does not. While Coleman delivers the perspective of youth and has ideas centered in the current progressive parlance, he does not have the experience to jump into the job that requires balancing the needs of the entire community.
Garbarino has served since 2002 and knows well the growing needs and changes of the city. Housing is at the forefront and so is sage fiscal management in this current difficult environment. While the city has a reserve fund that could be tapped to provide further assistance to struggling shop owners and residents, the city has provided rent relief and loan programs for local businesses. The reserve money will be needed in the coming years as revenue falls and other uncertainties arise.
Coleman is obviously bright and able to synthesize larger progressive ideals into specific plans from mental health training for police to more metrics for accountability. Bright ideas, but much of it is already in the works. Indeed, when it comes to housing, the city has been leading the way in new development. While more can be done to increase affordability, this is a work in progress.
Still, the concern of youth about affordability is valid and should be taken into account. Garbarino should pay attention to these new philosophies in his next term in office and fold them into the balancing act that is city leadership.
Garbarino has taken a leadership role in the League of California Cities in ensuring that local government is heard in Sacramento. That cannot be taken for granted.
We applaud Coleman for taking this step and making clear his new ideas. However, at this time, for this position, Garbarino is better suited for leading the city. He deserves your vote.