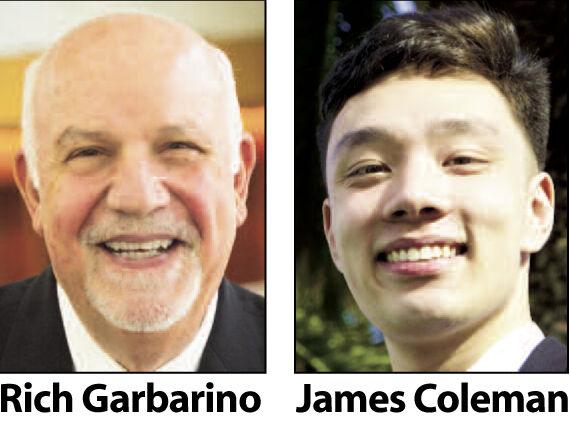 Divergent opinions on the direction of South San Francisco are at the center of the Industrial City's only contested race in this election, with Mayor Rich Garbarino facing a challenge from newcomer James Coleman.
The race forms in District 4, a northwestern slice of the community spanning from El Camino Real to Interstate 280. The neighboring ward to the west, District 2, will be represented by Councilman Mark Nagales, who ran for re-election unopposed.
Garbarino said he is proud of the leadership he and his colleagues have provided the community over the nearly two decades he has been on the South San Francisco City Council, following his appointment in 2002.
"I do believe we are doing an excellent job and will continue to do so," said Garbarino.
Coleman, who left home to attend Harvard University and now hopes to help to lead his native community, contended otherwise.
With concerns regarding access to affordable housing, support for local businesses during the pandemic and police policy, Coleman is running a progressive campaign advocating for change.
"There are just so many issues going on in our city, people feel left behind," he said.
Citing the displacement fueled by a dearth of affordable housing, Coleman said he's seen numerous loved ones pushed out of South San Francisco. To stem the tide, Coleman said he favored development policy facilitating construction of duplex and fourplexes in single-family home neighborhoods.
Garbarino disagreed with the initiative, and other streamlined development regulations favored by state lawmakers, due to concerns regarding the loss of local control over housing policy.
Rather than take orders from the state Capitol, Garbarino favored the housing development policy adopted by South San Francisco officials which has focused on dense building near transit hubs like the city's Caltrain or BART stations.
Nodding to the city's booming biotech sector, Garbarino said officials feel compelled to assure those working at the life science firms have an opportunity to live nearby, along with police, firefighters, nurses and other essential service providers.
For his part, Coleman said he would favor spreading the housing development to other sections of the city rather than focusing on certain areas which he fears will fuel gentrification.
He also said city officials should do more to support local businesses struggling amid the pandemic, pointing to a reserve fund with nearly $30 million which could be used for economic relief.
"We need to be supporting people in our community because this is an unprecedented time," said Coleman.
Garbarino meanwhile defended business support initiatives such as loan programs for local business owners and rent relief offers to landlords as evidence of the city's attempt to help those feeling the economic blow from COVID-19.
He also said the city's ability to build a hearty reserve is a function of responsible fiscal management that he and his colleagues have been provided over recent years.
Furthermore, he showed a reluctance to spend down too much of the fund because the city needs to stay prepared for emergency capital improvement projects or other unanticipated expenses.
"All of us are very experienced in budgeting and finances. We have this balanced budget, we are solid financially and we will continue to be solid financially," he said.
Garbarino also supported the city staying the course on discussions around law enforcement reform, noting officials have discussed with the city's police department ways to accommodate concerns raised by social justice advocates.
A specific area of improvement identified by Garbarino is seeking partnerships with agencies providing specialists who can respond to calls for those experiencing mental health issues.
Coleman agreed more should be done to address similar issues, calling for establishing a separate group of first responders comprised of mental health professionals and case workers with necessary expertise.
He also said there needs to be more metrics tracking accountability and success of the police department's interactions with the community, while also proposing creation of an oversight commission monitoring the department's performance.
Recognizing his platform is built on a variety of ambitious initiatives with limited experience, Coleman said he is confident he has the skills to bring different groups together in pursuit of progress.
"I know that I'm young but I understand that we need to work together to build consensus," he said.
Meanwhile, Garbarino said his track record of success is evidence of his effectiveness, while expressing confidence that the city can stay on track despite the prevailing challenges.
"I believe my experience and my leadership along with my colleagues is just what is needed to keep South San Francisco going and overcoming what we are experiencing today," he said.